Are you wondering if you can find a luggage storage facility in Rome Tiburtina? Good news for you! Here you'll find all the left luggage options right by Tiburtina Station!
According to many writers and philosophers, traveling is freedom and a good way to grow. Of course, we agree with these famous thinkers and we also believe that a trip should be a moment of leisure and light-heartedness.
TIPS: Find the perfect place to store luggage and choose between more than 80 locations throughout Rome!
When you arrive in the city too early to check in the hotel or have many hours before your train or plane, don't burden yourself with suitcases.
Luggage Storage Rome Tiburtina | Don't choose a random service
In a vibrant city like Rome, getting rid of your luggage is essential to continue enjoying your vacation. Surely, you wouldn't be in an overcrowded subway car with an XL trolley at your side!
Think how uncomfortable it would be to sit in a typical Roman trattoria with a suitcase under the table or to take a picture with the Colosseum… and your boring luggage in the background.
Moreover, as in all big cities, you might meet pickpockets (especially on public transport). You can outsmart them in a very simple way: take only what you need with you, a small zippered bag, little cash, and your cell phone.
So once arrived in Rome and if you are near Tiburtina, leave your luggage at secure left luggage points managed by Radical Storage.
Luggage Storage Rome Tiburtina | Why booking with us
Have you always imagined that it would be nice to leave your luggage at local companies, such as bars, restaurants, souvenir stores, and hotels? Today you can do it!
Radical Storage partners up with reliable companies to make your stay more enjoyable.
Book online your favorite luggage storage near Rome Tiburtina from the list below:
Left luggage Rome Tiburtina | How much it costs
Radical Storage allows all travelers to book comfortable luggage storage solutions near Rome Tiburtina without spending a fortune. Also, it has a fixed rate and no additional costs.
Booking a storage place with us will only cost you €5 per day and per piece of luggage. You can pay directly by credit card.
This means that you can leave your belongings for 4 or 12 hours, paying the same price.
Moreover, this rate is the most affordable of all! To realize this, you only need to make a comparison with the other services. Don't you want to? We did it for you!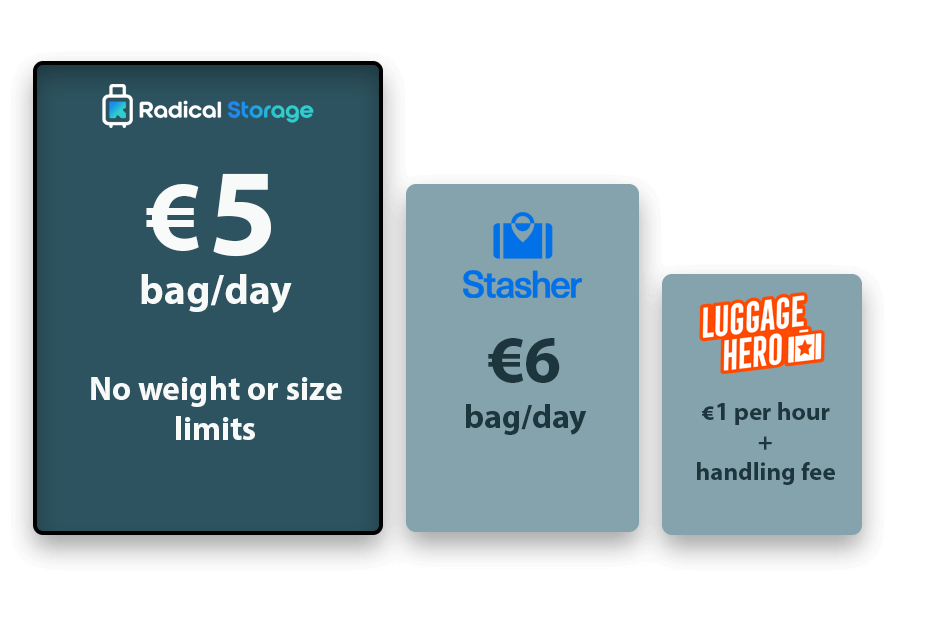 Radical Storage is the ideal solution for all those who want to travel lightheartedly and enjoy the city until the last minute. Booking with us is easy!
Luggage Storage Rome Tiburtina | How it works
Nowadays, it's crucial for companies to take care of their customers' health.
All our partners follow the general rules to counter the spread of the COVID-19 pandemic and are equipped with a convenient contactless system. In this way, you'll pay and check-in/check-out without touching external objects. As you can see, the reservation is 100% secure.
To book with Radical Storage, you need to take your phone, connect to the website or open the app, and choose your location. To find the nearest storage places, you can turn on geolocation or type an address manually.
Once you enter the required information on the form, you'll be directed to the secure payment page. After the payment, you'll see all the information about our partner (company name, address, phone number, email, etc.).
Our agents may not put any security seals on your luggage, but they'll guard it throughout the day until you pick it up. Plus, your items are covered by a guarantee and there are no long queues.
Please contact our customer support for any questions about this great service or to get to know the best way to store your luggage.
Rome Tiburtina lockers
On many blogs, we read the question, "Are there lockers to store luggage at Tiburtina Station in Rome? Unfortunately, Italian stations don't have lockers.
However, you can find Radical Storage just a few meters from all the stations in Rome!
Now that you've gotten rid of your heavy bags, you can devote your free time to discovering Tiburtina's surroundings.
The best things to do within walking distance of Rome Tiburtina Railway Station
It can seem like the most industrial of places are devoid of character or interesting attractions. Contemporary buildings, in particular, tend to be ignored in a monumental city like Rome. It's an understandable assumption. Anyway, Tiburtina Station should be seen through the eye of those who want to go beyond the clichés and standard stories.
Recently rebuilt, Roma Tiburtina station is a splendid example of contemporary architecture. Designed by Studio ABDR Architetti Associati, it has a bridge-gallery shape and was dedicated to Camillo Benso Conte di Cavour, a leading figure in Italian unification.
Train, subway and bus station
In this hub, you'll find regional and national trains and a subway line (Metro B – Towards Rebibbia and Rome Termini Station). Here operate both Italo and Trenitalia.
Moreover, just outside of the train station, there's the bus station, with direct buses (including Flixbus) to various Italian and foreign cities.
Trains from Tiburtina to Fiumicino Airport
Getting from Tiburtina Station to Fiumicino Airport (and back) will take you 50/60 minutes. You can take one of the 39 trains per day traveling from Tiburtina to Fiumicino Airport, but you have to remember that this number decreases on weekends and holidays.
The ticket costs €8 per person. You can buy it both online and at vending machines.
It's time to go shopping
There are countless stores inside the train station building. You can buy everything from make-up and typical Italian sweets to clothes. You can also have a snack or have a cup of coffee.
If you find yourself with a little time to spare in the Tiburtina area, we suggest you drop by Via Tiburtina, one of the most popular shopping streets in Rome.
Get here useful information about Tiburtina.
Related articles