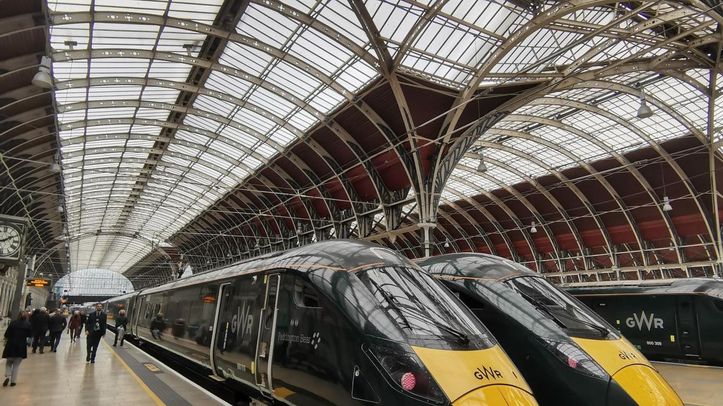 Luggage Storage Paddington
Find your luggage storage
Top locations in Paddington
Luggage storage in Paddington With Radical Storage
If you're the kind of traveler who likes to set out on adventures with just one small bag, then you know how difficult it can be to find the right luggage storage option when you need it, especially in a busy city like London. With Radical Storage, luggage storage at Paddington Station won't be a problem.
Whether you are just trying to leave your bags somewhere safe while you go sightseeing or you want to drop off bags before heading to the airport, we provide hassle-free luggage storage at hundreds of locations across London. Our online booking makes getting your luggage stowed away easier than ever before!
About Paddington train station
Paddington Station is a central railway terminus and London Underground station. Situated on Praed Street, Paddington is one of nineteen stations managed by Network Rail. It is served by Great Western Railway, which provides services between Paddington and South Wales, Bath, Bristol, Oxford, and many others.
Visitors traveling from Paddington to Heathrow can take Heathrow Express trains every 15 minutes or TFL Rail Heathrow services.
These trains are the most comfortable and speedy way to reach the airport.
The Paddington tube ride from Paddington to Kings Cross Station is around 20 min and covers a distance of approximately 3 miles (4 kilometers).
Paddington Train Station Amenities and Storage
Paddington Train Station is one of the main train stations and traveling hubs in all the city of London, taking thousands and thousands of travelers every single day. Because it is always this crowded, there are many different amenities in the place, allowing you to provide a special comfort every time you need it during a trip to Paddington Station. If you are looking for a place where to store your luggage in the Paddington train station in London, we at Radical Storage can help you with our luggage storage deposit options near Paddington Station. In a few moments, you'll be able to leave your belongings in a safe space, while you can have all the fun in the world in London.
When it comes to all the amazing amenities that the Train Station offers, there is no way to stop. In fact, you can find many different restaurants around Paddington station London, that will offer you many different options and cuisines, that will leave you with the want of trying everything. If you are looking for a place for a nice accommodation, there will be also many hotels near Paddington station in London, where you can relax and refresh before the start of your big adventure in London. Paddington Station shops also have nothing to worry about, since there is a wide selection that you can choose from, so that you can begin your journey in great style.
How to get from Paddington station to Heathrow airport
To get from Paddington Station to Heathrow Airport, there are several options available. One convenient way is to take the Heathrow Express, a non-stop train service that connects the two locations in just 15 minutes. Another option is to take the London Underground's Piccadilly Line, which runs directly to Heathrow. This might take a little longer, roughly 45 minutes, but is cheaper. If you prefer a more private transportation, you can take a taxi or book an airport transfer service. Additionally, there are also bus services available that operate 24/7, providing a more cost-effective option.
How to get from Paddington station to Gatwick airport
To get from Paddington Station to Gatwick Airport, there are a few options. The fastest way is taking the Gatwick Express train, which runs every 15 minutes and takes about 30 minutes. The ticket can be purchased at the station or online. Another option is taking the Southern Trains service, which is more affordable but takes longer, around 1 hour. Buses are also available, with the National Express service being the most popular. It takes about 1.5 to 2 hours depending on traffic. Taxis and private transfers are also available, but they can be expensive. It is recommended to plan ahead and check the schedules.
From Paddington Station to Victoria Station: directions
To get from Paddington Station to Victoria Station, there are several options available. One way is to take the Circle or District Line on the London Underground. The journey only takes around 15 minutes and is convenient for those carrying heavy luggage. Another option is to take a taxi, which may be more expensive but offers a door-to-door service. Alternatively, you can take a bus. The number 36 bus travels between the two stations and is a cheaper option. If you prefer to walk, it will take you approximately 25 minutes. However, ensure you have a map or navigation system to guide you.
Things to do near Paddington station
One of Paddington Station's best features is its proximity to other landmarks. You can hop on one of many buses that connect you with major attractions and tourist hubs, including Hyde Park and Kensington Gardens, as well as Buckingham Palace.
Famous Hyde Park is a short distance away, so if you leave your luggage at Paddington Station, you can picnic for a couple of hours in one of London's largest green spaces watching the in-line skaters, admiring the Albert Memorial, or listening to a rant on Speakers Corner.
If you are planning a shopping spree on Oxford Street, you can easily reach it from Paddington Station. After you have shopped-till-you-drop, you will be glad to hear that we have handy luggage storage options there as well. So after dropping off your bags, you may want to explore the interesting museums nearby, such as the British Museum.
Children will be delighted to experience the Paddington Bear Paw trail and statue as well as the fabulous Natural History Museum or Madame Tussauds.
From Paddington, you can make your way also to Notting Hill, a village within the city made famous by Julia Roberts. Don't be surprised if you rub shoulders with celebrities while sampling street food on Portobello Road or find a treasure in the antique market. It's cool and packed with tourists, so offload your luggage and enjoy the carefree atmosphere, especially during the famous Notting Hill Carnival in August.
Other places near Paddington
What users think about us
Translated automatically
Show original
Hide original
Thousands of travelers book our luggage storage every day
Thousands of travelers book our luggage storage every day
3 Mln+ Suitcases carefully stored
Keeping your luggage safe is our main mission
7000+ Bag guardians worldwide
Our storage points called "Angels" are all over the world
24/7 Instant support
We are always available to answer your questions
0,00% of missing luggage
The numbers speak for themselves, with us you can feel safe!
Store your bags in a few clicks
The worldwide luggage storage network. Our Angels are bars and bistros who have been checked and approved by the Radical Storage team
Step 1
Locate
Find a luggage storage location near you
Step 2
Book
Proceed with online booking
Step 3
Store
Store your suitcases
Step 4
Enjoy
Enjoy your hands-free journey
Frequently Asked Questions