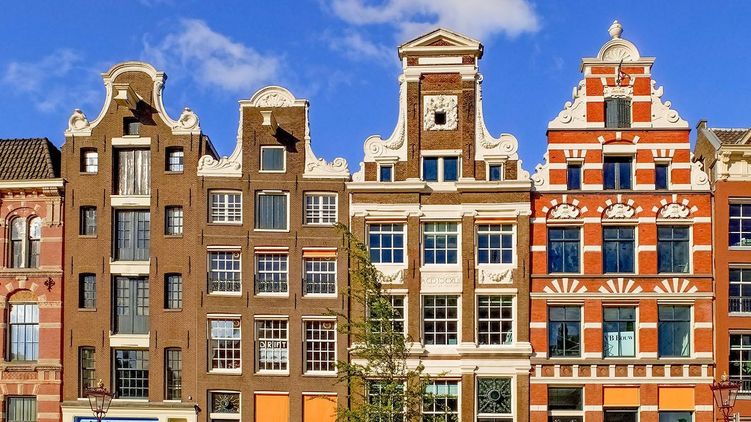 Luggage Storage Amsterdam
Find your luggage storage
Luggage storage in Amsterdam With Radical Storage
Amsterdam has so much to offer, but when you think of this wonderful city, what instantly pops into your head are the many bikes whizzing through the crowded streets. However, exploring this cozy Dutch city with a bike and a charge of luggage can be quite inconvenient. Don't let that stop you from experiencing the charm of Amsterdam. You can easily find reliable luggage storage in Amsterdam and fully enjoy Amsterdam's sights and sounds without any baggage woes.
We've got all your luggage storage needs covered, so you can have peace of mind and fully embrace everything this amazing city has to offer!
Where to store bags in Amsterdam?
Radical Storage is a luggage storage solution (or Bagageopslag as it is known in Dutch) available at many locations in Amsterdam. Our partners, called Angels, offer safe left luggage places in Amsterdam for your convenience at the amazing price of just €5 per day! This is a fixed price without restrictions on the luggage weight or size.
You can store your bags in most Amsterdam hotspots:
Amsterdam airport
The Amsterdam Airport, also known as Schiphol, is one of the busiest and most efficient airports in Europe. Situated just outside the city, it serves as a major international gateway with over 70 million passengers annually. Offering excellent amenities and services, the airport ensures a smooth and enjoyable travel experience. Schiphol boasts a vast array of shopping options, from luxury brands to duty-free shops, as well as numerous dining establishments, including international cuisine and local Dutch delicacies. The airport's efficient transit system connects passengers to their gates quickly, minimizing wait times. Additionally, the airport's modern architecture and eco-friendly designs make it a visually appealing and sustainable place.
Does Amsterdam Airport have luggage storage?
Schiphol Airport has a range of luggage storage facilities for both long-term and short-term holding. Please note that the prices are per piece of luggage and will work out very expensive unless you travel light. Radical luggage storage is a fixed price for all your luggage, which an Angel will guard.
How to get from Amsterdam Airport to city centre?
There are three possible ways of getting from Amsterdam Schiphol Airport to Amsterdam's city center. You can choose to use the bus, a train or a taxi.
The train ride is the easiest and fastest way to reach the city center taking about 15-20 minutes. Regular trains depart from Schiphol Station, located directly below the airport, and run 24/7.
The airport is just over thirty minutes away from the city center, so whichever method you choose, it will not be long before you can be out and about exploring the museums and photographing the unique gabled buildings and tranquil canals of this old but thoroughly modern city.
Amsterdam main train station:
Amsterdam Centraal Station, commonly known as Amsterdam train station, is one of the main transportation hubs in the Netherlands. Located in the heart of Amsterdam, this iconic station serves as a gateway to the city and an important transportation hub for both domestic and international travelers.
First established in 1889, Amsterdam train station has undergone several renovations and expansions over the years, transforming it into a modern and bustling transportation center. Its distinctive architecture, featuring a blend of Gothic and Renaissance styles, makes it a prominent landmark in the city. The grand exterior, with its towering spires and intricate detailing, is a sight to behold.
Inside the station, visitors are greeted by a bustling concourse filled with passengers, shops, and restaurants. The spacious and well-maintained platforms accommodate a vast number of trains, ensuring efficient transportation throughout the country and beyond. The station seamlessly connects to various modes of transportation, including trams, buses, and taxis, making it easy for tourists and locals to navigate Amsterdam.
Despite its size and constant flow of people, Amsterdam train station is well-organized and user-friendly. Clear signage, ticket machines, and information desks are readily available to assist travelers with their queries and ticketing needs. Additionally, the station is equipped with amenities such as public restrooms, and bicycle parking, catering to the diverse needs of both short-stay and long-stay visitors.
The location of Amsterdam train station is another advantage. Situated near some of the city's major attractions, such as Dam Square and the Red Light District, it provides visitors with direct access to Amsterdam's cultural and historical landmarks. Moreover, its proximity to the city center allows tourists to explore the vibrant streets, picturesque canals, and famous museums with ease.
In conclusion, Amsterdam train station is not only a vital transportation hub but also a destination in itself. Its architectural beauty, excellent connectivity, and convenient location make it a popular choice for tourists and a crucial link in the Dutch transportation network.
Do you want to book a luggage storage in Amsterdam? Try Radical Storage!
You just got off the train or the plane that took you to the magical city of Amsterdam, so you just can't wait to do all the things you have imagined doing here finally. However, it is a hassle to walk around the pretty streets of Amsterdam, if you have to juggle all the suitcases that you have to carry around, so look out for a place where to leave them safely.
Radical Storage may help you thanks to its many luggage storage solutions in Amsterdam. In just one click on our website or user-friendly app, you could find all the luggage storage options that you would like, all across the city, and in a moment you'll be able to book it and finally have the trip of your dreams.
On the website, you'll be able to look out thanks to GPS technology, your current location or the position that you prefer, and in a second you'll receive a list of all the Angels, the trustworthy local partners that we have collabed with, from which you can choose. Booking a luggage storage has never been easier and more convenient than this.
Here's why you should choose Radical Storage for a luggage storage in Amsterdam
Now you're worrying about whether to leave your suitcases in one or our luggage storage options or not, but don't you worry because we might help you decide with a list of the many perks of booking with us.
Wide Coverage: There are many different options to choose from on our website, so you wouldn't even have to worry about looking up the closest one to you.
Affordable prices: Our flat rates are very competitive, so you won't even have to think about additional charges, but just enjoy our service.
Security Coverage: In order for you to not feel worried about leaving your bags in a foreign place, we offer for a small fee a security deposit that will allow you to more than 3000 euros.
No size or weight restrictions: You won't even have to think about the size or the weight of your luggage, since there are no fees according to these standards, but it is a fixed price.
Easy Check-ins: You won't have to burden yourself with long queues or even longer waiting periods, since you will come and leave in less than five minutes.
What should I do after checking out a luggage storage with Radical Storage
After finally booking one of our luggage storage facilities, there might be a few steps that you might be aware of, in order to have a seamless experience.
First of all, add more luggage to your booking if you need to, so everything will be in check.
After that, you will receive your confirmation email with all the details, so get acquainted with the area of your luggage storage, to get a feel of it.
Get accustomed to the other details of your luggage storage, such as the opening hours of the venue and other stuff.
Once you have reached the place, be prepared to show your email and your QR code, so that they can scan it and provide you with a seamless experience.
If you need any other information or you have specific questions, feel free to contact our customer service team or the staff at the luggage storage, so you can be sure of anything.
Things to do when in Amsterdam
It is important to choose the time of the year for your visit to Amsterdam with care. It is blessed with many attractions, but the weather is often inclement, and you will probably need an umbrella. However, Amsterdam has something for everyone. Yes, even a red-light district.
Amsterdam city center:
If you are an art buff, then wandering around The Rijksmuseum or The Van Gogh museum will satisfy your desire to see many of the masterpieces by the world's greatest artists. Don't miss the modern art at the Stedelijk Museum.
History in Amsterdam:
For history lovers, Anne Frank's House is a tragic reminder of one of the worst times in modern history. In this renowned Amsterdam museum, you will also find much evidence of the impact of WW2 around this city. Long before that terrible time in the history of Europe, Amsterdam enjoyed a Golden Age, and around the city, you will find the legacies of pride in their achievements in the 17th century.
Amsterdam nightlife:
Amsterdam prides itself on being one of the most liberal and open-minded cities in the world. It also has cheap Amsterdam flights linking it to all over Europe. For this reason, it is the chosen venue for many young people to celebrate Hen and Buck's nights.
For the curious traveler or the thrill-seeker, there is much to entertain you. Early evenings in Amsterdam tend to be quiet, but there are many varied clubs and watering holes for the thirsty visitor after dark.
Did you know that you can take an interactive tour through Heinekenen's former brewery, ending with a tasting room? A visit to the famous Sex Museum and the Hash, Marihuana, and Hemp museum will certainly broaden your mind. A word of warning: spending too long in the Coffee Shops can result in missed flights and lost luggage!
Top locations in Amsterdam
What users think about us
Translated automatically
Show original
Hide original
-
Very satisfied. 3-minute walk from EUROSTAR station, reliable staff.
Très satisfaite. A 3 minutes à pied de la gare EUROSTAR, personnel sérieux.
Thousands of travelers book our luggage storage every day
Thousands of travelers book our luggage storage every day
3 Mln+ Suitcases carefully stored
Keeping your luggage safe is our main mission
7000+ Bag guardians worldwide
Our storage points called "Angels" are all over the world
24/7 Instant support
We are always available to answer your questions
0,00% of missing luggage
The numbers speak for themselves, with us you can feel safe!
Store your bags in a few clicks
The worldwide luggage storage network. Our Angels are bars and bistros who have been checked and approved by the Radical Storage team
Step 1
Locate
Find a luggage storage location near you
Step 2
Book
Proceed with online booking
Step 3
Store
Store your suitcases
Step 4
Enjoy
Enjoy your hands-free journey
Frequently Asked Questions