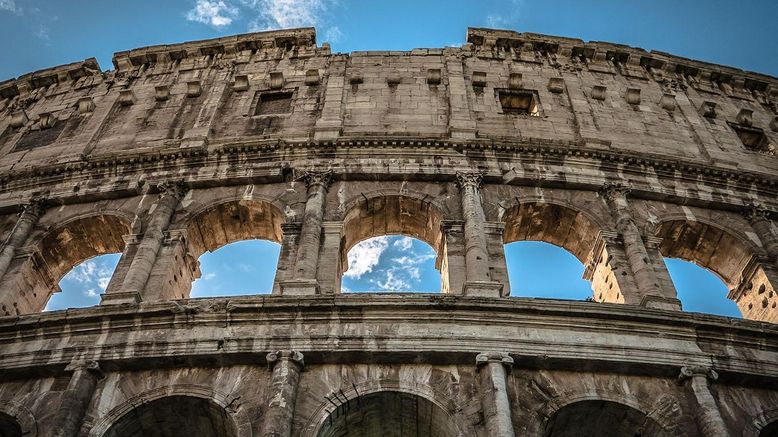 Luggage Storage Rome
Find your luggage storage
Luggage storage in Rome With Radical Storage
If you are looking for luggage storage locations in Rome, this is the place to be! Rome is a magnificent city, but to explore it to the fullest, you should get rid of your heavy bags and find a convenient luggage storage service.
By scrolling up on this page, you will find all the best options to make your time in Rome lighter and more enjoyable. Stow your bags at one of our partners and get back to sightsee stress-free.
Where to store luggage in Rome?
The best way to store your suitcases in Rome is to book with Radical Storage. Our network boasts over 100 locations throughout Rome.
At a reasonable price of €5 per day, you can store bags of any size or weight, including strollers and other large items. In this way, you can enjoy your vacation's last few hours without the hassle and enter museums easily.
Try our storage locations near Termini Train Station or Roma Tiburtina and reach the main landmarks in less than no time! Some of our storage options are open 24/7.
We have reliable options near the most important monuments:
Luggage storage in Rome with Radical Storage
Storing your bags with Radical is very simple, just follow these 3 steps:
Find left luggage in Rome that meets your needs.

Book online with your credit card (secure payment!).

Discover the address of the location and reach it to drop off your bags.
Enabling your geolocation, you can choose the closest luggage storage near you.
Helpful information about Fiumicino Airport
Fiumicino Airport, also known as Leonardo da Vinci Airport, is the main airport serving the capital of Italy. It is located about 35 kilometers southwest of Rome's city center.
The airport is well-connected to the city center by public transportation. The Leonardo Express is a non-stop train service that connects the airport with Rome's Termini station in about 30 minutes. There are also buses available that go to different parts of the city.
With its modern facilities and efficient operations, Fiumicino Airport ensures a pleasant travel experience. The airport has multiple terminals, each equipped with amenities such as duty-free shops, restaurants, and lounges. Its spacious and well-organized layout ensures easy navigation for passengers. Fiumicino Airport also prioritizes passenger safety and security. The airport has implemented stringent security measures to ensure the well-being of travelers. Additionally, there are various transportation options available to and from the airport, including taxis, shuttles, and train services.
The airport is well-connected to the city center, allowing visitors to explore Rome's many attractions. Whether it is the iconic Colosseum, the Vatican City, or the picturesque Trevi Fountain, Fiumicino Airport serves as the gateway to the city's rich history and vibrant culture. Overall, Fiumicino Airport in Rome provides a seamless travel experience, combining modern facilities, excellent service, and convenient transportation options, making it a popular choice for travelers visiting the eternal city.
To get more information about Rome's airport, you can read our article about the best routes from Rome City Center to Fiumicino Airport.
Useful information about Ciampino Airport
Ciampino Airport is a small international airport located in Rome, Italy. With its convenient location, it serves as an alternative to the city's main airport, Leonardo da Vinci-Fiumicino Airport. Despite its smaller size, Ciampino Airport is well-equipped to handle both domestic and international flights. This airport is an important hub for low-cost carriers, making it popular among budget travelers. Its close proximity to the city center also makes it a convenient choice for those flying into Rome for business or leisure.
Ciampino Airport offers a range of amenities to ensure a smooth travel experience. Passengers can find shops, restaurants, and duty-free stores within the terminal. There are also several car rental agencies available for those who wish to explore the city upon arrival. Transportation to and from the airport is readily available. There are bus and train services that connect Ciampino Airport to Rome's city center. Taxis and private shuttle services are also abundant.
Termini Station and other useful information
Termini Station is the main train station in Rome, Italy. It serves as a hub for both national and international train services, making it a central point for travelers. The station is named after the nearby ancient Baths of Diocletian, which are worth a visit.
Termini Station is also well-connected to other modes of transportation, such as buses and the metro, making it easy to explore the city from there. The station is conveniently located near several popular attractions, including the Colosseum, Roman Forum, and the Trevi Fountain.
Inside the station, there are numerous amenities to ensure a comfortable experience for travelers. There are shops, cafes, and restaurants where visitors can grab a bite to eat or purchase souvenirs. The station also has banking and currency exchange services, as well as luggage storage facilities.
Termini Station is known for its bustling atmosphere, with thousands of people passing through it daily. However, it is important for travelers to be cautious of their belongings, as pickpocketing can occur in crowded areas. Overall, Termini Station is a vital transportation hub that plays a significant role in connecting travelers to the wonders of Rome.
What to see if you are in Rome only for one day ?
Rome is one of the world's most historically and culturally rich cities, with a wealth of monuments, museums, and other attractions that can take days, if not weeks, to fully explore. However, if you only have one day to spend in the city, you'll need to be strategic about how you spend your time.
Here are a few must-see sights to consider if you're short on time:
Skip Colosseum's line and enjoy the outside
Perhaps entering the Colosseum can be difficult due to lines and restrictions, but you can choose to admire its majesty from the outside and take beautiful photos for your social.

Throw a coin into Trevi Fountain
The legend claims it directly: the first coin you throw into the Trevi Fountain assures your return to Rome, the second one a new lover, and the third guarantees a marriage. Believe it or not, the coin into Trevi's Fountain has become a ritual that visitors like to take part in.

Vatican, Vatican, Vatican!
Again, visiting the Vatican or its museums takes a lot of time, but admiring the beautiful St. Peter's Square takes little time. Take stunning photos of the fountains or view the columns from their center (you'll only see one row!). And if you're in the square on a Wednesday at 11 am, you'll also be able to watch the Pope's Angelus.

Take a look at Rome's keyhole
In Piazza dei Cavalieri di Malta you will find a famous brass keyhole that hides a secret view of Saint Peter. If you look through it (maybe after queuing a bit), you will see a perfect "visual postcard" of St. Peter's dome. Before you reach this attraction, we suggest you stop by the Oranges' garden (Italian Giardino Degli Aranci), a lovely place with a beautiful view of the City Center.

Enjoy Campo de' Fiori
Do you like the warm Roman atmosphere and want to know its deepest secrets? Then you have to drop by Campo de' Fiori, a lovely square in the city center. In the morning, you will find a local market with fresh produce and stalls with clothes, hats, and souvenirs. In the afternoon and evening, you can take a walk with friends or sit in one of the many restaurants in the area.

Buy some souvenirs
You don't have much time and have forgotten to buy souvenirs or gifts for your loved ones? There are several shopping hubs in Rome. If you are near Termini station, you can go to Via Nazionale. If you are in the Vatican area, you can reach Via Cola di Rienzo. Finally, if you are in the city center, you will find Via del Corso and Via Condotti, two Italian shopping hubs.

Relax at Villa Borghese
Had enough of the traffic and crowds of people? Good news! Rome is a city full of spectacular parks. One of them is located just a few steps away from Via del Corso. You can reach Villa Borghese directly from the Flaminio metro stop (just a short walk from Via del Corso). This is an 800-hectare green space with fountains, statues, tree-lined avenues, and gardens.
What users think about us
Translated automatically
Show original
Hide original
Hundreds of people enthusiastically use our luggage storage service every day
Hundreds of people enthusiastically use our luggage storage service every day
3 Mln+ Suitcases carefully stored
Keeping your luggage safe is our main mission
7000+ Bag guardians worldwide
Our storage points called "Angels" are all over the world
24/7 Instant support
We are always available to answer your questions
0,00% of missing luggage
The numbers speak for themselves, with us you can feel safe!
Store your bags in a few clicks
The worldwide luggage storage network. Our Angels are bars and bistros who have been checked and approved by the Radical Storage team
Step 1
Locate
Find a luggage storage location near you
Step 2
Book
Proceed with online booking
Step 3
Store
Store your suitcases
Step 4
Enjoy
Enjoy your hands-free journey
Frequently Asked Questions