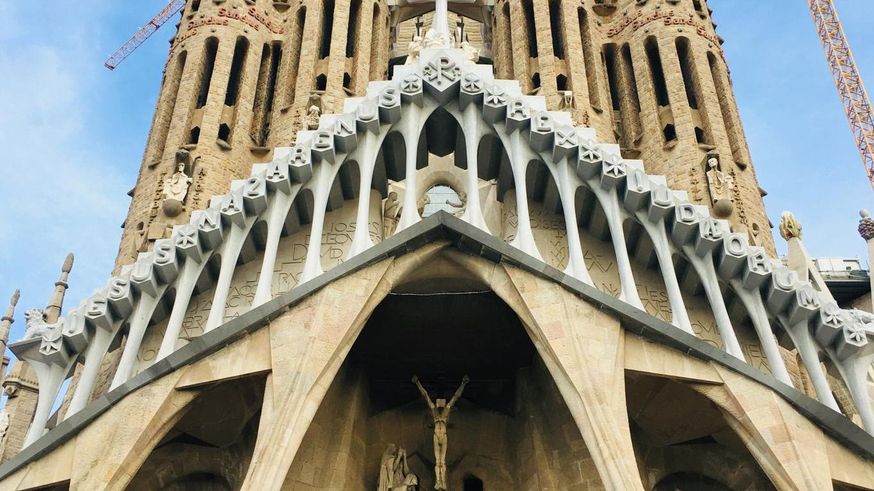 Luggage Storage Sagrada Familia
Find your luggage storage
Top locations in Sagrada Familia
Luggage storage in Sagrada Familia With Radical Storage
Finding a spot for luggage storage near Sagrada Familia can be challenging as this magnificent landmark hosts 4.5 million tourists annually. But you don't have to worry because you are in the right place!
Radical Storage has come up with a list of verified luggage storage locations for you near Sagrada Familia. So don't lose heart and get ready to explore.
Trusting your suitcases to our professional team has many upsides to it. For example, your luggage will be completely safe, it will be kept in a clean space, and most importantly, we offer a guarantee of up to €3,000 per bag. There is also no restriction on the size or weight of your bags, and you can store them at a fixed price of €5 per day per item.
Interesting facts about Sagrada Familia, Barcelona
The Sagrada Familia is one of the most famous buildings in Barcelona and Spain, making it a popular attraction. With its unique architecture and unfinished structure, Sagrada Familia is classified as one of the UNESCO World Heritage Sites. Here are some useful and interesting facts about this basilica:
Sagrada Familia architecture resembles a mixture of Catalan Modernism, Spanish late Gothic, and Art Nouveau styles.

Tickets for Sagrada Familia can be bought online, and the cost is about €17, but the price for guided tours of the church varies.

As it is a Catholic church, you have to be dressed appropriately in decent clothing for the Sagrada Familia interior tour.

Sagrada Familia is considered the final project of the legendary architect and designer Antoni Gaudi's career.

The opening hours for admiring Sagrada Familia inside halls are 9 am to 8 pm all week.

You can get to the famous church by metro lines L5 or L2 to Sagrada Familia metro station.

The construction of Sagrada Familia started in 1882, and it is expected to be completed in 2026.
Book one of the Radical luggage storage near the Sagrada Familia
Traveling around the city of Barcelona is a once-in-a-lifetime experience to live, that you certainly cannot skip out, especially if you arrive in front of one of the most important symbols of the city, the Sagrada Familia. In front of the great building, you will feel like speechless and you will want to visit it as soon as you can. However, it must be difficult to enjoy fully the Sagrada Familia experience inside, if you have to roll around your suitcases.
That is why you should take advantage of Radical Storage, which can offer you the safest and most convenient service, thanks to all of our luggage storage options, dotted around Barcelona and even nearby the Sagrada Familia. In a simple clik on our website or even our user-friendly app, you'll find the storage of your dreams.
On the website, you'll be able to find an interactive map of the city, where you can look out your current location. In some easy steps, you'll be able to checkout all the Angels, as we like to call our partners, closest to your location, so that everything will be set in a moment and you could book it. Our Angels are chosen among a great selection of local businesses, such as restaurants, bars and other ventures, taking into account factors as safety, closeness and convenience, just to give you the perfect service.
Why should you store your bags near Sagrada Familia with Radical Storage
There are countless reasons as to why you should choose our Radical Storage official luggage storage options, since we can offer you many different perks, such as:
Fast Check-in: Our service offer a check in that you can complete in a matter of minutes, so you won't ever need to wait for long queues and other hassles.
Peace of mind: We offer you a security guarantee that will allow you to almost 3000 euros of value, so you could be safe and sound that your luggage will be secure with us.
Free Cancellation: In any case there might be some issues that will not allow you to stop by our luggage storage or even have your trip, you could still cancel without any fee.
Adaptability: Our service is also very flexible, which means that you could change any detail of your luggage storage without any problem.
How to arrive to Sagrada Familia from the Sants Station
If you are planning a visit to Barcelona, one of the must-see attractions is the iconic Sagrada Familia. Located just a few kilometers from the Sants Station, it is relatively easy to reach this magnificent basilica using various transportation options.
The most convenient and straightforward way to arrive at the Sagrada Familia from Sants Station is by taking the metro. From the station, head towards the metro area and board Line 5 (Blue Line) towards Vall d'Hebron. After five stops, you will reach the Sagrada Familia metro station. Once there, simply follow the signs to the basilica, which is just a short walk away. The entire journey takes around 15 minutes, making it an efficient and time-saving option.
If you prefer to explore the city on foot, you can also consider walking from Sants Station to the Sagrada Familia. Although it is a longer distance, approximately 4 kilometers, it allows you to soak in the vibrant atmosphere and see various landmarks along the way. Walk along Carrer de Sants, one of the longest shopping streets in Europe, until you reach Avenida Diagonal. From there, continue straight until you spot the towering spires of the Sagrada Familia.
Another alternative is to take a taxi or use ride-hailing services like Uber or Cabify. Taxis are readily available outside Sants Station, and the ride to Sagrada Familia takes about 10 minutes, depending on traffic conditions.
Regardless of the mode of transportation you choose, arriving at the Sagrada Familia from Sants Station is a breeze. Just remember to plan your visit in advance to ensure a smooth and enjoyable experience at this architectural masterpiece.
How can I arrive to the Barcelona airport from the Sagrada Familia?
To arrive at Barcelona Airport from Sagrada Familia, you have multiple transportation options available. Barcelona Airport, also known as El Prat Airport, is located about 15 kilometers southwest of the city center. Here are a few methods to consider:
Metro: The most convenient and cost-effective option is to take the metro. From Sagrada Familia, you can catch the L5 (blue line) and ride towards "Vall d'Hebron." Get off at the "Collblanc" station and transfer to the L9 Sud (orange line) towards the airport. The journey takes approximately 50 minutes, depending on the time of day.
Aerobus: Another popular option is the Aerobus service, which provides direct transportation between the airport and the city center. Catch the Aerobus A2 from the Sagrada Familia stop, and it will take you straight to Terminal 2 at the airport. The journey usually takes around 35 minutes, depending on traffic conditions.
Taxi: Taxis are readily available in Barcelona and provide a convenient door-to-door service. Although it's the most expensive option, it can be a good choice if you have lots of luggage or prefer a more direct route. The journey typically takes around 20-25 minutes, depending on traffic congestion.
Things to explore near Sagrada Familia
The central location of Sagrada Familia makes it a unique site for the exploration of the surrounding areas. Here are some of the top picks:
Wander around the neighborhood on a bike
One of the things tourists enjoy doing near Sagrada Familia is exploring the neighborhood on a bike. You can rent a bike from different vendors at the corner of the street at an affordable rate and experience the Barcelona lifestyle on wheels.

Take a walk on Gaudi Avenue
After having your mind blown by the beauty of Sagrada Familia, head over to Gaudi Avenue, which stretches from the basilica to L'Hospital de la Santa Creu i Sant Pau. Named after the architect Antoni Gaudi, this avenue bursts with local cafes and fine restaurants.

Visit the neighborhood of Gràcia
This lovely neighborhood attracts tourists due to its history before the 19th century when it used to be a separate town from Barcelona. Don't forget to take a stroll in Passeig de Gràcia, a bustling street in Gràcia full of modern architecture.
Other places near Sagrada Familia
What users think about us
Translated automatically
Show original
Hide original
Very easy to find a location and book online. Storage location was literally a minute from our apartment so perfect. Quick and simple drop-off and collection.
Buena opción para cuidado de equipaje
Buena opción para cuidado de equipaje
Dejamos el equipaje en un local de renta de bicis y fue una excelente opción, la persona que nos atendió fue muy amable y nos ayudó a poder visitar la Ciudad, sabiendo que nuestras maletas estaban bien cuidadas.
Dejamos el equipaje en un local de renta de bicis y fue una excelente opción, la persona que nos atendió fue muy amable y nos ayudó a poder visitar la Ciudad, sabiendo que nuestras maletas estaban bien cuidadas.
Hundreds of people enthusiastically use our luggage storage service every day
Hundreds of people enthusiastically use our luggage storage service every day
3 Mln+ Suitcases carefully stored
Keeping your luggage safe is our main mission
7000+ Bag guardians worldwide
Our storage points called "Angels" are all over the world
24/7 Instant support
We are always available to answer your questions
0,00% of missing luggage
The numbers speak for themselves, with us you can feel safe!
Store your bags in a few clicks
The worldwide luggage storage network. Our Angels are bars and bistros who have been checked and approved by the Radical Storage team
Step 1
Locate
Find a luggage storage location near you
Step 2
Book
Proceed with online booking
Step 3
Store
Store your suitcases
Step 4
Enjoy
Enjoy your hands-free journey
Frequently Asked Questions