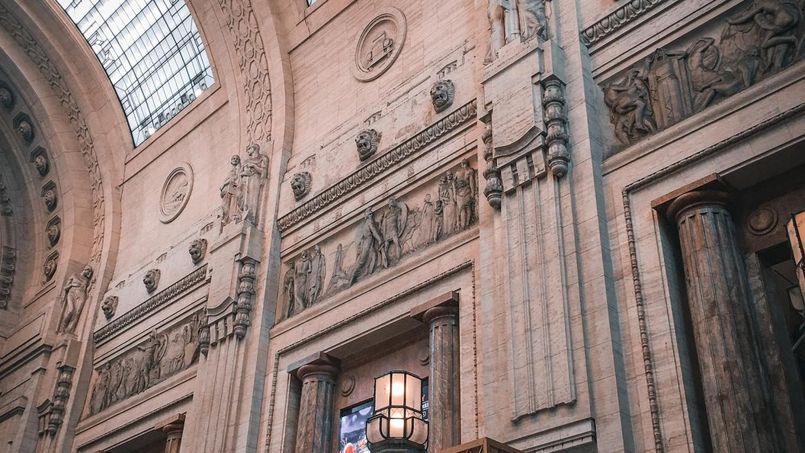 Luggage Storage Milan Central Railway Station
Find your luggage storage
Top locations in Milan Central Railway Station
Luggage storage in Milan Central Railway Station With Radical Storage
If you are getting tired of dragging your luggage with you throughout the magnificent Milano Centrale station, Radical Storage is here to help. We provide secure locations for Milano Centrale luggage storage at a fixed daily rate, regardless of the weight or size of your luggage.
You can leave your bags at our luggage storage facilities anytime without waiting in long queues by booking online through our mobile app. With Radical Storage, you can enjoy your trip without worrying, as each piece of your luggage is covered with a security guarantee of up to €3000. Our 24/7 support team ensures that you have a safe and wonderful experience with Radical Storage.
Milano Centrale
Recognized as one of the largest train stations in Europe, Milano Centrale railway station is the main transportation hub of Milan. Located in the northern side of the city, Milano Centrale is not only the central train terminus for thousands of daily commuters but also an architectural tourist spot. With long-distance and local train lines, Milano Central connects local commuters and tourists to several destinations via both national and international routes.
From Milano Centrale train station, you can go as far as Munich, Vienna, Genova, Paris, and lots of other regional and international destinations. To reach the Malpensa airport, you can catch Malpensa express train, which stops at terminals 1 and 2 of Malpensa airport and costs €8-€10.
If you ever find yourself stuck in Milano Centrale, maybe because you have to catch a train but it still hasn't left and you don't know what to do, don't worry because there will be countless amenities to answer your questions. For example, you can find many different Milan Central station restaurants where you can catch a bite and explore the Italian food area, while lavishly waiting for your train. There are also many other amenities that you can take advantage of, such as many Milan Central Station hotels, an official Milan Central Station car rental service, and many other services.
However, if you still have time to spare, while waiting for your train, it can be quite burdensome to carry around your heavy luggage and backpacks without a rest. You can find some Milan Central Station lockers and luggage storage, but they can be quite expensive and busy, because of the high capacity that is requested. The solution can come here with Radical Storage thanks to our luggage storage at Milano Centrale train station and nearby the building, where you can store your luggage in less than a few minutes in a convenient and safe location, so that your belongings can be safe, during your time at the station.
How to get to Milano Porta Garibaldi from Milan Railway Station
If you want to get to Milano Porta Garibaldi from Milan Railway Station, there are may options. The fastest and easiest way is to take the metro line M2 towards Garibaldi FS and get off at the Porta Garibaldi stop. This should take you around 5 minutes.You could also walk there since it would only take you approximately 20 minutes to reach Milano Porta Garibaldi from Milan Railway Station. There are also countless buses available that can take you to Porta Garibaldi, but the travel time may vary depending on traffic conditions. Getting to Milano Porta Garibaldi from Milan Railway Station is quite simple and convenient, with multiple transportation options available.
How to arrive to Milan Airport from Milano Centrale
If you want to reach from Milano Centrale to Malpensa, You can choose from many options available. The most convenient way is by taking the Malpensa Express train, which runs directly between the two locations. This train departs roughly every 30 minutes and the journey takes around 50 minutes.Another alternative to go from Milan Centrale to Milan Airport is the shuttle bus service, such as the Malpensa Shuttle or the Terravision Bus. These buses operate frequently throughout the day and the trip duration is similar to that of the train.
If you prefer a more private and direct means of transportation, there is always the option of hiring a taxi or using a ride-sharing service like Uber. However, these options can be more expensive compared to taking the train or bus. No matter which mode of transportation you choose, make sure to plan your journey in advance to ensure a smooth and timely arrival at Milano Malpensa airport.
From Milan Centrale to Orio airport: how to reach it
From Milan Centrale, Aeroporto Bergamo Orio is reachable with many different options. The easiest and most convenient option is to take the shuttle bus, which operates regularly throughout the day. The journey usually takes about an hour, depending on traffic conditions. Another option is to take a train to Bergamo and then a bus or taxi to the airport. This route may take a bit longer, but it can be a more economical choice. Overall, there are plenty of transportation options available to reach Orio airport from Milan Centrale.
Things to do near Milano Centrale
If you plan on visiting all the famous destinations across Milan, Milano Centrale station is just the right place to begin with, as it offers transport facilities to all the local tourist hubs in the city. A few minutes from Milano Centrale station, you can visit the historic Holocaust memorial called Memoriale Della Shoah Di Milano. In this amazing building, you'll be able to reconnect with an important piece of history of the city and the entire country. Walking through these walls, you will be able to assist to some truly essential artifacts of the era and remember the importance of the sufferings of these part of the population.
Not far from Milano Centrale, you can get a guided bike tour of the entire city of Milan, which shows you the city from the perspective of its locals and covers many famous monuments and streets.Take a 4-minute walk to get to Piazza Duca d'Aosta, which is a bustling city square of Milan with a giant apple statue, Pirelli Tower, and important tourist spots.There is also the imposing Sanctuary of Saint Camillo de Lellis, which you can visit whenever you want and get charmed by its incredible beauty. Inside this sanctuary, you will be marveled by the beauty of the unique architecture and the amazing statues that you will find. However, if you don't want to get far away from the station not even for a moment, you can easily go out the station and admire the charming 'Mela Reintegrata', the statue of a gigantic apple that stands tall around the station.
How do I go from Milano Centrale to Duomo?
Milan Cathedral, also known as Duomo, is one of the famous tourist attractions in the city.
Duomo di Milano is situated just 3 km from Milano Centrale, and you can reach it in about 11 minutes via a subway train. The best way to get to Duomo from Milano Centrale metro is by taking line 3 subway, which costs around €2.
Other places near Milan Central Railway Station
What users think about us
Translated automatically
Show original
Hide original
Very fast, safe, close to Milano Centrale, everything was perfect
-
Everything as expected
Tutto come da aspettative
Hundreds of people enthusiastically use our luggage storage service every day
Hundreds of people enthusiastically use our luggage storage service every day
3 Mln+ Suitcases carefully stored
Keeping your luggage safe is our main mission
7000+ Bag guardians worldwide
Our storage points called "Angels" are all over the world
24/7 Instant support
We are always available to answer your questions
0,00% of missing luggage
The numbers speak for themselves, with us you can feel safe!
Store your bags in a few clicks
The worldwide luggage storage network. Our Angels are bars and bistros who have been checked and approved by the Radical Storage team
Step 1
Locate
Find a luggage storage location near you
Step 2
Book
Proceed with online booking
Step 3
Store
Store your suitcases
Step 4
Enjoy
Enjoy your hands-free journey
Frequently Asked Questions