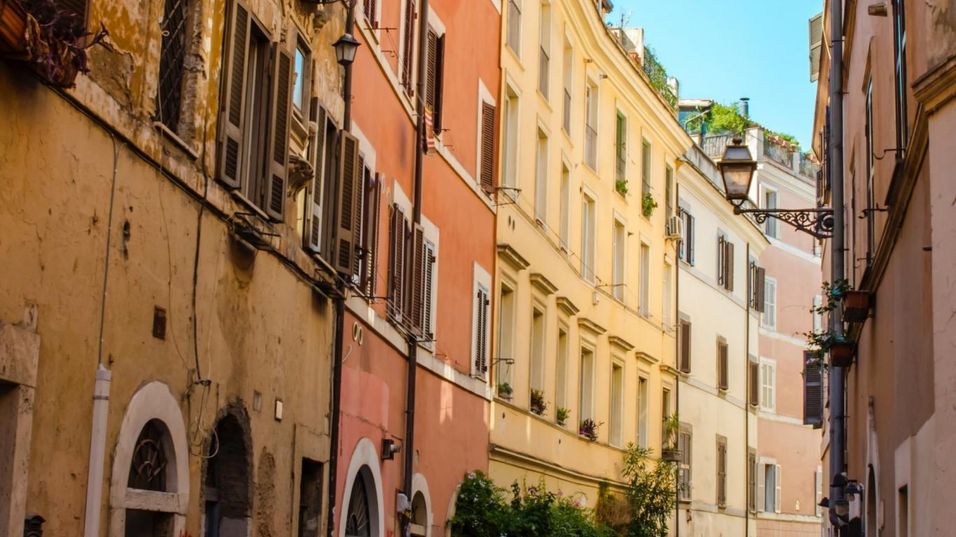 Luggage Storage Locations Trastevere
Find your luggage storage
Top locations in Trastevere
Luggage storage in Trastevere With Radical Storage
Finding a suitable and affordable place for luggage storage in Trastevere can be difficult, which is why Radical Storage is here to help. We make your travels more convenient by offering trustworthy luggage storage facilities in all the famous areas of Rome.
There is a simple online booking process that allows you to drop off bags without queuing. Our 24/7 active team will take care of your valuable stuff while you are away making memories.
We have a fixed daily price, regardless of the size or weight of the luggage. You can just download our handy app and book your spot now.
Exploring Trastevere neighborhood
Located on the west bank of the River Tiber, Trastevere in Rome is known for its narrow, cobblestone streets and lively nightlife . It's a popular destination for tourists and locals alike, with a variety of restaurants, bars, and clubs. This pulsating and fairylike district got its name from a Latin word that literally means "beyond the Tiber."
For transportation, there is the Trastevere train station nearby but no Trastevere metro station, although tourists can take a bus from Piramide metro station, which is the closest one and well-connected to Termini. You can go from Trastevere to Colosseum in less than 20 minutes by taking tram line 3 or bus line 75.
Trastevere Curiosities
Trastevere is a wonderful place to spend time, while visiting the amazing city of Rome, since there are so many little wonders to discover and get charmed by. Once you will walk through its crowded cobblestone streets, you will be able to get fully the view that is leaving everyone so breathless. The neighborhood of Trastevere is a place full of history and charm, which dates back even to the Etruscan era.
In the past, the area was considered a really powerful one, since it would allow a strategic control on the river and, therefore, on the entire city. Later on, during the Republican era, the place was mostly inhabited by workers, fishers and people from all over the continent, creating a melting point of culture and traditions, which made it so unique. During the Imperial era, although, the place completely changed and became the perfect location for all the great domus of the noblemen of the time. Nowadays, Trastevere is a lively and amazing neighborhood that will be a wonderful location for your magical trip through the Roman city.
How to reach Trastevere from Fiumicino Airport
If you are in Fiumicino and want to reach Trastevere, there are several options available to you. One of the most convenient ways is to take a taxi, which will cost you around 50 euros. Another option is to use public transportation. You can take the Leonardo Express train from Fiumicino Airport to Roma Termini, then transfer to the FL1 train towards Fara Sabina or Orte and get off at Trastevere Station. This option is cheaper, around 16 euros, but it may take longer. Alternatively, you can take a bus from Fiumicino to Trastevere, which will cost you around 8 euros.
From Ciampino Airport to Trastevere: How to arrive there
Ciampino Airport, located just outside of Rome, is a popular gateway for travelers. If you're looking to get from Ciampino Airport to the picturesque neighborhood of Trastevere, there are several options available.
One convenient choice is using public transportation. The Terravision shuttle bus offers a direct connection from Ciampino Airport to Termini Station, the main transportation hub in Rome. From Termini, you can take the tram or bus to Trastevere. The journey may take around 45-60 minutes.
Alternatively, you can take a combination of the airport shuttle bus and train. The bus will take you to Ciampino train station, where you can catch a train to Trastevere. This option can be cheaper, but it may require some walking and transfers.
How to arrive to Trastevere from Termini station
To reach Trastevere from Termini station, you have a few options. One way is to take the tram line 8 from the station to the Trastevere stop. Another option is to take the H bus or the 3 or 3B tram lines. These will also take you to Trastevere. If you prefer a more scenic route, you can take a leisurely walk from Termini station to Trastevere, which takes about 30-40 minutes. Whichever method you choose, you'll eventually arrive in Trastevere, where you can explore its narrow streets, ancient churches, and vibrant local culture.
What to do in Trastevere?
Trastevere is a vibrant and lively neighborhood with different things to see and do. Here are a few ideas of what to do in Trastevere:
Enjoy Trastevere nightlife
If you want a true Roman experience, start by taking a stroll in Trastevere at night. There is so much to explore walking down the cobblestone streets of Trastevere, from fresh food markets to ancient buildings. Enjoying the animated nightlife of Trastevere is a chance you should not miss.

Explore the Basilica of Santa Maria in Trastevere
Apart from its charm and lively vibe, Trastevere is also a hub for many historical and religious buildings like Basilica Santa Maira. It is one of the oldest Roman churches known for its stunning mosaics and frescoes and is a beautiful landmark that attracts tourists from all over the world.

Try local food
Trastevere is heaven for those with excellent food taste. From fashionable cafes, and crowded bars, to fresh food stalls and fruit markets, you can find everything there. Be sure to hit one of those bars and try the famous Aperitivo in Trastevere.

Visit Villa Farnesina
It is a gorgeous mansion that dates back to the 16th century, located right in the heart of Trastevere. Villa Farnesina is known for its stunning frescoes and paintings by artists such as Raphael. The tickets to Villa Farnesina cost around €5-€10.
Free audio guide of the city
Other places near Trastevere
What users think about us
Translated automatically
Show original
Hide original
So convenient, what a great service!
This a perfect service for people with a late flight and an early checkout. So many places are available, so you're never too far from a place to drop your luggage off. Such a great price too. I will use this service again.
first time user
this was my first time using RadicalStorage and it worked well. So I have no issues or complaints and would recommend this service for anyone
Comodo
Comodo
Efficiente comodo pagato il giusto
Efficiente comodo pagato il giusto
Hundreds of people enthusiastically use our luggage storage service every day
Hundreds of people enthusiastically use our luggage storage service every day
3 Mln+ Suitcases carefully stored
Keeping your luggage safe is our main mission
7000+ Bag guardians worldwide
Our storage points called "Angels" are all over the world
24/7 Instant support
We are always available to answer your questions
0,00% of missing luggage
The numbers speak for themselves, with us you can feel safe!
Store your bags in a few clicks
The worldwide luggage storage network. Our Angels are bars and bistros who have been checked and approved by the Radical Storage team
Step 1
Locate
Find a luggage storage location near you
Step 2
Book
Proceed with online booking
Step 3
Store
Store your suitcases
Step 4
Enjoy
Enjoy your hands-free journey