If you have a few hours before boarding the Eurostar, you may need luggage storage near St Pancras International Station.
Hotels often schedule check-out before noon, leaving travelers at the mercy of their luggage for several hours.
Nowadays, problems like this can be solved quickly and cost-effectively.
Find out now how to get rid of your bags in a few minutes through your mobile phone.
Does St Pancras have luggage storage facilities?
There are several luggage lockers and storage locations at your disposal on the ground floor in the St Pancras area.
However, don't trust the first service that comes along but remember this name: Radical Storage.
We provide left luggage options worldwide , close to transit stations, airports, and landmarks.
Our service is a step ahead of ordinary luggage lockers in St Pancras because it's made by reliable people who take care of your bags for as long as you wish.
Let's get to the point. Radical Storage's partners (called Angels) come to your aid at any time of day (and night), setting your suitcases in a safe place.
Luggage Storage St Pancras: open the map and book the nearest left luggage option
Enter our website to reserve 100% secure luggage storage solutions in St Pancras or select one of the following locations:
Why choose us – Left luggage St Pancras
Stop searching for St Pancras storage locations or rely on traditional Excess Baggage! Leave your luggage with Radical Storage!
Our team designed this service to make your holidays and business trips more pleasant.
Since the beginning, we have called our partners "Angels" because they'll protect your luggage from the first to the last moment.
A Radical Storage Angel is a trustworthy professional who has provided safe spaces or rooms within their premises.
You can find us in different local companies, such as hotels, cafes, shops, restaurants, and pubs.
Luggage Storage St Pancras – How much does it cost?

Contrary to other luggage storage services, Radical Storage has a fixed daily rate: £5 per bag/day without any surprises or extra costs.
In addition, our partners accept luggage of any weights and sizes.
Are you wondering if you have to wait in line? The answer is you don't have to!
All the Angels will check in your bags in a few minutes so that you can optimize your free time.
With Radical Storage, you can explore all gems of the city without the fear of losing valuables and any weights.
If you have any questions or suggestions, please contact our customer support online.
5 Things to do near St Pancras International
St. Pancras Station, also known as London St. Pancras, is a strategic railway terminus on Euston Road in Camden.
Opened in 1986, the station building is considered to be a Victorian masterpiece.
Here you'll find 4 primary services: Southern and Thameslink, Eurostar, and East Midlands Railway.
Not far from this station, there's also a direct connection to the Heathrow Airport.
London St. Pancras International, moreover, is home to a variety of restaurants, bars, and cafes serving different types of breakfast, lunch & dinner – and everything in between.
Unsure of what to do while waiting for the train? Here are some useful tips.
Search for the perfect book in the British Library
Even if you don't suffer from bibliophilia, the British Library is worth a visit.
This large building has a unique collection, including books, manuscripts, stamps, audio recordings, maps, newspapers (about 60 million!), and music scores.
Is the British Library open only to academic scholars or professional researchers? No, it's not. There are several ways the non-academic public can access the resources.
Check what's on here.
Address: 96 Euston Rd, London NW1 2DB, United Kingdom.
Explore Camden Town Market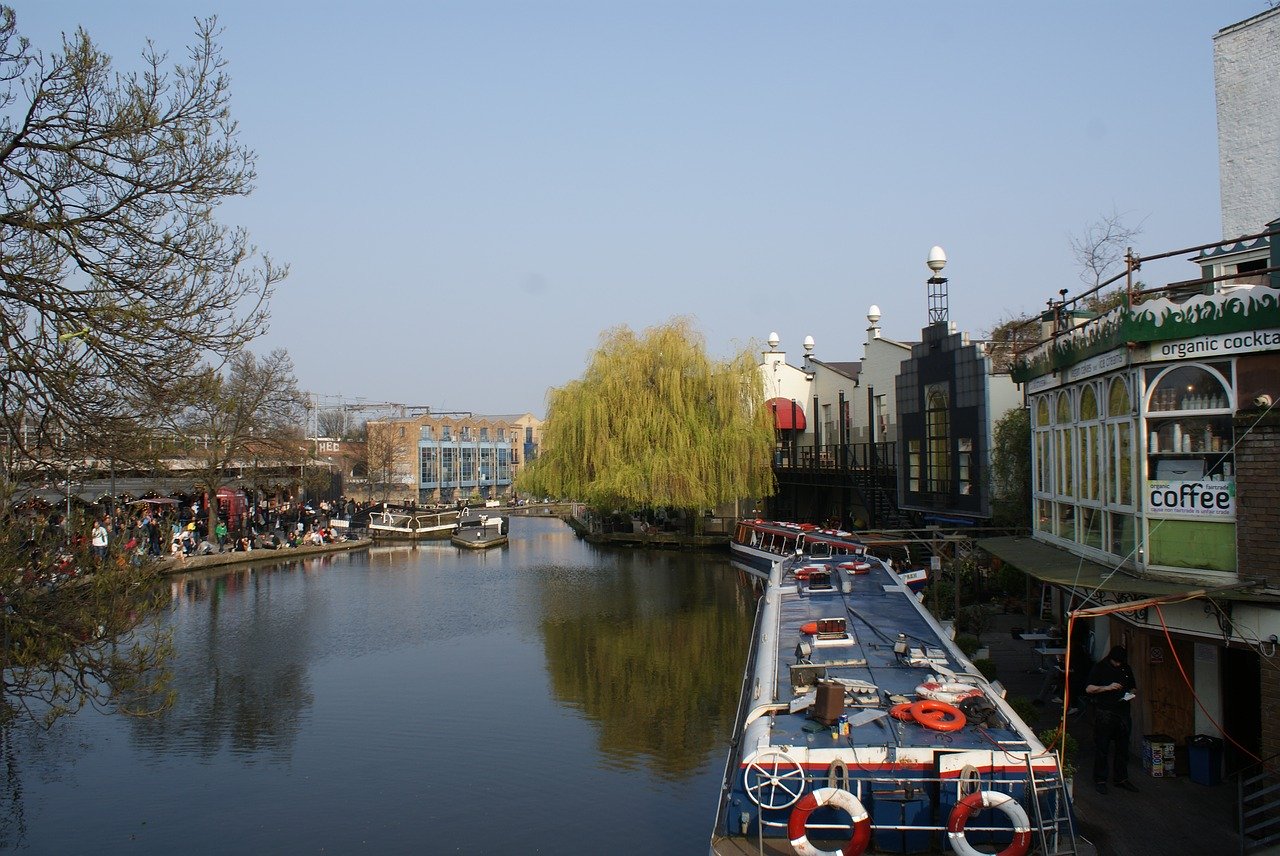 Take the subway and get off at Camden Town. In a few minutes' walk, you can reach one of the coolest markets in the city.
Camden Market boasts more than 1,000 shops, stalls, bars, and cafes.
Although open seven days a week, we suggest you visit the market during the weekend because all the stalls are in operation.
Places to see in Camden Town at sunset.
Address:Camden Lock Pl, Camden Town, London NW1 8AF, United Kingdom.
Don't miss the Crypt Gallery
The Crypt Gallery is an unforgettable place located in the New Church of St Pancras.
In 2002, it became a gallery space hosting a year-round program of exhibitions.
Moreover, its atmospheric backdrop makes each exhibition a unique experience.
Find out the crypt map.
Address: Euston Road, London, NW1 2BA, United Kingdom.
Drop by Kings Cross' Platform 9 3/4
Do you like Harry Potter? Then you shouldn't forget to drop by the platform 9 3/4.
Besides being a fundamental place for all J. K. Rowling lovers, on this platform, you'll find the Harry Potter Shop.
Check the opening hours on the official website.
Here you find the closest left luggage locations.
Address: Pancras Rd, Kings Cross, London N1 9AP, United Kingdom.
Go shopping in the station
Whether you're planning a shopping spree or need to buy a few souvenirs to take as gifts to your loved ones, St Pancras has everything you need and more!
At the station, you'll find luxury boutiques, such as Chanel and Calvin Klein, as well as jewelry, sportswear, and perfume shops.
If you want to read a book during the trip, Hatchards is the ideal place.
Information about Circle Areas.
Find out all our luggage storage in London: