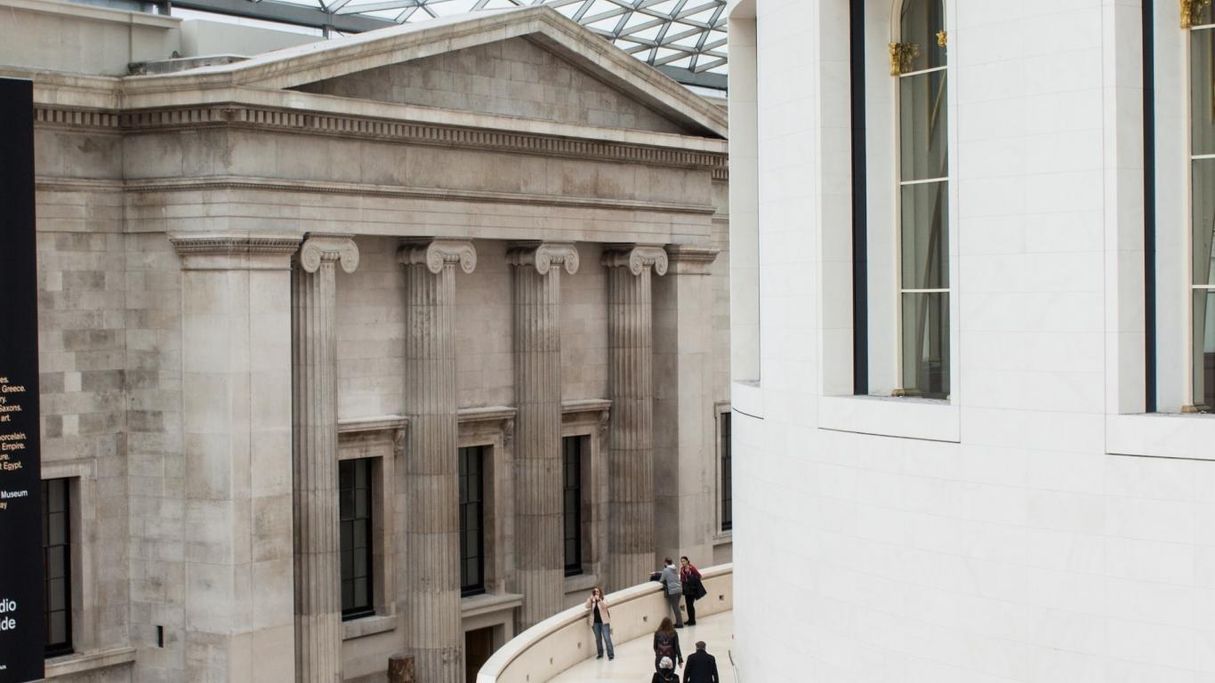 Luggage Storage British Museum
Find your luggage storage
Top locations in British Museum
Luggage storage in British Museum With Radical Storage
Are you planning a trip to the legendary British Museum but don't know what to do with your luggage while you explore the museum? Radical Storage is here with a solution. We provide reliable options for British Museum luggage storage at a reasonable price.
Leave your bags with our trustworthy team, who will take care of your valuable stuff for just £5 per day per bag, regardless of their size or weight. You can find a partner location in every corner of the city by downloading our mobile-friendly application. The booking process is simple and convenient so that you don't have to queue for your turn to store or pick up your bags and can make the most of your vacation.
British Museum, London
Founded in the 1750s, the British Museum in London is the world's first-ever national museum which covers every aspect of knowledge from human history to science.
One of the most visited museums in the world, the British Museum is not only a treasure trove for anyone interested in history but also for culture and art. With a collection of over 8 million artifacts covering nearly 2 million years, it's no surprise that this museum has made its mark as a top attraction for millions of visitors every year.
Entry to the museum is free. However, you can buy tickets to British Museum for out-of-hours tours and special British Museum exhibitions.
Due to its prime location, the British Museum is accessible from the famous railway terminals of the city. For instance, if you are traveling from Euston Station, you can reach the museum in 10 minutes by taking a train on the Northern line.
British Museum's nearest tube station is Tottenham Court Road which is less than 5 minutes away from the museum.
British Museum | An amazing collection
The British Museum in London is a landmark that cannot be forgotten, since it is one of the symbols of this enchanting city. If you are looking for a place, where to roam around and discover countless secrets about the world that surrounds you and its marvelous secrets, then the British Museum is the right place for you. Once you will have purchased some British Museum tickets, you will be able to freely roam around its magnificent halls, and explore all the famous British Museum exhibitions and collection of artifacts that have made it as famous as it is nowadays.
For example, the British Museum natural history collection is one that is envied all over the world, so don't you dare let it slip away from you, because it will be an amazing opportunity to not let escape. During a British Museum tour, you'll also be able to visit some of the most valuable historical pieces in the entire world, such as the famous British Museum Rosetta Stone. Check out the British Museum opening hours and grab a ticket as soon as you can, so you can complete your expedition to London in full style and with bright eyes open.
How to get from the British Museum to Heathrow Airport
To get from the British Museum to Heathrow Airport, you have several options. Firstly, you can take the London Underground. You can walk to Tottenham Court Road station and take the Piccadilly Line towards Heathrow. It takes around 45 minutes and costs about £6. Alternatively, you can take a bus. The number 10 bus goes from the Museum to Victoria Station, where you can catch the Heathrow Express train. Another option is to take a taxi or an Uber, which takes approximately 45 minutes, depending on traffic. You can also book a private airport transfer, which ensures a hassle-free journey.
Where to go from the British Museum to Gatwick Airport
Once you have explored the magnificent exhibits and treasures at the British Museum, it's time to embark on your journey to Gatwick Airport. There are various transportation options available to make this journey seamless and convenient. You can choose to travel by train, which provides a direct connection from Russell Square underground station to Gatwick Airport. Alternatively, you can opt for a taxi service, which will take you directly to the airport. Another option is to utilize the airport shuttle service, offering frequent departures from several locations in central London. Regardless of the transport mode you choose, you are guaranteed a hassle-free journey to catch your flight.
From the British Museum to Euston Station and useful information
From the British Museum, visitors can easily reach Euston Station, one of the major railway hubs in London. The museum is located in Bloomsbury, just a short walk away from several tube stations. To get to Euston Station, one can take the bus or the Underground. The nearest tube station to the museum is Tottenham Court Road, where visitors can catch the Northern or Central line to reach Euston. Alternatively, one can also walk to Russell Square or Holborn tube stations, which are slightly further but still in close proximity. Euston Station provides excellent connections to various parts of London and the UK.
What to see at British Museum
The British Museum has always been one of the most visited museums in the UK. Nowhere else will you find such a spectacular collection of human history, culture, and art across almost 2 million years. If you are visiting London and have just a few hours to spend at the British Museum, here are some amazing places you must visit.
The British Museum of Natural History has a lot to offer which you don't want to miss out on. Starting with the most famous object in the museum, which is Rosetta Stone. It is an Egyptian stele with ancient inscriptions and great historical significance.
After that, head over to 2500 years old carved Greek sculptures from The Parthenon. The aim of displaying those sculptures is to inform people about classical Greek culture and history and narrate the fascinating stories of the goddess Athena Parthenos.
Don't miss a chance to take a photograph in front of the wondrous artifact of the Egyptian pharaoh. The statue depicts Ramesses II and it weighs more than 7 tonnes because of its gigantic size.
Admiring the artistic display of The Tomb of the Unknown Craftsman is on top of every visitor's list when they come to the British Museum. This magical piece of art was created by Turner Prize winner Grayson Perry.
Other places near British Museum
What users think about us
Translated automatically
Show original
Hide original
Très pratique
Très pratique
Très pratique
Très pratique
Everything's fine
Todo bien
charming and organized
Encantador y organizado
Hundreds of people enthusiastically use our luggage storage service every day
Hundreds of people enthusiastically use our luggage storage service every day
3 Mln+ Suitcases carefully stored
Keeping your luggage safe is our main mission
7000+ Bag guardians worldwide
Our storage points called "Angels" are all over the world
24/7 Instant support
We are always available to answer your questions
0,00% of missing luggage
The numbers speak for themselves, with us you can feel safe!
Store your bags in a few clicks
The worldwide luggage storage network. Our Angels are bars and bistros who have been checked and approved by the Radical Storage team
Step 1
Locate
Find a luggage storage location near you
Step 2
Book
Proceed with online booking
Step 3
Store
Store your suitcases
Step 4
Enjoy
Enjoy your hands-free journey
Frequently Asked Questions