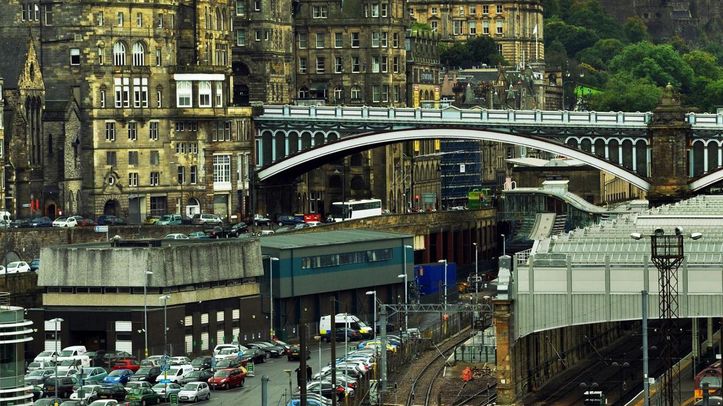 Luggage Storage Waverley Station
Find your luggage storage
Top locations in Waverley Station
Luggage storage in Waverley Station With Radical Storage
You have just arrived at Waverley Edinburgh Station and you're ready to finally start your journey here in the city and discover every landmark. However, Waverley Station doesn't have secure lockers for your suitcases, so you don't know where to leave your belongings to roam around the city stress-free. Luckily, you can book one of our Waverley Station luggage storage options, so your suitcases can be safe.
Thanks to our interactive map, which you can find on our Radical app or website, you will be able to find the closest Angel, as we call our partners, nearby the main attractions of the city and book it for €5 per day/bag. Our offer has a fixed rate policy, which means there will be no other charges for any oversized suitcases.
The booking process is easy, quick, and smart. Finally, you will be able to start your vacation in Edinburgh and wander through the city center
without bulky luggage to carry around, starting with the Waverley Station in Edinburgh.
Waverley Train Station
Waverley Train Station is a bustling transportation hub located in the heart of Edinburgh, Scotland. It is the city's main railway station and serves as a gateway to the rest of Scotland and beyond. The station, which first opened in 1846, is named after the famous novel by Sir Walter Scott, who was born in Edinburgh.
Edinburgh Waverley station has 18 platforms and handles over 25 million passengers per year, making it one of the busiest railway stations in the UK. The station's impressive Victorian architecture is a sight to behold, with its grand entrance hall and glass roof providing a unique sense of space and light.
As for the connection from Waverley to Edinburgh Airport, there is a direct rail link that operates between the two locations. The journey from Edinburgh Airport to Waverley Station takes approximately 25 minutes, and trains depart every 15 minutes. This makes Waverley Station an ideal destination for those traveling to Edinburgh by air, as well as those looking to explore the city and the surrounding countryside.
Do you want to book a luggage storage at Waverley Station in Edinburgh? Try Radical!
You just arrived with your train at the Waverley Central Station of Edinburgh and you can already feel the magic of this wonderful city in the air. However, before reaching your preferred accommodation, there is still some time to wait and you don't know what to do in the meanwhile, also because of these awful suitcases that are getting into the way.
Last but not least, you may use Radical Storage's service for luggage storage in Edinburgh, which offers a variety of locations all throughout the city, ensuring that you never have to worry about the security of your luggage while there. You will be scheduled right away if you simply upload our website or download our app.
You can search for your location on our interactive maps on the internet, and in a moment, you'll be able to view our list of Angels, as we like to refer to our partners. Among the neighbourhood businesses, including eateries, shops, and other structures, our dependable partners are chosen by looking up the safest and most convenient locations for you.
How to arrive to Edinburgh Waverley Station from Edinburgh Airport
To reach Edinburgh Waverley Station from Edinburgh Airport, travelers have a few convenient transportation options. The most direct and efficient method is by utilizing the Airlink 100 bus service, which operates frequently, connecting the airport and the city center. Passengers can find the bus stop just outside the main terminal building, and tickets can be easily purchased from the driver or from the ticket machines.
The journey to Waverley Station takes approximately 30 minutes, and the buses are equipped with plenty of space for luggage. For those who prefer a more direct route, taxis are readily available at the airport and offer a quicker transfer to Waverley Station. However, it is important to note that this option can be more expensive. Additionally, for travelers who prefer a more flexible and personalized mode of transportation, car rentals are available at the airport, allowing them to drive to Waverley Station at their own pace.
However, it is worth checking for parking availability at the station beforehand, as it can be limited. Regardless of the chosen method, arriving at the bustling hub of Edinburgh's Waverley Station provides a central starting point for exploring the city and its stunning surroundings.
How should I arrive from Waverley Station to Edinburgh Castle
If you're looking to explore the iconic Edinburgh Castle, located atop Castle Rock, there are several convenient ways to make your way from Waverley Station to the castle. Situated at the heart of the city, the castle is easily accessible and can be reached by walking or using public transportation.
One of the simplest ways to reach Edinburgh Castle is by foot. From Waverley Station, exit onto Princes Street and head west. As you walk along the bustling street, you'll pass by shops, restaurants, and numerous attractions. After approximately 15 minutes, you'll reach Castle Street, where you can continue uphill until you arrive at the castle entrance. This route offers pleasant views of the city while giving you the opportunity to take in the vibrant atmosphere.
Alternatively, if you prefer to use public transportation, there are several buses that can take you to the castle. From Waverley Station, head to Princes Street and find the bus stop closest to the castle. Buses 24, 27, 41, and 42 all stop near the castle entrance, allowing for a quick and convenient journey. Be sure to check the timetables for accurate departure times.
For visitors who may have difficulty walking or prefer a more leisurely approach, there's also the option of taking a taxi or a city sightseeing tour. Taxis are readily available outside the station and can drop you off directly at the castle entrance. City sightseeing buses offer hop-on-hop-off services, allowing you to enjoy the scenic route to the castle while having the flexibility of getting off and exploring other attractions along the way.
Regardless of the mode of transportation you choose, arriving at Edinburgh Castle from Waverley Station is a straightforward and enjoyable experience, setting the stage for an unforgettable visit to this iconic landmark.
3 top things to do near Waverley Station in Edinburgh
Now that you have finally arrived in Edinburgh, you have to be able to discover as many attractions as possible and find out about the hidden treasures of this wonderful city. Luckily, you can find some of these amazing landmarks even a few minutes from the Waverley Train Station, so you won't have to wait too long to start your vacation.
If you are curious about the art scene in the city and want to admire some breathtaking art pieces, you definitely have to hop on the City Art Center, where countless artists have collected their best artworks. You can roam around its corridors and find out, piece by piece, their amazing value.
After that stop, another must-see location in the center of Edinburgh is certainly the St Giles Cathedral, an imposing church with astounding Gothic architecture that will leave you gazing in absolute admiration and will make you feel like you're entering your own bubble.
Last but not least, you should absolutely stop by the Old town of Edinburgh or the renowned Princes Street, so that you can see the historical center of the city and admire the beautiful architectural style of the buildings, while also window shopping or discovering new tasty restaurants.
Other places near Waverley Station
What users think about us
Translated automatically
Show original
Hide original
Excellent service. 5 minute walk from the station and half the price of storage at Waverly. I would use again!
Seamless storage of my luggage
Hundreds of people enthusiastically use our luggage storage service every day
Hundreds of people enthusiastically use our luggage storage service every day
3 Mln+ Suitcases carefully stored
Keeping your luggage safe is our main mission
7000+ Bag guardians worldwide
Our storage points called "Angels" are all over the world
24/7 Instant support
We are always available to answer your questions
0,00% of missing luggage
The numbers speak for themselves, with us you can feel safe!
Store your bags in a few clicks
The worldwide luggage storage network. Our Angels are bars and bistros who have been checked and approved by the Radical Storage team
Step 1
Locate
Find a luggage storage location near you
Step 2
Book
Proceed with online booking
Step 3
Store
Store your suitcases
Step 4
Enjoy
Enjoy your hands-free journey
Frequently Asked Questions