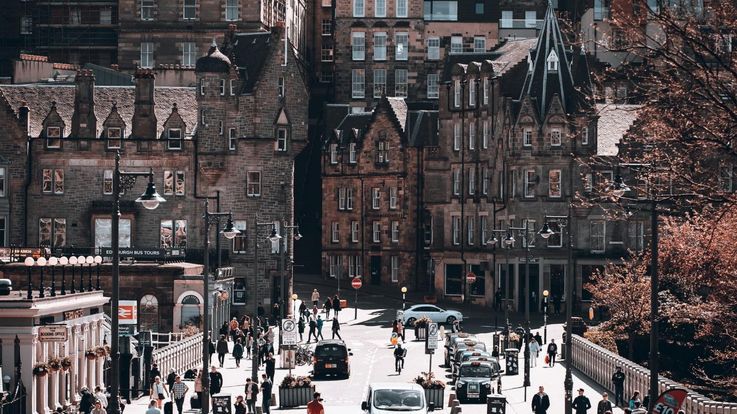 Luggage Storage Princes Street
Find your luggage storage
Luggage storage in Princes Street With Radical Storage
If you have just arrived in beautiful Edinburgh, you should definitely try one of our luggage storage options on Princes Street, Edinburgh, UK, so that you can leave your suitcases in a safe space and finally get started with your tour of the city.
Thanks to a network of collaboration that we have developed with trustworthy and convenient local businesses, which we like to call Angels, scattered all over the city center, you can book for €5 per day/bag the most suitable to your necessities. After logging into our website or Radical App, you will only take a few minutes to find the perfect spot for your belongings.
The service also doesn't require additional luggage weight or size charges. We also have security coverage that can be valued up to €3000.
About Princes Street
Princes Street in Edinburgh is considered one of the most important and recognizable spots in the whole city center, a true symbol of the Scottish capital. The road takes its name from the sons of King George III, the young Princes of the reign during those years. If you have been wandering through the main streets of Edinburgh, you will definitely understand where is Princes Street in Edinburgh, since you will certainly stumble into it. In fact, the area is almost 1.6 kilometers long.
The road offers plenty of options for any passers-by since you can find countless shops or restaurants on Princes Street Edinburgh, especially on the northern side, while on the opposite side, you will find one of the most iconic Edinburgh Princes Street monuments: the ancient Castle of the city. In the surrounding area, you can also find the famous Princes Street Gardens, a breathtaking park where you can breathe fresh air and enjoy a stroll with your friends.
Thanks to its great location, Princes Street is also well-connected to many city districts and it is easy to reach: you can hop on one of the many buses to Prince Street Edinburgh from any area or even take the T50 light rail and you will be there in a couple of minutes. Also, suppose you need to go from Princes Street to Edinburgh airport. In that case, you have plenty of options: you can take the tram St Andrew Square line, and in less than thirty minutes, you will arrive at your spot or, if you need to move during the night time, you can also take the night bus. You can also reach Waverley Station in a few minutes and from there, you can take a train to any city in Scotland or even in the UK.
Do you want to find the perfect luggage storage in Princes Street? Book Radical!
Now that your wishes are finally coming true and you're visiting the wonderful city center of Edinburgh, there are many attractions that you might visit, but the first one must be absolutely Princes Street. However, it must be difficult to find a nice secluded spot in this frenzy street, in order to care about your luggage, not getting in the way of other people.
That is why you should take into consideration the idea of using Radical Storage, so that you can use one of the countless luggage storage options in Edinburgh, nearby Princes Street. Thanks to our convenient service, you will be able to leave your belongings in a safe spot, while you'l be roaming around the city in all its splendor. Check out our user-friendly website or app and in a moment you'll be set.
On the website, you'll be able to find out with our interactive maps, all of our trust-worthy Angels, chosen among an array of restaurants, bars and other local businesses, all with your safety at the top of our mind. All you need to do is look up your current location and you'll be able to see the list of all the Angels closest to you.
How to reach the Waverley Station from Princes Street
If you find yourself in the vibrant city of Edinburgh, Scotland, and want to visit the historic Waverley Station from Princes Street, there are several convenient options available. Princes Street is the city's main shopping thoroughfare, and Waverley Station is located just a short distance away.
The easiest and most direct way to reach Waverley Station from Princes Street is by foot. The two landmarks are only a few minutes apart, and there are several pedestrian routes you can take. One popular route is to head towards The Mound, a prominent street that connects Princes Street to the Old Town. Walking along The Mound, you will pass by landmarks such as the National Galleries of Scotland and the Scottish National Gallery, before reaching the entrance to Waverley Station.
If you prefer to take public transportation, you have a few options. There are several bus stops along Princes Street that provide access to Waverley Station. Simply check the bus schedules and take the appropriate route that stops closest to the station. Alternatively, you can take a taxi or a rideshare service from Princes Street to Waverley Station, which should only take a few minutes and is a convenient option if you have heavy luggage or want to save time.
Overall, reaching Waverley Station from Princes Street is a straightforward and convenient journey. Whether you choose to walk, take public transportation, or utilize a taxi/rideshare service, you'll be able to easily access this historic railway station and continue your explorations of beautiful Edinburgh.
How to arrive to Princes Street from the airport of Edinburgh
If you are arriving at Edinburgh Airport and want to get to Princes Street, there are several convenient transportation options available. Princes Street is one of the main streets in Edinburgh's city center and is easily accessible from the airport.
One of the most popular and efficient ways to travel from the airport to Princes Street is by using the Airlink 100 bus service. These buses run frequently throughout the day and provide a direct connection between the airport and the city center. The journey takes around 30 minutes and the bus conveniently stops at various points along Princes Street.
Alternatively, you can take a taxi from the airport to Princes Street. There is a designated taxi rank just outside the terminal building, and the journey typically takes around 20-25 minutes depending on traffic. Taxis provide a more comfortable and private mode of transportation, especially if you have a lot of luggage.
If you prefer a more budget-friendly option, you can also use the local bus services. There are several bus routes that connect the airport to the city center, including routes 35 and 300. These buses may make multiple stops along the way, so the journey time may be slightly longer compared to the Airlink service.
Lastly, if you like to explore the city at your own pace, you can rent a car at the airport and drive to Princes Street. There are several car rental companies located at the airport, and the city center is easily accessible via the A8 road.
Overall, there are multiple transportation options available to get from Edinburgh Airport to Princes Street, allowing you to choose the most convenient option based on your preferences and budget.
What to do on Princes Street
While cruising websites in Edinburgh to collect information on your trip, you might have found many different articles about 'What's on Princes Street Edinburgh?' or 'Where to eat Princes Street Edinburgh'. Anyway, there are countless options for things to do on Princes Street:
Discover the Edinburgh Princes Street Market - If you find yourself going on vacation in Edinburgh in the wintertime, you cannot miss the opportunity to stroll around the Christmas Market and try new delicious food.

Pay a visit to the Princes Street Edinburgh Train Station - Nowadays, it is not a functioning railway station anymore, but you can always reach the Train Station and take a guided tour behind its walls, exploring the history of the city.

Admire the Castle of Edinburgh - You certainly cannot skip a visit to the imposing Edinburgh Castle, so that you will be able to travel through time and live a new amazing adventure in Scotland.
Other places near Princes Street
What users think about us
Translated automatically
Show original
Hide original
Lo recomiendo. Dejamos una maleta y 1 bolso grande el último día. El pago fue de 5+1,5 (que te suman de seguro obligatorio) por cada bulto. Es una tienda de alimentación verde, muy cerca de waverley. Al llegar el chico nos pidió ver el mail de confirmación dónde indicaba su dirección, no el QR. Nos pidió que le hiciésemos una foto a los 2 bultos juntos y mostrarla al ir a recoger. Así lo hicimos y todo perfecto. Sin duda repetiría.
All straight forward
Dropped bags off no complications, then picked up all safe
Perfect spot to leave bag
Drop point near the tram for the airport made it perfect to have a case free day , felt safe as well will use them again
Hundreds of people enthusiastically use our luggage storage service every day
Hundreds of people enthusiastically use our luggage storage service every day
3 Mln+ Suitcases carefully stored
Keeping your luggage safe is our main mission
7000+ Bag guardians worldwide
Our storage points called "Angels" are all over the world
24/7 Instant support
We are always available to answer your questions
0,00% of missing luggage
The numbers speak for themselves, with us you can feel safe!
Store your bags in a few clicks
The worldwide luggage storage network. Our Angels are bars and bistros who have been checked and approved by the Radical Storage team
Step 1
Locate
Find a luggage storage location near you
Step 2
Book
Proceed with online booking
Step 3
Store
Store your suitcases
Step 4
Enjoy
Enjoy your hands-free journey
Frequently Asked Questions