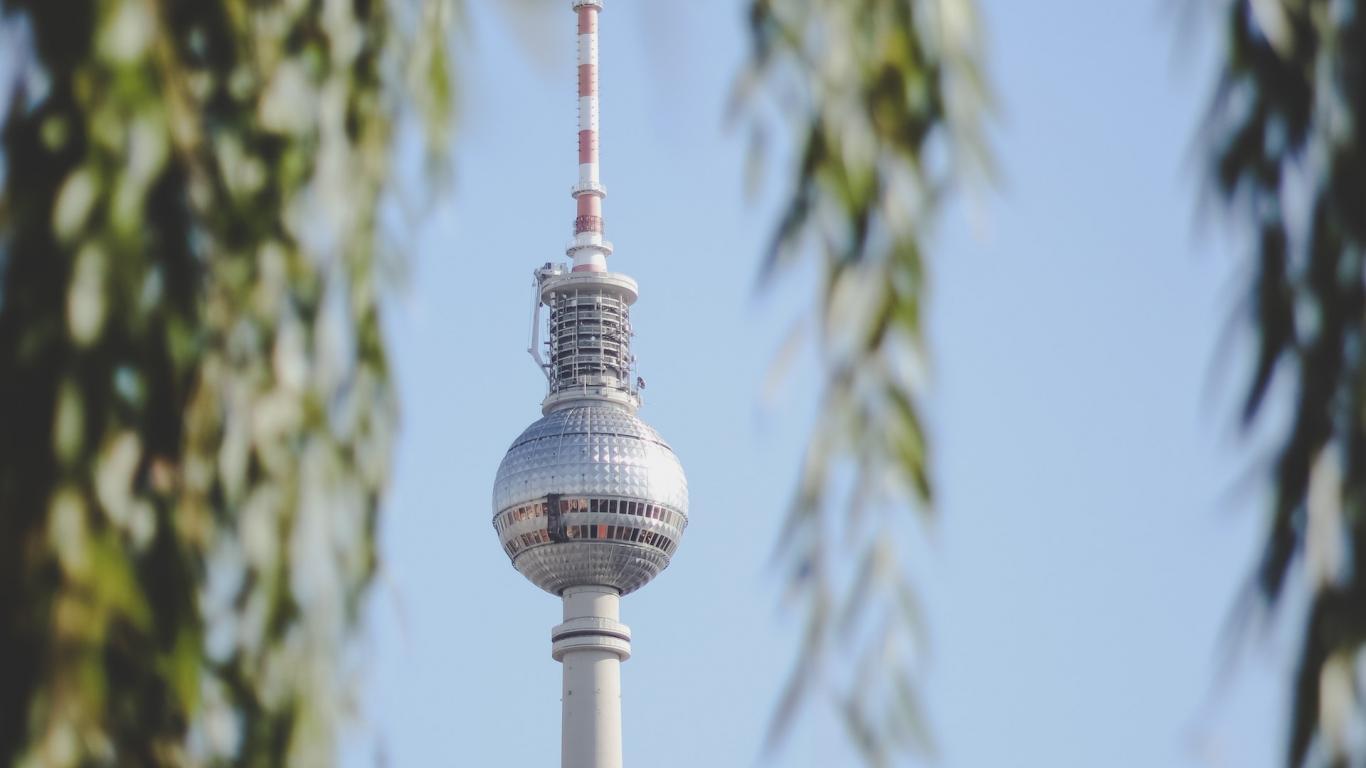 Luggage Storage Berlin Fernsehturm
Find your luggage storage
Top locations in Berlin Fernsehturm
Luggage storage in Berlin Fernsehturm With Radical Storage
You don't want to climb Berlin's iconic TV Tower with heavy suitcases dragging behind you! They'd cramp your style as you enjoy a fine dining experience in the clouds. Instead, leave your bags at luggage storage near Berliner Fernsehturm with Radical Storage.
Radical Storage offers safe and easy-to-use luggage storage facilities at all of Berlin's top attractions for just €5 per day/per bag, with no restrictions on size or weight. And we're there with you every step of the way with our 24/7 online multilingual customer support. From online booking to dropping your bags off at our partner locations, we're there to relieve you of the extra weight.
All you need to do now is continue your adventure around Berlin!
Learn More about Berliner Fernsehturm
If you've seen pictures of the impressive Berlin skyline, you'll be familiar with the iconic TV tower climbing 200 meters above the city.
The Berliner Fernsehturm, or TV Tower in English, has been a pivotal piece of the Berlin landscape since 1969. The German Democratic Republic constructed it as a symbol of Communist power in the city, but it was also to be used as a functioning broadcasting facility.
Nowadays, the GDR no longer exists, but the TV Tower lives on and continues to attract over a million visitors every year!
When in Berlin, you can't miss out on going to the top of the tower and enjoying the view from the clouds. Can you see Potsdamer Platz or the Brandenburg Gate?
If you've made it up, check out the Panorama Bar for a drink in the sky or an elegant dining experience at the Sphere Restaurant.
Do you want to book a luggage storage in Berlin Fernsehturm? Then use Radical Storage!
Now that you are finally taking your time to explore the city and you're looking for all the amazing landmarks that the city of Berlin has to offer, including the Berlin Fernsehturm, also known as the magical TV Tower of the city. However, before climbing up the tower itself and enjoy a wonderful view of Berlin, you should find a place where to leave comfortably your luggage.
That is the reason why Radical Storage can be the perfect service for you, with our countless luggage storage options in Berlin, especially nearby the Berlin Fernsehturm. In a blink of an eye, you'll be able to book your favorite luggage storage option in Berlin and you'll be able to check out all the amazing landmarks in the city. You just need to check out our website or user-friendly app and in a minute you could book it.
On the website, you will be able to find one of our interactive maps, where you could look up your current location or wherever you would want to go and in a moment you will find a list of all the Angels, as we like to call all of our partners for our luggage storages, closer to you and in a moment you'll book it. All of our local partners have been chosen between trust-worthy businesses, such as restaurants and shops, so that your safety could come at the first place.
How to arrive at the Berlin Fernsehturm from Berlin Central Station
If you want to arrive at the Berlin Fernsehturm from Berlin Central Station, you could use one of the efficient public transportation systems in the city. The perfect way would be to take the S-Bahn (city train) from the Hauptbahnhof (Central Station) to Alexanderplatz, which is the closest station to the Fernsehturm.
After arriving at Berlin Central Station, you should direct yourself through the S-Bahn platforms, where you can find several S-Bahn lines that pass through the station. Look for any train heading towards Alexanderplatz or any S-Bahn line that stops there.
After you took the train, enjoy the short ride to Alexanderplatz. The trip doesn't last too long, just around 5 minutes, so it is a quick and convenient option. Once you have arrived at Alexanderplatz, follow the signs within the station directing you towards the Fernsehturm. It is a short walk from the station, typically taking around 5-10 minutes.
If you instead prefer to walk and enjoy the city's skyline, it is also possible to reach the Fernsehturm by foot from Berlin Central Station. It should last almost 1.5 kilometers, and the walk takes around 20-25 minutes. Simply exit the station and head east towards Alexanderplatz, crossing over the river Spree. Continue walking until you reach the square of Alexanderplatz, where you will find the Fernsehturm towering above the surroundings.
The way to arrive to Berlin Airport from the Berlin Fernsehturm
To get to Berlin Airport from the Berlin Fernsehturm, there are several transportation options available. The Berlin Fernsehturm, also known as the TV Tower, is located in the heart of Berlin near Alexanderplatz, making it a convenient starting point for your journey.
One of the most common and efficient ways to travel to the airport is by using the S-Bahn or Regionalbahn train services. From Alexanderplatz station, which is just a short walk from the Fernsehturm, you can catch an S-Bahn train to Berlin Hauptbahnhof (main station). From there, you can transfer to either the regional trains or the Airport Express train that directly connects to Berlin Schönefeld Airport and Berlin Brandenburg Airport.
Alternatively, you can opt for a taxi or a ridesharing service like Uber or Lyft. Taxis can be found near the Fernsehturm or can be easily hailed in the city center. A taxi ride to the airports will take approximately 30-40 minutes depending on the traffic conditions.
Another option is to use the bus services provided by Berlin's public transportation network (BVG). Bus lines such as the TXL and the X9 offer direct connections from Alexanderplatz to Tegel Airport, while the Airport Express buses connect Alexanderplatz to Schönefeld and Brandenburg airports.
Things to do near Berliner Fernsehturm
After a bit of exploring, why not do some more? While your bags are safely secured, discover more of fascinating Berlin:
Indulge in a Berlin breakfast to remember in Mitte. The House of Small Wonders offers a delicious brunch with a unique Japanese twist. The perfect way to set yourself up for a day of exploring Berlin.

Sip your way around Berlin on a beer tour. If there's any city you need to do a beer tour, it's Berlin. Spend an afternoon at a German Biergarten or discover lesser-known breweries. You could even jump on a beer bike and cycle for your pint!

Look over the city from the dome of the Reichstag. The German Parliament Building is a feat of architectural delight. Set off on a free guided tour, and from the top of the glass dome, you can see miles around Berlin.
Other places near Berlin Fernsehturm
What users think about us
Translated automatically
Show original
Hide original
Hundreds of people enthusiastically use our luggage storage service every day
Hundreds of people enthusiastically use our luggage storage service every day
3 Mln+ Suitcases carefully stored
Keeping your luggage safe is our main mission
7000+ Bag guardians worldwide
Our storage points called "Angels" are all over the world
24/7 Instant support
We are always available to answer your questions
0,00% of missing luggage
The numbers speak for themselves, with us you can feel safe!
Store your bags in a few clicks
The worldwide luggage storage network. Our Angels are bars and bistros who have been checked and approved by the Radical Storage team
Step 1
Locate
Find a luggage storage location near you
Step 2
Book
Proceed with online booking
Step 3
Store
Store your suitcases
Step 4
Enjoy
Enjoy your hands-free journey
Frequently Asked Questions