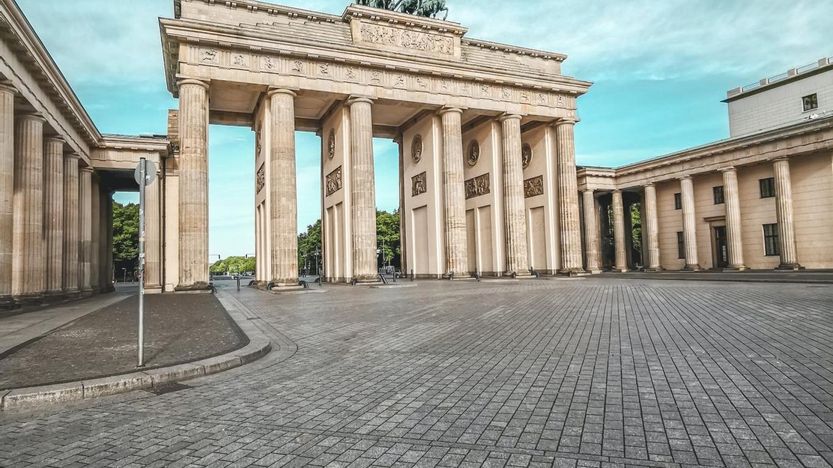 Luggage Storage Brandeburg Gate
Find your luggage storage
Luggage storage in Brandeburg Gate With Radical Storage
Get your camera out and shoot the famous Brandenburg Gate in Berlin. There's no backdrop more iconic in the city, and the only way to make your photos even better is to leave your annoying suitcases with Radical Storage. With our luggage storage near Brandenburg Gate, you will be free to explore the city without the heavy burden of baggage.
We have partnered with local businesses to provide Berlin's best, most convenient luggage storage. Simply download our Radical Storage App, turn on GPS and find the nearest luggage storage near you. Book your bags for just €5 per day/per bag, and for a small fee of just €1,75 your bags will be covered by a security guarantee of up to €3000.
Plus, with 24/7 online customer support, you can enjoy your holiday with extra peace of mind.
So, leave your bags with us and enjoy luggage-free adventures around the city!
Learn More About Brandenburg Gate
The Symbol of Berlin, the Brandenburg Gate, was designed in 1791 and stood as the gate of entry into Berlin. Now, it is one of the most iconic sights and world-famous landmarks associated with the city.
The emblematic backdrop of tourists' pictures became a symbol of peace and unity after the fall of the Berlin Wall. And the gate attracts thousands of tourists daily, eager for a peek at the stunning Athenian Acropolis-inspired structure.
The Gate stands 26 meters high in the center of Pariser Platz, or Parisian Square. This is arguably the most beautiful square in the city and is the center point of the city. Walk away from the Gate and saunter down Boulevard Unter den Linden, where you can spot many of Berlin's beautiful buildings, including the University of the Arts. There are also an array of elegant cafes and restaurants with ample outdoor seating, perfect for a refreshing spritz as you watch the world go by.
If you're in the area, make sure to also stop by the Berlin Cathedral and the famous Victory Column.
Book one of the luggage storage near Brandeburg Gate with Radical Storage
After visiting all the wonderful points of interest that the city of Berlin can offer you, of course you need to visit the most important symbol of it, if not, it would be like not visiting Berlin at all. Therefore, stop in front of the Brandenburg Gate and let it leave you breathless in front of its imposing majesty. But, before visiting it, you should find a safe place where to leave your suitcases safely.
In these cases, Radical Storage has the perfect solution for you, thanks to its many luggage storage options nearby the Brandenburg Gate and all over the city, so you won't even have to sweat and in a moment, you'll be able to leave your bags in a safe and convenient space, while you're out surfing the city's streets. Go quickly on our website or download our app and try it immediately.
On the website, you could look up your location on one of our interactive maps and in a moment, you'll be able to check our list of Angels, as we like to call our local collaborators, and choose which one might be closer or you do prefer. You can book it with only a few clicks on the smartphone and everything will be set. Our Angels are chosen between an array of restaurants, shops and local businesses by looking up the safest and most convenient locations for you.
How to arrive to the Brandenburg Gate from Berlin Central Station
To arrive at the Brandenburg Gate from Berlin Central Station, you have several transportation options. The fastest and most convenient way is by taking the S-Bahn, Berlin's suburban train system. From the main station, hop on the S-Bahn Line S5 or S7 heading east and get off at the next stop, Friedrichstraße. The journey takes about five minutes. Once at Friedrichstraße, transfer to the S1 S-Bahn line heading east, direction Wannsee or Oranienburg, and ride for another two stops until Brandenburger Tor station. From there, it's just a short walk to the Brandenburg Gate.
Another option is to take a taxi or a ride-hailing service from the central station to the Brandenburg Gate. This is a more direct route and can be convenient if you have heavy luggage or want a door-to-door service. However, keep in mind that traffic in the city center can be heavy at times, so the journey may take longer than expected.
If you want to explore the city and enjoy the surroundings, you can also take a leisurely stroll from Berlin Central Station to the Brandenburg Gate. It's about a 25-minute walk, taking you through the heart of Berlin, past numerous landmarks and historic sites. This option allows you to immerse yourself in the city's atmosphere and discover hidden gems along the way.
Regardless of which transportation method you choose, arriving at the Brandenburg Gate from Berlin Central Station is relatively straightforward. Just follow the directions, and soon enough, you'll find yourself standing before this iconic symbol of German unity.
How to arrive to the Brandenburg Gate from the Berlin Airport?
To arrive at the Brandenburg Gate from the Berlin Airport, there are several transportation options available. The airport offers regular train, bus, and taxi services that can take you directly to your destination.
One option is to take a train from the airport to the Berlin Hauptbahnhof (main train station). From there, you can switch to the S-Bahn or U-Bahn line that will take you to Brandenburger Tor station, just a short walk away from the Brandenburg Gate. The train services are efficient, reliable, and well-connected, making them an ideal choice for tourists looking to explore the city.
Alternatively, you can also take a direct bus from the airport to the Brandenburg Gate. The airport provides several bus services that can take you to various locations in the city center. Look for buses heading towards the Brandenburg Gate or Unter den Linden, a nearby street that leads directly to the gate.
If you prefer a more convenient and direct option, you can also take a taxi from the airport to the Brandenburg Gate. Taxis are widely available and can be hailed directly outside the airport terminal. Although slightly more expensive than public transportation, taxis offer a hassle-free journey and are an ideal choice for those with heavy luggage or limited time.
Overall, there are several transportation options available to arrive at the Brandenburg Gate from the Berlin Airport. Whether you choose to take the train, bus, or taxi, you will easily reach your destination and be able to explore this iconic landmark and the surrounding area.
Things to do near Brandenburg Gate
With so much to see in Berlin, you'll be eager to explore once your bags are safe and secure. Here are our top picks:
Get to know the best of Berlin on a free guided walking tour. There's no better way to explore a city when you first arrive than a free walking tour. Dive into Berlin's history and stroll past iconic sights. And remember some change to tip your guide at the end!

Unwind at an open-air cinema experience like no other. Every Summer, Berlin's big city parks unveil the famous freiluftkino. So, bring some snacks and enjoy a blockbuster hit!

Discover the Brandenburg Lakes. These stunning lakes are the perfect antidote to busy city life. Head northeast from the city and enjoy some swimming or sunbathing by the sparkling waters.
Other places near Brandeburg Gate
Hundreds of people enthusiastically use our luggage storage service every day
Hundreds of people enthusiastically use our luggage storage service every day
3 Mln+ Suitcases carefully stored
Keeping your luggage safe is our main mission
7000+ Bag guardians worldwide
Our storage points called "Angels" are all over the world
24/7 Instant support
We are always available to answer your questions
0,00% of missing luggage
The numbers speak for themselves, with us you can feel safe!
Store your bags in a few clicks
The worldwide luggage storage network. Our Angels are bars and bistros who have been checked and approved by the Radical Storage team
Step 1
Locate
Find a luggage storage location near you
Step 2
Book
Proceed with online booking
Step 3
Store
Store your suitcases
Step 4
Enjoy
Enjoy your hands-free journey
Frequently Asked Questions