Trastevere is a wonderful Rome's neighborhood that sits down the Tiber between the Vatican and Testaccio. If you are spending a holiday in the city, you shouldn't forget to visit it. And if you want to get the most of your tour in this Medieval maze of alleyways and squares, it's better to walk without hindrance. That's why we suggest you leave your bags in one of the several luggage storage locations in Trastevere.
TIPS: Find the perfect place to store luggage and choose between more than 80 locations throughout Rome!
Rome's cobbled streets are not ideal if you keep a heavy bag or carry a big backpack. Not to mention trolley cases! The smartest decision will be to store them somewhere. Okay, but where?
European travelers are used to lockers at stations and monuments. Well, we love them too, but Italy has no lockers. At most, there are left-luggage offices in the central stations, but be careful: they are always overcrowded! Anyway, don't worry because there's another good opportunity for you!
Luggage storage Trastevere: best solutions
Maybe you have thought about leaving your suitcase at the bar where you had a coffee at least once in a lifetime. Well, now it's possible. How? Thanks to Radical Storage!
Radical Storage is the smartest solution to leave your luggage as it allows you to store them at local companies. This means that you can find storage points everywhere, in restaurants, cafes, and hotels. So, the place where you'll drink your next coffee could be just one of our partners!
Top-rated luggage storage Rome Trastevere
Left luggage Trastevere | Located on Viale Trastevere | Open 24/7.
Luggage Storage Rome Trastevere | 500 metres from Porta Portese | Open from Monday to Saturday.
Luggage Storage Trastevere | 250 metres away from Largo di Torre Argentina | Open every day.
Luggage Storage Trastevere | Price
Surely, you're used to paying hourly rates to store your bags. But is it the best solution for you? Maybe you want to spend your free time without thinking about the time that passes and the money that goes by.
For this reason, you'd better choose a daily rate service. You can store your stuff for as long as you want, without thinking about the rest.
Radical Storage has everything you need! It costs €5 per day and per piece of luggage at no extra charge.
Yes, it's true. Maybe you are also accustomed to paying more if your suitcase is a bit heavier than usual, but with Radical Storage, you'll pay a fixed price no matter how big, or heavy your luggage is.
Advantages:
No additional costs | You won't pay more for bigger or heavier bags.
No queues at the entrance | Check-in lasts 3 minutes and check-out is immediate.
Contactless check-in/check-out | Show your QR code at the check in desk.
Flexible schedule | If you are a little late, that's fine, but remember to comply with the opening hours.
100% secure | We rely exclusively on verified partners.
More time for you | Thanks to this service you can enojy your day until the very end!
How it works
This amazing platform works quickly and easily: you just need an internet connection!
Enter the website or download the dedicated app (available for iOS and Android), turn on geolocation, or type your address in the search bar. You'll view all the results in less than no time!
Remember that you won't find our partner's address on the webpage, we'll send you all the details after booking.
You are just a few steps from freedom. Are you ready? Then reserve now a safe place for your bags and explore the wonders of Rome hands-free!
Explore Trastevere in Rome | The 3 best things to do in Trastevere
Now that Radical Storage has lightened up your day – what's next? You can devote yourself to this amazing Medieval place.
Formerly a working-class district, Trastevere is a place with a fiery temperament. Many people consider it a small city in a city because when its inhabitants answer the question "Where are you from?" they don't answer "From Rome" but "From Trastavere".
Trastevere has its own identity and pride. Not that it's a hostile neighborhood. Far from it. Its visitors are welcomed in delightful alleys with ivy-covered houses, colorful doors, and poems written on the walls. Local people love poems, which's why they dedicated the district's main square to Trilussa, a twentieth-century writer and author of beautiful verses in Roman dialect.
Now let's review the three places not to miss while in Trastevere!
1. Explore the small stores in the alleys
The alleys of Trastevere are an open-air museum. Walking down these small streets will take you back in time to an ancient and almost-lost era. In winter as well as in summer, their charm is irresistible. Tourists love its vibrant atmosphere because they can see the most intimate secrets of the city.
Besides, Trastevere is a young neighborhood and houses some universities. In this regard, Piazza Trilussa is always full of students and young people sitting on the steps and chatting animatedly.
Eat and drink in a typical Roman trattoria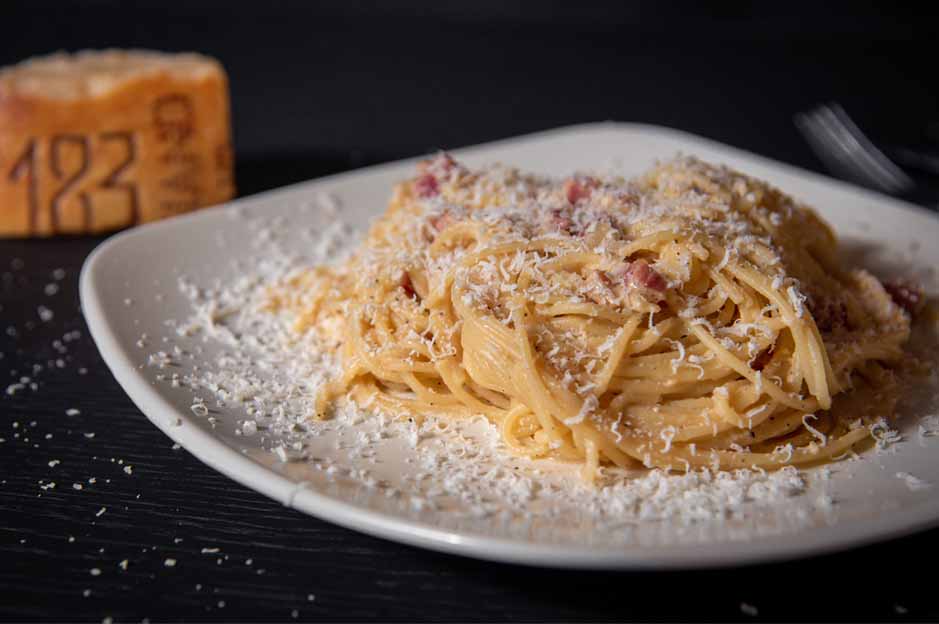 Have you ever tasted the real Carbonara? If you've never done it, you don't know what you're missing! Anyway, if you are in Trastevere, you can make up for it right away. The neighborhood is chock-full of trattorias offering customers traditional Lazio's dishes.
Want to taste something new? Then order the Roman style artichokes, considered to be the city's tastiest side-dishes.
Let our partners suggest the best restaurants nearby or visit the Tripadvisor page dedicated to Rome.
Take a walk along the Tiber and reach the Tiber Island
Walking on the banks of the Tiber will allow you to take magnificent photos, breathe fresh air, and reach fascinating areas of Rome.
Moving south of Piazza Trilussa, you'll find the Tiber Island (Italian Isola Tiberina), the only urban island on the river. Here is the Basilica of San Bartolomeo and the Fatebenefratelli Hospital.
The little bridge that connects the island to the mainland (Ponte Cestio) is one of the prettiest in the city. Moreover, you can enjoy there the performance of various street artists or buy handmade objects.
Related articles