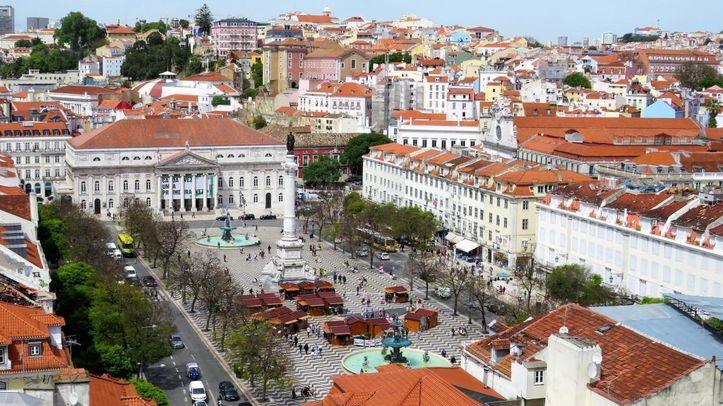 Luggage Storage Rossio
Find your luggage storage
Luggage storage in Rossio With Radical Storage
Have you just hopped off the train at Rossio Station? If you're looking for luggage storage in Rossio so that you can visit the city before check-in to your accommodation, Radical Storage is the right solution.
Check out our website or download our app, and you'll find many Lisbon Rossio luggage storage options, but also in the city, near the historical center. You can book one of our Angels, our Radical partners, and in a few moments, your luggage will be stored safely for just €5 per day/bag.
Our service includes a fixed rate policy, with no limit on the weight or size of your bags. We also provide a security guarantee of up to €3,000.
Find out about our Radical luggage storage options near Rossio in Lisbon
Rossio is such a wonderful and picturesque place, with its frenzy population and wide bright walls, so whenever you find yourself nearby this amazing building, there is no way that you can skip it in your guided tour of the city. But the trip through the city is long and you first need to rest your shoulders and find a place where you can leave your belongings safely.
That is why Radical Storage is the proper solution for you, especially thanks to our extensive network of luggage storage options all around the city and the main points of interests. You only need to log in to our website or download our app, available both on App Store and iOS, so in a moment you'll be able to book it and safely store your luggage.
You can take advantage of the interactive maps that you can find on our website, thanks to GPS, and after a quick research of your position, you could find a list of Angels that might be closest to you. Among our trustworthy partners, selected from an array of local businesses, you will book your luggage storage in less than 5 minutes.
Why book a Radical Storage luggage storage near Rossio
We wanted to give you a smooth and seamless experience, while booking with us a reservation for a luggage storage, so we have decided to provide you with a list of perks of traveling with us.
Wide Coverage: Our partners are located all around the city and nearby the main landmarks, so you can always find one popping off on the map for your necessities.
No-cancellation fee: Our policy comprehends a free cancellation policy, so that you can always withdraw your booking if you don't need it anymore.
Easy Check-ins: This kind of check-ins will take you less than 3 minutes, so you won't have to wait in line for that long.
Affordability: Our fixed price range will allow you to have a safe and convenient price, with no added fees for the size or the weight of your luggage.
Security Policy: For your peace of mind, we also offers a security guarantee that will allow you with more than 3000 euros.
What should I do after checking out a luggage storage with Radical Storage
After finally booking one of our luggage storage facilities, there might be a few steps that you might be aware of, in order to have a seamless experience.
First of all, add more luggage to your booking if you need to, so everything will be in check.
After that, you will receive your confirmation email with all the details, so get acquainted with the area of your luggage storage, to get a feel of it.
Get accustomed to the other details of your luggage storage, such as the opening hours of the venue and other stuff.
Once you have reached the place, be prepared to show your email and your QR code, so that they can scan it and provide you with a seamless experience.
If you need any other information or you have specific questions, feel free to contact our customer service team or the staff at the luggage storage, so you can be sure of anything.
Rossio Station
Rossio Square, also known as Praça Dom Pedro IV, is one of the most popular squares in Lisbon, Portugal. It has a rich history and is surrounded by historic buildings, cafes, and restaurants.
One of the most remarkable buildings in the square is the Rossio Train Station, which was built in the late 19th century and has become a landmark of the city. Its façade is decorated with intricate details, such as statues, arches, and colorful tiles, making it a popular spot for photography.
The train station is also an important transportation hub in Lisbon since it connects the city center to the suburbs. You can just hop on one of the trains by the Rossio Metro and you can reach every part of the city, like Martim Moniz and many other attractions.
Lisbon Rossio Station also has a cultural significance. It has been featured in many movies, and its platforms have been used as a stage for artistic performances. Overall, Rossio Square and Rossio Train Station are great starting points for exploring every corner of the city.
Directions from Rossio
From Rossio to Lisbon Airport: To travel from Rossio to Lisbon Airport, you have several options. The most convenient one is to take the metro, which is both fast and affordable. From Rossio station, you can take the green line (Linha Verde) towards Telheiras. After four stops, get off at Alameda station and switch to the red line (Linha Vermelha), headed towards the Airport. After seven stops, you will arrive at Lisbon Airport. The journey takes approximately 30 minutes, depending on the time of day and any potential delays. For those who prefer public buses, there are also direct connections from Rossio to Lisbon Airport. Several buses operate on this route, including Carris 744 and Carris 783. The journey usually takes around 40 minutes, again depending on traffic.
From Rossio to Cais Do Sodré: If you find yourself in the Rossio area of Lisbon and want to head towards Cais do Sodré, the good news is that the journey is relatively straightforward. Starting from Rossio, you'll want to head southwest on Rua Augusta, a bustling pedestrian street lined with shops and cafes. As you make your way along Rua Augusta, you'll pass through the iconic and picturesque Arco da Augusta, a triumphal arch that marks the entrance to the street. The arch itself is an attraction worth admiring and potentially photographing.
Continuing along Rua Augusta, you'll eventually reach Praça do Comércio, a grand square facing the Tagus River. Take in the beautiful views of the river and then make a slight left onto Rua do Arsenal. This street will lead you directly to Cais do Sodré, the transportation hub located on the riverfront. Along Rua do Arsenal, you'll pass by various shops, restaurants, and bars, allowing you to soak in the vibrant atmosphere of the city.
From Rossio to Martim Moniz: If you're looking to travel from Rossio to Martim Moniz in Lisbon, Portugal, you're in for a short but straightforward journey. Rossio, located in the heart of the city, serves as a transportation hub, making it easy to navigate your way to Martim Moniz. To get started, head east from Rossio Square onto Rua do Ouro, a main thoroughfare in the city center. Continue straight for around 300 meters until you reach a roundabout. Take the second exit onto Rua dos Fanqueiros and follow it for approximately 400 meters until you reach Martim Moniz Square. If you prefer public transportation, there are also convenient tram and metro options available. Regardless of your mode of transportation, the journey from Rossio to Martim Moniz is only about a 15-minute walk, making it an easily accessible destination for all.
Things to do near Rossio
Rossio is located in the heart of the city and is surrounded by a variety of things to see and do. Here are some of the top activities and attractions near Rossio in Lisbon:
Explore the Baixa Chiado neighborhood:
Just a short walk from Rossio, Baixa Chiado is a trendy neighborhood with great shopping, restaurants, and bars.

Visit the Castle of São Jorge:
Located on a hilltop overlooking the city, this medieval castle offers stunning views of Lisbon.

Wander through the Alfama district:
This historic district is full of narrow streets, colorful houses, and charming cafes.
What users think about us
Translated automatically
Show original
Hide original
Quick check-in/out, perfectly located, fantastic if you have late flight…100% recommend
Hundreds of people enthusiastically use our luggage storage service every day
Hundreds of people enthusiastically use our luggage storage service every day
3 Mln+ Suitcases carefully stored
Keeping your luggage safe is our main mission
7000+ Bag guardians worldwide
Our storage points called "Angels" are all over the world
24/7 Instant support
We are always available to answer your questions
0,00% of missing luggage
The numbers speak for themselves, with us you can feel safe!
Store your bags in a few clicks
The worldwide luggage storage network. Our Angels are bars and bistros who have been checked and approved by the Radical Storage team
Step 1
Locate
Find a luggage storage location near you
Step 2
Book
Proceed with online booking
Step 3
Store
Store your suitcases
Step 4
Enjoy
Enjoy your hands-free journey
Frequently Asked Questions