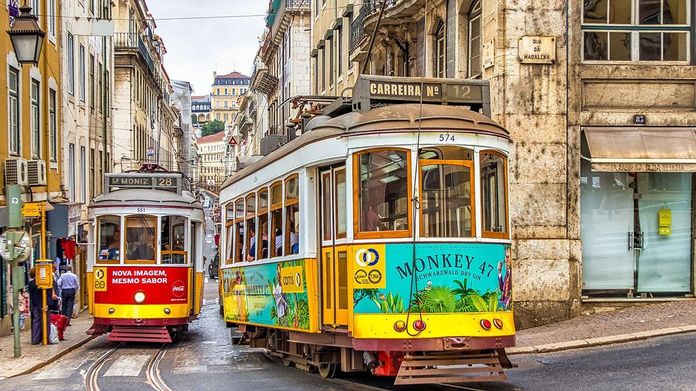 Luggage Storage Lisbon
Find your luggage storage
Luggage storage in Lisbon With Radical Storage
Your trip to Lisbon has just begun: you have finally arrived, left the airport and you can't wait to do all the booked guided tours and activities to discover the city. But first, you need to find a place where you can leave your belongings in safe hands. If you are looking for convenient and secure Lisbon luggage storage, Radical Storage may be the service that you might need.
Radical Storage offers a luggage storage service in all major cities and locations all over the world, including Lisbon. Thanks to our great network of Radical partners, our Angels, you can always find the most advantageous solution for you through our website or Radical App, and book it in a few moments. Our service has a 5€ fixed rate, so there will be no additional charges or restrictions, no matter the weight or size of your bags. Some of our Angels also offer a 24/7 service: therefore, you can have access to luggage storage options anytime you want and finally enjoy Lisbon!
Where to find luggage storage in Lisbon?
Lisbon is a frenzied city, where the list of places to visit is long, so you must use every moment before starting your tour. But walking around the streets of Lisbon can be quite impractical, especially if you have to drag your heavy luggage around.
In this case, Radical Storage can come to your rescue. Many of our local partners are dotted through the city center or nearby the main city attractions. You can find our convenient luggage storage options in some of the most famous Lisbon neighborhoods:
Do you want to book a luggage storage in Lisbon with Radical Storage? Easy!
After you finally have arrived in Lisbon, maybe after a strenuous train ride or a long flight, you should just get comfortable and relax, maybe by walking around the picturesque streets of the city. But, in order to take the well-deserved rest that you need, in order to visit the city's landmarks with all your strength, you need a place where to store your bags safely.
Radical Storage can help you with storing all your luggage in Lisbon, since there are many different luggage storage options nearby all the most famous sights and districts of the city. Download our app or even visit our website and you'll find out how easy and convenient it is to book a luggage storage with us.
Get accustomed to the area where you find yourself, thanks to our GPS interactive maps, and decide where you want to find your luggage storage. In a moment, you'll get a list of the closest ones to your destination and, after adding all the necessary information, you'll already book it in less than 3 minutes.
The reasons why Radical Storage is the best luggage storage in Lisbon
Making the right decision, especially if you have the best in your mind for your belongings, is though, so we have thought to explain to you why our company is the best service for storing your luggage.
Easy Check-ins: You can say goodbye to long and tiring waiting periods, since all of our luggage storage provides an easy and efficient way to check-in in less than 3 minutes.
Security Coverage: We assure you the best for your luggage and, to prove it, we provide you with a security guarantee of almost 3000 euros.
Wide Coverage: Our extensive network of local businesses turned into partners can extend all over the city, so it will be easy to find the perfect one for you.
No-cancellation fee: Traveling might be troublesome, so we have decided to provide you with a no-cancellation fee policy, so you can cancel anytime you'd like.
Affordability: Our policy price is fixed and secured, so that you won't have to deal with any added charges, such as for the size or weight of your luggage.
What should I do after checking out a luggage storage with Radical Storage
After finally booking one of our luggage storage facilities, there might be a few steps that you might be aware of, in order to have a seamless experience.
First of all, add more luggage to your booking if you need to, so everything will be in check.
After that, you will receive your confirmation email with all the details, so get acquainted with the area of your luggage storage, to get a feel of it.
Get accustomed to the other details of your luggage storage, such as the opening hours of the venue and other stuff.
Once you have reached the place, be prepared to show your email and your QR code, so that they can scan it and provide you with a seamless experience.
If you need any other information or you have specific questions, feel free to contact our customer service team or the staff at the luggage storage, so you can be sure of anything.
How to get from Lisbon Airport to the city center?
You have just landed at Lisbon airport and are trying to reach the city center as quickly as possible, so you can finally start your journey. Luckily, Lisbon's transportation system is quite effective and offers many solutions: you can take the Lisbon metro line 'Aeroporto - Saldanha' and reach the city center in less than half an hour. You can also take many of Lisbon's bus lines, which can leave you in different spots of the historical center or other districts.
However, you must know that there are no Lisbon airport luggage storage options available. If you need to find a safe place for your bags, you may take advantage of our Radical Storage luggage storage service, located conveniently nearby the Lisbon airport. You just need to log in to our website and you will easily find the right location for your needs.
Is there luggage storage at Lisbon Rossio Train Station?
Another essential transportation hub in Lisbon is definitely the Rossio station, the main train station in the capital. The Rossio is populated daily by many people, from workers and students to visitors, thanks to its great convenience and connection network to all parts of the city. Rossio also links Lisbon to many other Portuguese cities, such as Porto, Lagos, Albufeira, Faro, and many others.
The station does not offer luggage lockers, but you can book some Radical Storage luggage storage facilities a few steps from Rossio Station.
Top 5 things to do in Lisbon
Lisbon is a very picturesque city that exudes an aura that cannot be described with words but only with memories and experiences. If you want to discover more about the city and its main attractions, here are five recommendations about things to do in Lisbon:
Walk through the Rossio:
Along with the Martim Moniz, Rossio is one of the main squares of the city and one of the oldest in the cot center. Walk through the busy square and immerse yourself in the heart of Lisbon.

Have fun at the Zoo & Aquarium:
Lisbon is certainly one of the most animal-friendly cities in the world! Have fun playing with the animals at the Lisbon Zoo or admire the breathtaking collections of species at the Lisbon Aquarium, the Oceanario.

Wander through Lisbon beaches:
The city is lulled by the Pacific Ocean, so it can boast many golden beaches where to hang out with friends. While walking on one of them, you can also visit the famous Torre de Belem.

Discover the Alfama:
Considered the most 'historical neighborhood' in Lisbon, the Alfama is full of museums and historical buildings to discover, making you feel like you are traveling through time.

Admire the Lisbon Cathedral: A must-see of the city, Sé de Lisboa or Igreja de Santa Maria Maior is Lisbon's main church with its imperious Romanic style architecture.
What users think about us
Translated automatically
Show original
Hide original
Hundreds of people enthusiastically use our luggage storage service every day
Hundreds of people enthusiastically use our luggage storage service every day
3 Mln+ Suitcases carefully stored
Keeping your luggage safe is our main mission
7000+ Bag guardians worldwide
Our storage points called "Angels" are all over the world
24/7 Instant support
We are always available to answer your questions
0,00% of missing luggage
The numbers speak for themselves, with us you can feel safe!
Store your bags in a few clicks
The worldwide luggage storage network. Our Angels are bars and bistros who have been checked and approved by the Radical Storage team
Step 1
Locate
Find a luggage storage location near you
Step 2
Book
Proceed with online booking
Step 3
Store
Store your suitcases
Step 4
Enjoy
Enjoy your hands-free journey
Frequently Asked Questions