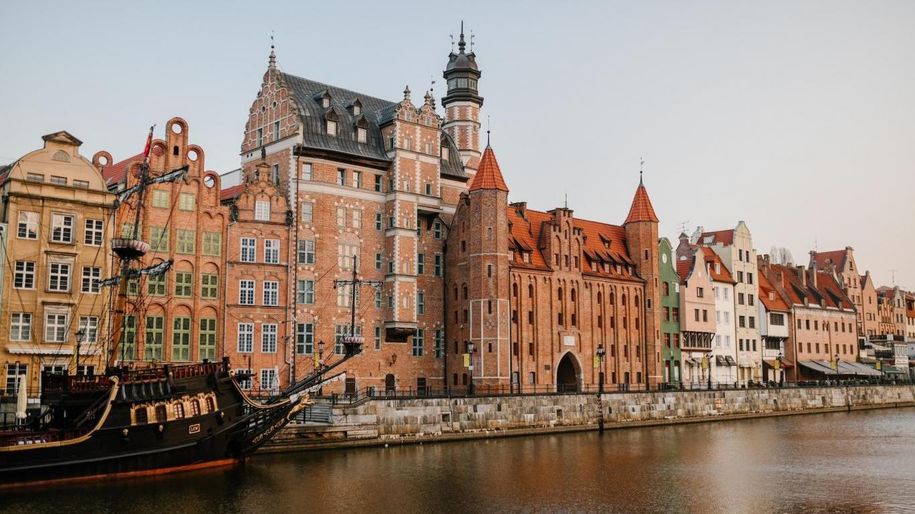 Luggage Storage Amber Museum
Find your luggage storage
Top locations in Amber Museum
Luggage storage in Amber Museum With Radical Storage
If you're visiting the Main Town (Główne Miasto) district, especially when planning to explore the Amber Museum Gdansk, you might be wondering about a convenient solution for storing your belongings. In such cases, Radical Storage offers an excellent solution!
Radical Storage offers a quick and easy online booking system for hassle-free luggage storage near the Amber Museum, Gdansk. For just &20 zł per day per item, with no weight or size limits, drop off your bags at our reliable partners. Enjoy the museum knowing your belongings are secure, with up to €3000 of coverage per item. Trust us, as our testimonials and reviews speak for themselves. One of the advantages of our service is that our team is available online 24/7, should you have any questions or inquiries.
About Amber Museum
The Amber Museum in Gdańsk is the first museum in Poland solely dedicated to amber, also called "Baltic gold", the craft of designing and creating amber jewellery. It features a diverse collection showcasing various aspects of amber. Visitors can explore exhibits depicting amber in its natural form, the extraction process, historical trade routes, medicinal applications, as well as its significance as a magical stone and artistic material. One of the museum's standout attractions is its impressive assortment of historic amber art pieces crafted in Gdansk during the 17th and 18th centuries. In addition to traditional exhibitions, the museum features multimedia presentations for educational purposes and to enhance the attractiveness of the exhibition.
Situated in the Fore Gate, a former prison and torture chamber, the museum not only showcases captivating displays of amber but also presents chillingly realistic exhibitions of torture chambers. Gdańsk Amber Museum opening hours are as follows: Monday: 10 AM - 6 PM (free admission). Tuesday: Closed. Wednesday to Sunday: 10 AM - 6 PM. Amber Museum tickets can be purchased online through the official website. However, please note that tickets for free admission days can only be obtained in the museum.
To get from Amber Museum to Gdańsk Główny you can take a tram or a bus. Walk to the nearest tram or bus stop, and check the schedules and routes to find the one that takes you to Gdańsk Główny or walk by foot, as the distance is approximately 1.5 kilometers, and it will take you around 20-25 minutes.
Things to do near Amber Museum
Gdansk offers a rich historical and cultural experience, so take the opportunity to explore the city's romantic streets, visit other museums, indulge in local cuisine, and immerse yourself in the vibrant atmosphere of this captivating Polish city.
Absolutely a must-visit while in Gdansk, St. Mary's Church is just a 10-minute walk from the Amber Museum and is the largest Gothic brick church in the world. Climb its tower for beautiful panoramic views of Gdansk.
Take a stroll along the Long Market (Długi Targ), which widens from Long Street (Ulica Długa) a vibrant pedestrian street lined with colorful historic buildings, shops, cafes, and restaurants. Admire the iconic Neptune Fountain and visit Artus Court, which is just in front of the fountain.
If you're interested in history, visit the Gdansk Museum of World War II, located nearby. This modern museum provides comprehensive exhibits that delve into the impact of the war on Gdansk and the world.
Other places near Amber Museum
What users think about us
Translated automatically
Show original
Hide original
Profesjonalna usługa
Profesjonalna usługa
Wszystko bardzo profesjonalnie
Wszystko bardzo profesjonalnie
Great
Very helpful & Easy
Шикарная функция
Шикарная функция
Все круто ! Искала где в Гданьске камеры хранения и нашла это приложение . Ты можешь посмотреть где рядом с твоей геолокацией есть заведение , готовое принять твой багаж . Я выбрала точку недалеко от вокзала и в то же время близко к центру , это оказалось « Ministerstwo Śledzia i Wódki» . Несмотря на то что я не глядя забронировала и оказалось что они открываются только в 14:00 , девушка администратор пошла на встречу и я смогла оставить свой чемодан раньше положенного
Все круто ! Искала где в Гданьске камеры хранения и нашла это приложение . Ты можешь посмотреть где рядом с твоей геолокацией есть заведение , готовое принять твой багаж . Я выбрала точку недалеко от вокзала и в то же время близко к центру , это оказалось « Ministerstwo Śledzia i Wódki» . Несмотря на то что я не глядя забронировала и оказалось что они открываются только в 14:00 , девушка администратор пошла на встречу и я смогла оставить свой чемодан раньше положенного
Hundreds of people enthusiastically use our luggage storage service every day
Hundreds of people enthusiastically use our luggage storage service every day
3 Mln+ Suitcases carefully stored
Keeping your luggage safe is our main mission
7000+ Bag guardians worldwide
Our storage points called "Angels" are all over the world
24/7 Instant support
We are always available to answer your questions
0,00% of missing luggage
The numbers speak for themselves, with us you can feel safe!
Store your bags in a few clicks
The worldwide luggage storage network. Our Angels are bars and bistros who have been checked and approved by the Radical Storage team
Step 1
Locate
Find a luggage storage location near you
Step 2
Book
Proceed with online booking
Step 3
Store
Store your suitcases
Step 4
Enjoy
Enjoy your hands-free journey