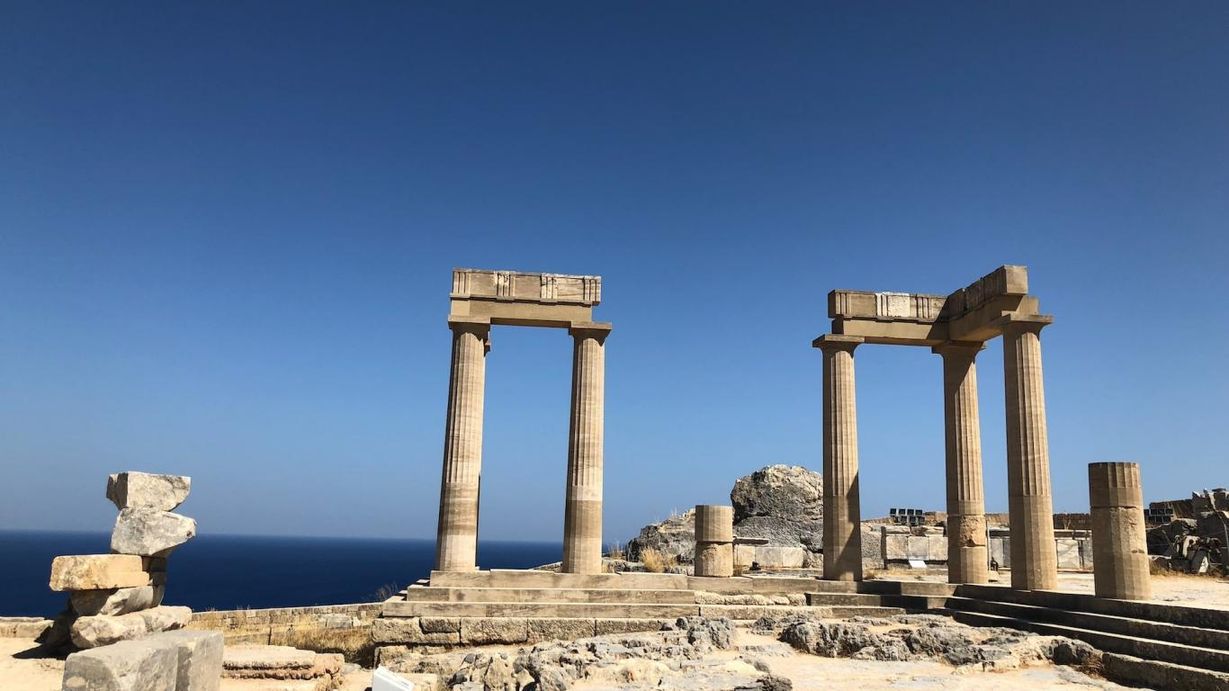 Luggage Storage Rhodes Acropolis:
Find your luggage storage
Luggage storage in Rhodes Acropolis: With Radical Storage
If you've planned the panoramic drive up the hillside to Monte Smith, also known as the Ancient Acropolis of Rhodes Town, you'll need to find luggage storage once you're there. Your search ends with Radical Storage! Our reliable and convenient service offers luggage storage facilities near the Acropolis of Rhodes, letting you start your exploration with ease.
Consider using one of our trusted partners, known as Angels, for your luggage storage needs near the Acropolis of Rhodes. Simply access our website or the Radical app and use our interactive map to find the best location tailored to your requirements. For just €5 per bag/per day, you can swiftly book a spot for your belongings.
Rest easy knowing there are no hidden costs, even for oversized or heavy luggage, thanks to our fixed pricing. Your belongings also benefit from our security guarantee of up to €3000. Should you face any challenges, our live customer support is ready to assist and resolve any concerns promptly.
What is The Acropolis of Rhodes?
The Acropolis of Rhodes, situated atop Monte Smith, is a testament to the ancient glory of Rhodes. While not as renowned as its Athenian counterpart, this acropolis is a significant archaeological gem dating back to the Hellenistic period. The Acropolis of Rhodes offers a mosaic of historical structures: remnants of the Temple of Apollo, the Ancient Stadium, and the Odeon stand out, showcasing the architectural sophistication of ancient Greeks. Apart from its rich historical backdrop, the Acropolis provides panoramic views of the modern city and the shimmering Aegean Sea. This juxtaposition of ancient marvels against the backdrop of contemporary Rhodes makes it a captivating destination for tourists. A visit here bridges the gap between ancient traditions and today's world, offering a tangible link to Greece's illustrious past.
This iconic historical site offers visitors a chance to step back in time and immerse themselves in the ancient world. The Acropolis of Rhodes and its adjacent Rhodes Ancient Stadium are must-visit landmarks for those keen on exploring Greece's rich historical tapestry. Conveniently, there's no entrance fee, making it accessible to all who wish to experience its historical wonders.
Top 3 things to do near Acropolis of Rhodes
Upon visiting the Ancient Acropolis of Rhodes City, make sure to extend your exploration to the nearby attractions. Start with the scenic Monte Smith Hill, which not only hosts the Acropolis but also offers panoramic views of Rhodes City and the Aegean Sea, making it a perfect spot for sunset lovers. Right next to the Acropolis is the restored Rhodes Ancient Stadium, a testament to the island's rich sporting history, where you can almost hear the echoes of past athletic events. To conclude your day, take a short drive to the enchanting Rodini Park, believed to be among the world's oldest landscaped parks. There, you can meander through its serene pathways, cross quaint bridges over streams, and be charmed by the resident peacocks.
Thousands of travelers book our luggage storage every day
Thousands of travelers book our luggage storage every day
3 Mln+ Suitcases carefully stored
Keeping your luggage safe is our main mission
7000+ Bag guardians worldwide
Our storage points called "Angels" are all over the world
24/7 Instant support
We are always available to answer your questions
0,00% of missing luggage
The numbers speak for themselves, with us you can feel safe!
Store your bags in a few clicks
The worldwide luggage storage network. Our Angels are bars and bistros who have been checked and approved by the Radical Storage team
Step 1
Locate
Find a luggage storage location near you
Step 2
Book
Proceed with online booking
Step 3
Store
Store your suitcases
Step 4
Enjoy
Enjoy your hands-free journey