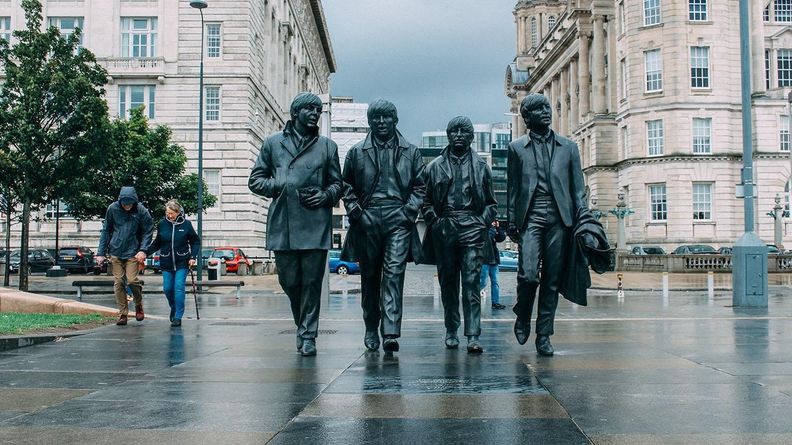 Luggage Storage Liverpool
Find your luggage storage
Luggage storage in Liverpool With Radical Storage
From now on, you can dramatically improve your holiday or business trip by using our luggage storage service in Liverpool. How many times didn't you know where to leave your bags after checking out of the hotel or Airbnb and, therefore, you had to drag your stuff around for hours before getting on the plane or train?
Thanks to Radical Storage, these moments will remain for you only bad memories! With us, you can store your luggage anywhere and anytime! You're only a few clicks away from a day without baggage and above all without stress!
Where can I store my luggage in Liverpool?
Our luggage storage service in Liverpool allows you to find safe and reliable locations in which you can store your belongings without thinking about anything else. Radical Storage provides a unique luggage storage service in Liverpool using the latest technologies. To book your luggage storage in Liverpool, all you need is a smartphone and an internet connection. For only £5 per day per bag, your holiday will be so much better.
Enter the website, enable the geolocation system, and find your nearest partner. Also, you can download our luggage storage app (Radical Storage App) to have all the left luggage facilities at your fingertip. Radical Storage's Angels (what we call our partners) are local businesses, such as restaurants, hotels, and shops that can store your luggage for a few hours or the whole day.
Book a luggage storage in Liverpool with Radical Storage
After a small tour of the area, you're on a train that will lead you to one of the most important and historical cities in the entire country, which is Liverpool. You want to dive in into the exploration of this city's secrets and admire all its incredible museums and attractions, but it would be difficult to do so, if you have to roam around the streets with your luggage.
Luckily, you can count on Radical Storage and its great selection of luggage storage in Liverpool and all the other main cities in the world. We can provide you with a network of luggage storage located all in strategic places in the city, such as train stations, stadiums and all the most famous attractions. You only need to visit our website or our user-friendly app and in a minute you'll be able to book it.
On the website, there will be some interactive maps that you can check out, so that you can control your current location or the one that you prefer, by looking them up, and in a moment you'll be looking at a list of luggage storage in Liverpool close to your position and you can click on the one that you prefer and book it in less than a few minutes.
Why do I store my luggage in Liverpool with Radical Storage?
If you have been wondering why you should book a reservation with Radical Storage for storing all your luggage in a secure place, here it is a list of benefits and important perks that you might get, if you get your service with us.
Flexible timing: One of the perks of our service is the presence of a flexible time schedule, which allows us to accommodate all of your needs, when you have to check-in or out at a certain time.
Accessibility: There are too many options for luggage storage thanks to our extensive network of local partners, so you can always find one of them in your area without any issue.
Security Coverage: You won't ever have to worry about the safety of your luggage with us, since there will be a security guarantee that will assure your luggage for more than 3000 euros per piece of luggage.
Affordability: Our service offers a very convenient and competitive fixed price, so you won't have to spend countless amounts of money for your luggage, no matter the size or the weight of your suitcases.
Easy Check-ins: There will be no time to waste on your trip for the check-in of your luggage, so we have decided to provide you with a seamless experience that will take you up to 5 minutes of time.
What should I do after checking out a luggage storage with Radical Storage
After finally booking one of our luggage storage facilities, there might be a few steps that you might be aware of, in order to have a seamless experience.
First of all, add more luggage to your booking if you need to, so everything will be in check.
After that, you will receive your confirmation email with all the details, so get acquainted with the area of your luggage storage, to get a feel of it.
Get accustomed to the other details of your luggage storage, such as the opening hours of the venue and other stuff.
Once you have reached the place, be prepared to show your email and your QR code, so that they can scan it and provide you with a seamless experience.
If you need any other information or you have specific questions, feel free to contact our customer service team or the staff at the luggage storage, so you can be sure of anything.
Does Liverpool Station have lockers?
No, Liverpool station has no lockers. However, there's a single luggage room at the station available for all travelers. We strongly advise against this solution, because expensive and often overcrowded. You only need to leave the main entrance to the station to find our Angels! Below you'll find a list of all our luggage lockers in Liverpool :
If you are not satisfied with these solutions, you can click the link below to find all our luggage storage facilities in the city of Liverpool.
Liverpool Station
Liverpool Train Station, also known as Liverpool Lime Street, is a prominent railway station situated in the heart of Liverpool city centre, England. It stands as the largest and busiest railway station in Merseyside, serving as a vital transportation hub for commuters, tourists, and locals alike.
The station's rich history dates back to 1836 when it first opened to the public, cementing its status as one of the oldest surviving railway terminals in the world. Since then, Liverpool Train Station has undergone significant expansions and refurbishments to accommodate the growing demands of the city's transportation network, offering an impressive range of services and facilities.
As one of the main gateways to the north of England, Liverpool Train Station connects the city to various destinations across the country, including major cities like Manchester, London, and Birmingham. It serves as a crucial link for both leisure and business travelers, ensuring convenient access to Liverpool's vibrant cultural scene, thriving business districts, and famous landmarks such as the Beatles Story Museum and the iconic Albert Dock.
The station itself boasts architectural grandeur, combining classical Victorian charm with modern facilities. Its magnificent façade, adorned with distinctive red brickwork and ornate detailing, exudes a sense of grandeur that is reflective of Liverpool's rich heritage.
Inside, passengers are greeted with a plethora of amenities, including an array of shops, restaurants, and cafes, ensuring that travelers can find everything they need within the station's walls. The station also offers a dedicated taxi rank and excellent connectivity to local buses, making onward journeys seamless.
All in all, Liverpool Train Station serves as a vital transportation link, connecting the city to the rest of the country and ensuring a smooth and comfortable travel experience for its diverse range of passengers. Its historical significance, architectural splendor, and convenient location make it an integral part of Liverpool's identity and transport infrastructure.
How to get to the closest airports
Liverpool is well-connected to several airports that offer convenient access to domestic and international destinations. If you're in Liverpool and need to travel by air, there are a few options available to you.
The closest airport to Liverpool is Liverpool John Lennon Airport, which is located approximately 8 miles from the city center. You can reach the airport in around 20 minutes by car, depending on traffic. Alternatively, you can use public transport by taking bus routes 80A, 86A, 86C, or 86D, which run directly to and from the airport.
If you prefer a wider range of flight options, Manchester Airport is an excellent choice. It is situated about 35 miles east of Liverpool and is accessible by various means of transportation. The most convenient option is to take a direct train from Liverpool Lime Street to Manchester Airport, which takes approximately 1 hour. Alternatively, you can drive to the airport in around 1 hour, or take a coach service provided by National Express or Megabus.
For those looking for international flights or a larger number of flight options, you may consider using London airports such as Heathrow, Gatwick, or Stansted. You can reach these airports from Liverpool by taking a direct train from Liverpool Lime Street to London, which takes about 2 hours. Alternatively, you can opt for domestic flights from Liverpool John Lennon Airport to one of these London airports.
Overall, Liverpool provides various transportation options to access nearby airports, ensuring that travelers have convenient access to both domestic and international destinations. Whether you prefer driving, public transport, or taking a train, you can easily reach the closest airports from Liverpool, allowing for smooth and hassle-free air travel.
What to do in Liverpool if you are addicted to football?
Undoubtedly, one of the reasons why English and foreigners visit this maritime town in northwest England is football! Who hasn't watched a home team match at least once in their life? By the way, we recommend you drop in at Anfield Stadium, one of the largest in the city and one of the most important Stadia of the Premier League.
Inside the stadium, you'll also find a big store where you can buy gadgets and gifts for your friends and family. Also, there are several street food stands.
Things to do in Liverpool
Many people wonder: what are Liverpool's top attractions? Answering this question isn't very simple! Liverpool is a destination full of surprises.
It's in this city that the members of the most famous rock band in the world were born. Here the Beatles, in Paul's old house (on 20 Forthlin Road), composed their early songs. But what are the most popular places to retrace the history of the band?

A real fan should certainly visit Penny Lane or the Strawberry Fields but also go to the Cavern Club, where the fab four made their debut in 1961.

And if you want to visit John Lennon's childhood home, here is the address: 251 Menlove Avenue.

The wonders of England are endless and among them, there are also the cathedrals. Located just a short walk from the City Centre, Liverpool Cathedral is one of the largest in the world and the largest in the UK.

Among Liverpool's best museums, the International Slavery Museum is worth a visit. Focused on the history of the transatlantic slave trade, the museum displays also special exhibitions about current human rights issues.
Top locations in Liverpool
What users think about us
Translated automatically
Show original
Hide original
-
It's very convenient. Right in the center of the city.
Очень всё удобно. В самом центре города.
-
Super local box with simple to use and close to transport recommends
Super local box with simple to use and close to transport recommande
Thousands of travelers book our luggage storage every day
Thousands of travelers book our luggage storage every day
3 Mln+ Suitcases carefully stored
Keeping your luggage safe is our main mission
7000+ Bag guardians worldwide
Our storage points called "Angels" are all over the world
24/7 Instant support
We are always available to answer your questions
0,00% of missing luggage
The numbers speak for themselves, with us you can feel safe!
Store your bags in a few clicks
The worldwide luggage storage network. Our Angels are bars and bistros who have been checked and approved by the Radical Storage team
Step 1
Locate
Find a luggage storage location near you
Step 2
Book
Proceed with online booking
Step 3
Store
Store your suitcases
Step 4
Enjoy
Enjoy your hands-free journey
Frequently Asked Questions