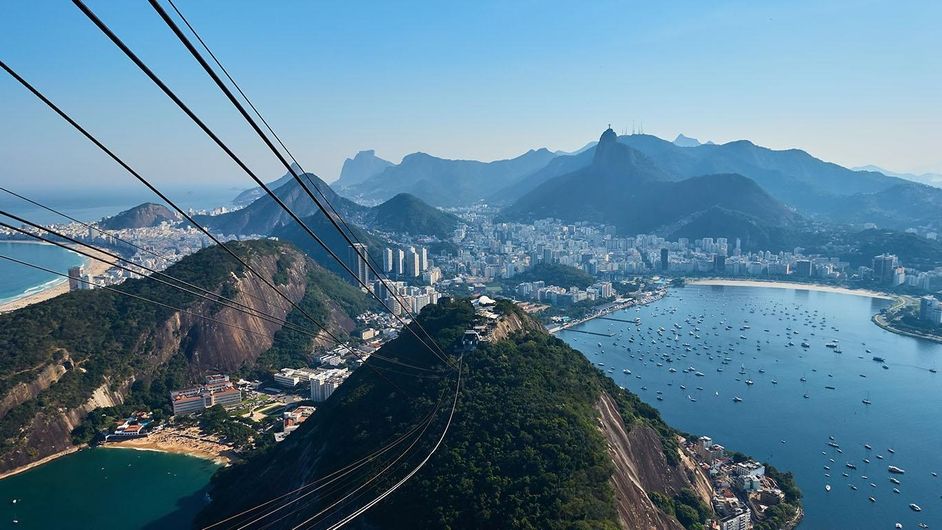 Luggage Storage Rio de Janeiro
Find your luggage storage
Luggage storage in Rio de Janeiro With Radical Storage
Known as the Marvelous City, Rio de Janeiro enchants visitors with its stunning blend of golden beaches, lush green mountains, and lively rhythms of samba and bossa nova. One of the must-see attractions is Rio de Janeiro Ipanema Beach, immortalized in a famous song "A Girl from Ipanema", where you can enjoy leisurely walks, sunbathe, partake in games, and indulge in people-watching.
The iconic Christ the Redeemer statue perched atop Corcovado Mountain provides a breathtaking panorama of the city. Today, Rio serves as the epicenter of the world-renowned annual carnival festivals, offering extravagant feasts, vibrant music, captivating dance performances, and dazzling costumes.
Whether you find yourself in Rio de Janeiro with a few hours to spare before hotel check-in or you're departing late in the evening, there's one challenge you'll face: your luggage. With Radical Storage, you can lighten your load by choosing from our affordable and secure luggage storage solutions across Rio de Janeiro.
Where are the best Radical luggage storage locations in Rio de Janeiro?
Our luggage storage service in Rio de Janeiro provides a hassle-free solution for storing your bags. With no weight or size limits, you can drop off any luggage for just €5 per item. Our staffed locations ensure the safety of your belongings throughout the process. Find our convenient storage points on the website or app. You can always chat with our 24/7 support team for more information.
Here are the convenient locations where you can find us in Rio de Janeiro:
Central do Brasil - Rio de Janeiro Train Station:
Rio de Janeiro's train station, known as Central do Brasil, is both a historical landmark and a bustling transportation hub. Located in the heart of the city, it is one of the busiest stations in Brazil and serves as a gateway to the city's many attractions and neighborhoods.
Central do Brasil was inaugurated in 1910 and designed by the Brazilian architect Francisco de Oliveira Passos. The station's architecture reflects the grandeur of the era, with its majestic facade, tall clock tower, and ornate detailing. It has become an iconic symbol of the city, featured in various movies and literature.
Inside, the station is a hive of activity, with commuters rushing through its spacious halls and platforms. It is a crucial transportation hub, linking Rio de Janeiro to other cities within the state and even further afield. The station is particularly important for those heading to the northern region of Brazil, as it serves as a transfer point for long-distance trains.
Beyond its utilitarian function, Central do Brasil holds historical and cultural significance. It has witnessed important moments in Brazil's history, including political rallies, protests, and even performances by renowned artists. The station also houses a small museum that showcases its history and the development of rail transportation in Brazil.
As one of the busiest and most significant train stations in Brazil, Rio de Janeiro's Central do Brasil captures the energy and diversity of the city. It serves as a gateway to exploring Rio's vibrant neighborhoods, iconic landmarks like the Sugarloaf Mountain and Christ the Redeemer, and the natural beauty of the surrounding region.
Rio de Janeiro Airport:
Rio de Janeiro Airport, officially known as Galeão International Airport, is the major airport serving the city of Rio de Janeiro, Brazil. It is located in the neighborhood of Galeão, approximately 20 kilometers from the city center. The airport has two terminals, Terminal 1 and Terminal 2.
With its modern facilities and services, Rio de Janeiro Airport handles a significant amount of domestic and international flights. It is one of the busiest airports in Brazil and South America. The airport has connections to various destinations around the world, making it a popular transit point for travelers.
The airport offers a range of amenities to ensure a comfortable and convenient travel experience. There are numerous shops, restaurants, and duty-free outlets, providing a variety of dining and shopping options for passengers. Additionally, the airport provides banking facilities, currency exchange, and car rental services.
Transportation to and from the airport is easily accessible. Passengers can take taxis, private cars, or utilize the airport shuttle services. There are also public transportation options such as buses and the BRT (Bus Rapid Transit) system.
Overall, Rio de Janeiro Airport is an important gateway to the vibrant city of Rio de Janeiro, connecting visitors and locals to various destinations worldwide. With its efficient operations and modern amenities, it ensures a smooth travel experience for all passengers.
Getting from Rio de Janeiro Airport to Downtown?
The distance between Rio de Janeiro/Galeão International Airport and the city center is approximately 16 km, which can be covered in around 20 minutes by taxi. When traveling from the airport to the city, you have several transportation options available, including taxis, buses, or a combination of bus and metro.
Taxis offer a convenient option, taking around 20 minutes to reach the city center at an approximate cost of €16 (BRL 85.50).The BRT (Bus Rapid Transit) system in Rio de Janeiro is a modern and efficient transportation system that provides fast and reliable bus services. Taking the bus is the most economical option, priced at only €1.50 (BRL 8). Board Bus Line 915 from the airport and transfer to a public bus that will bring you directly to the city. Another affordable choice is to take a BRT bus to Vincente de Carvalho metro station and then catch the L2 metro into the city.
Do you want to book a luggage storage in Rio de Janeiro with Radical Storage?
Are you ready to party your way through the city of Rio de Janeiro and to relax on the beaches, savoring the sound of waves? Then, you should leave everything that is holding you down and dive into the crystal-clear waters of the city. In order to do that, you might need to find a place where to leave safely your belongings, so that everything can be settled and you can have fun.
In this case, the proper solution to all of your issues might come with Radical Storage, since we can offer you plenty of luggage storage in Rio de Janeiro. You just need to check out our website or even download our user-friendly app and in the blink of an eye you'll be able to check out all our luggage storage and book whichever you like.
On the website, you will be able to look out the interactive maps of our service, which means that, thanks to GPS, you can look up your current location or the place that you want to visit and, immediately, you will get a list of all the Angels that we offer. They have been chosen according to safety and convenience standards among an array of local businesses so that you can always feel safe.
Reasons why Radical Storage is the best luggage storage company in Rio de Janeiro
It must be a little bit difficult to choose the best luggage storage for your needs, that is why we might help you with some reasons and perks why Radical Storage is the best choice that you can make, in terms of luggage storage services in Rio de Janeiro:
Free-cancellation: traveling can be struggling and everything may change from one moment to the other, so we have decided to give no cancellation fees.
Affordability: Our service offer a flat rate price, so that you won't have to calculate any added charges for the size or weight of your suitcases, but just enjoy.
Extensive Coverage: We can provide you with many different options of luggage storage and no matter what your needs might be, we will still find a solution for you.
Security Fee: For your peace of mind, we advise you to take advantage of our security coverage that, with a simple fee, can guarantee you with almost 3000 euros of coverage.
Easy Check-ins: There won't be any waiting moment for your luggage storage, so it can be quick and easy when dropping off your luggage.
What should I do after checking out a luggage storage with Radical Storage
After finally booking one of our luggage storage facilities, there might be a few steps that you might be aware of, in order to have a seamless experience.
First of all, add more luggage to your booking if you need to, so everything will be in check.
After that, you will receive your confirmation email with all the details, so get acquainted with the area of your luggage storage, to get a feel of it.
Get accustomed to the other details of your luggage storage, such as the opening hours of the venue and other stuff.
Once you have reached the place, be prepared to show your email and your QR code, so that they can scan it and provide you with a seamless experience.
If you need any other information or you have specific questions, feel free to contact our customer service team or the staff at the luggage storage, so you can be sure of anything.
Things to do in Rio de Janeiro
Wander through the Historic Center (Centro): Immerse yourself in the city's rich history by exploring the charming streets, colonial architecture, and cultural sites. Explore the impressive collection of Brazilian and international artworks in the National Museum of Fine Arts, step back in time with a visit to the Imperial Palace, marvel at grand façade of the Candelária Church, adorned with intricate details.
Explore Copacabana and Ipanema beaches: The beaches of Rio de Janeiro are not only popular tourist destinations but also an integral part of the city's way of life. Copacabana and Ipanema beaches, although located in different areas, share many similarities. Each beach is identified by "Posto" numbers, which will help you orient yourself and find your way along the beautiful coastline of Rio.
A visit to Sugarloaf Mountain is a must-do activity if you want to get breathtaking view of Rio de Janeiro's skyline. To avoid long queues, it's recommended to arrive early, especially during the high season. Waking up to an early alarm will reward you with quieter surroundings, stunning vistas, and shorter waiting times. So, make sure to prioritize this experience and soak in the beauty of Rio from atop Sugarloaf Mountain.
Visit Christ the Redeemer (Cristo Redentor): No list of what to do in Rio would be complete without mentioning the iconic Rio de Janeiro Statue. It sits on top of Corcovado Mountain protecting the entire city and offering panoramic views of the entire Rio de Janeiro coast line.
Experience the vibrant atmosphere of the Carnival: Join the Rio de Janeiro nightlife with its Carnival festivities, featuring colorful parades, samba music, and lively street parties.
Top locations in Rio de Janeiro
What users think about us
Translated automatically
Show original
Hide original
Hundreds of people enthusiastically use our luggage storage service every day
Hundreds of people enthusiastically use our luggage storage service every day
3 Mln+ Suitcases carefully stored
Keeping your luggage safe is our main mission
7000+ Bag guardians worldwide
Our storage points called "Angels" are all over the world
24/7 Instant support
We are always available to answer your questions
0,00% of missing luggage
The numbers speak for themselves, with us you can feel safe!
Store your bags in a few clicks
The worldwide luggage storage network. Our Angels are bars and bistros who have been checked and approved by the Radical Storage team
Step 1
Locate
Find a luggage storage location near you
Step 2
Book
Proceed with online booking
Step 3
Store
Store your suitcases
Step 4
Enjoy
Enjoy your hands-free journey
Frequently Asked Questions