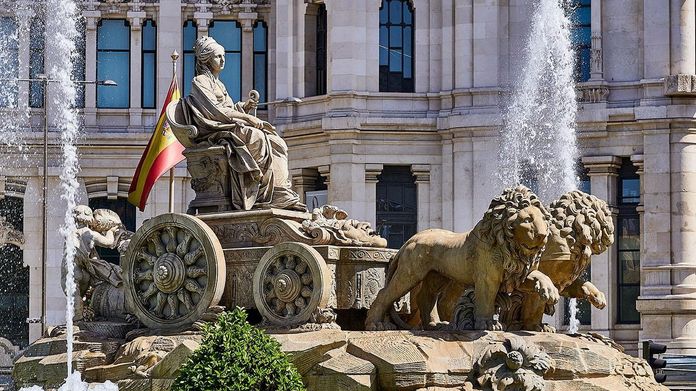 Luggage Storage Madrid
Find your luggage storage
Luggage storage in Madrid With Radical Storage
You have just landed at Madrid airport with your friends and you just can't wait to finally unravel everything and discover the famous city that you have read so much about. However, your vacation through the streets of Madrid Spain cannot officially begin, until you can search for Madrid luggage storage and get rid of your bags. Well, here you can find the right solution for you.
Radical Storage is a service that helps you find lockers or luggage storage in Madrid. Thanks to our Angels, our Radical partners, we can conveniently offer safe and secure baggage storage, where you can leave your bags and be free to roam through the streets in Madrid. We have a 5€ fixed rate, without any restrictions on the weight or size of your bags. Some of our luggage storage locations are open 24/7, and you can book them through our Radical Storage app or website in a blink of an eye.
Where to store luggage in Madrid?
Once you finally step foot into the main streets of Madrid, you will be able to wander around the city center and explore the many attractions that you may find. But, in order to fully appreciate the potential of the city and start your holiday with the right tone, you should first leave your heavy luggage in a safe and secure spot, so that they don't slow you down during your day.
Luckily, Radical Stage can offer you the right solution, thanks to its great network of partners, the Angels, located all over the city and near Madrid attractions, so you can book them in a few moments and roam around freely. Our reliable options may be found near Plaza Mayor, Plaza de España, Royal Palace, Puerta del Sol, Calle Mayor, Salamanca, Malasaña, and many other hotspots.
Search for the nearest luggage storage in Madrid to your location and, in just a few moments, you can start your holiday in the city and enjoy your stay!
Information about Madrid stations/airports
The main Madrid train station, known as Madrid Atocha, is the largest train station in Madrid and the busiest railway station in Spain. The station is located in the heart of the city and serves both national and international trains. From here, you can hop on a train and comfortably visit for the weekend other major Spanish cities. For example, the Madrid to Seville train will only take you 2 hours and a half, while going to Barcelona will be only 3 hours and a half, taking the Madrid to Barcelona train.
The station also has a modern and spacious design and offers a wide range of amenities, including shops, cafes, and restaurants. Passengers can also access the city's metro and bus network directly from the station. However, the Atocha station doesn't have storage lockers, so if you're looking for luggage storage at Madrid train station, you may check our Radical Storage app and find the perfect locations for your necessities.
Madrid airport, officially known as Adolfo Suárez Madrid-Barajas Airport, is the largest and busiest airport in Spain, serving over 50 million passengers annually. The airport is located northeast of the city center, just 18 km away from the city center, and consists of four terminals. Passengers can access the airport by public transport. In fact, you can get to Madrid airport by:
Metro: there are many metro lines that can get you to Terminal 2 and Terminal 4 of the airport.

Train: from the Atocha or Chamartìn station, you can easily take a train and arrive at the Terminal 4 of the Airport.

Bus: there are several bus lines that can bring you to the airport quickly, with price ranges that go from 1.50€ to 5€.
One thing you must be aware of while choosing your transportation is that the airport doesn't have any luggage storage options. So, if you want to look for Madrid luggage storage, you can check for Radical Storage locations in the area and you will be free to roam around the city, with your belongings in safe hands.
Book one of our Radical Storage luggage storage in Madrid!
Are you walking around the streets of Madrid, enjoying your time here and exploring all the amazing landmarks that the city holds? You're already on the right foot for living up the expectations that you had for your trip. However, in order to enjoy even more your stay in Madrid, you need to find a place where you can leave your bags for a while and not care about the hassle of carrying them around.
In this case, Radical Storage can be the right solution for your issues, since we can offer you many different solutions for luggage storage options in Madrid, dotted in every place of the city, especially nearby the main points of interests. Like this, you won't have to be worried about your suitcases and bags, but just enjoy the city in its full potential. Check out our website or user-friendly app and in a moment you'll be able to fix all your problems.
You will be able to see on our website our incredible interactive maps, where you can look up your current location or the place that you prefer and then the website will show you a list of Angels, as we like to call our partners, from which you can choose. All of them are selected among an array of local business ventures, such as shops, restaurants and many others, all chosen following rigid criteria of safety and convenience.
Why you should book one of our luggage storage in Madrid?
We understand that you might ask yourself this question, since there is so much to choose from, so here's a list of reasons as to why you should choose our services, when it comes to booking your luggage storage in Madrid:
Free Cancellation: there might be any different issues, arising during your trip, so it can happen that you might want to cancel your booking, but thanks to Radical, you won't have to pay any fee about it.
Security Coverage: In order to provide you with the peace of mind that you deserve for all your suitcases, we also offer a guarantee of almost 3000 euros per piece of luggage, so you won't ever have to worry about it.
Affordable rate services: You won't have to worry about how much you are going to pay for all the pieces of luggage that you have to store, since we offer a fixed rate with a very convenient price, so you could save, while feeling safe.
Easy and quick Check-in: With Radical Storage, you won't ever have to feel like waiting around for a great queue in order to store your luggage, since you can easily check in in less than a few minutes.
Extensive coverage: Thanks to our extensive net of luggage storage options, scattered all across the city and nearby the main landmarks, you won't have to worry about looking up the perfect spot, since there will be plenty to choose from.
Attractions in Madrid: what to do in 3 days
Madrid has been known for centuries as one of the most enticing cities in Spain, with a rich history, culture, and art scene. If you have been wondering what Madrid is famous for, you will find countless activities and attractions that will make you travel through time and discover the millions of colors of this city. Here are five wonderful attractions to visit, to show you why Madrid is worth visiting:
Visit the Prado Museum
The Prado Museum in Madrid is a world-renowned art museum with an impressive collection of European art, including works by Goya, Velázquez, and El Greco.

Stroll through Retiro Park
Retiro Park is a beautiful and expansive public park located in the heart of Madrid, known for its stunning gardens, historic monuments, and recreational activities

Explore the Royal Palace of Madrid: The 18th-century Royal Palace of Madrid is a stunning historic residence for the Spanish Royal Family, with impressive architecture, gardens, and a vast art collection.

Walk in the Plaza Mayor: Plaza Mayor is a bustling and picturesque public square in the heart of Madrid, known for its stunning architecture, lively atmosphere, and historic significance

Admire Puerta del Sol: Puerta del Sol is a vibrant square, renowned for its famous clock tower, the "Bear and the Strawberry Tree" statue, and its cultural and symbolic significance.
What users think about us
Translated automatically
Show original
Hide original
-
Very satisfied. 3-minute walk from EUROSTAR station, reliable staff.
Très satisfaite. A 3 minutes à pied de la gare EUROSTAR, personnel sérieux.
Thousands of travelers book our luggage storage every day
Thousands of travelers book our luggage storage every day
3 Mln+ Suitcases carefully stored
Keeping your luggage safe is our main mission
7000+ Bag guardians worldwide
Our storage points called "Angels" are all over the world
24/7 Instant support
We are always available to answer your questions
0,00% of missing luggage
The numbers speak for themselves, with us you can feel safe!
Store your bags in a few clicks
The worldwide luggage storage network. Our Angels are bars and bistros who have been checked and approved by the Radical Storage team
Step 1
Locate
Find a luggage storage location near you
Step 2
Book
Proceed with online booking
Step 3
Store
Store your suitcases
Step 4
Enjoy
Enjoy your hands-free journey
Frequently Asked Questions