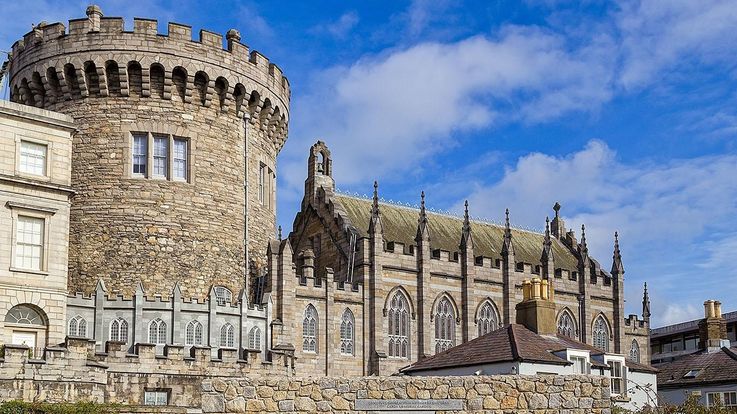 Luggage Storage Dublin
Find your luggage storage
Luggage storage in Dublin With Radical Storage
Dublin is a city drenched in rich history and vibrant culture, just waiting to be explored. But, it's tricky to fully immerse yourself in everything Dublin has to offer when you are pulling heavy suitcases around - luckily, Radical Storage is here to help
We provide convenient luggage storage services in Dublin allowing you to explore the city without worrying about your belongings. Whether you're in the city for a short layover or an extended stay, Radical Storage will lighten your load with our range of affordable and secure luggage storage options all over Dublin.
We have created strong partnerships with local businesses all around Dublin, offering you various options to store your luggage. Our friendly and trustworthy partners will keep your bags safe and secure while you explore the city. With a fixed rate of €5 per day/per bag and a security guarantee of up to almost €3000, why carry heavy bags around Dublin when you can enjoy your trip hands-free with Radical Storage?
Where can I store my luggage in Dublin?
No matter where you want to visit first in Dublin, you'll always be close to luggage storage services across the city. Our Radical Partners are available in all your new favorite Dublin spots, and they are ready to guard your bags while you go off and explore the best of Dublin:
Book a luggage storage in Dublin with Radical Storage
You finally get to experience the wonderful streets of Dublin in all their amazing glory, thanks to this trip. After wanting to come here for a long time, you finally get the chance to wander and learn everything about this wonderful city. But, before diving into the discovery of Dublin, you need to find a place where to leave your luggage safely, so you can wander around without any worry.
That is the reason why Radical Storage is the best luggage storage option for you in Dublin, since it can offer many luggage storage solutions scattered throughout the entire city and nearby the main points of interest. You just need to check out our website or visit our user-friendly app and in a minute, you'll be able to book one of our luggage storage.
You simply need to activate your GPS and look out on one of our interactive maps the position that you prefer or your current location. In this way, you can find your list of Angels, local businesses chosen by standards of safety and convenience, and book the one that you would prefer to use, in less than 3 minutes. Now the trip can finally begin!
Why should I choose Radical Storage luggage storage in Dublin
It is difficult to take such an important decision about your belongings: therefore, we have decided to help you and provide you with some reasons why Radical Storage might be the best choice for your suitcases:
Wide Coverage: We have an extended list of partners, scattered throughout the entire city, so you won't have to break a sweat when looking for the right one for you.
Free-Cancellation: There might be different situations, where you might have to cancel your booking, but don't you worry because with us there won't be any cancellation fees.
No size or weight restrictions: When it comes to our rates, there won't be any additional fees, for things like the size or the weight of your suitcases.
Affordability: Our flat rate policy allows us to offer a very affordable and convenient price, so that you can always afford to have your service, no matter what.
Security Coverage: For your peace of mind, there will be a small fee for your security coverage, that will allow you to provide almost 3000 euros per piece of luggage.
Easy check-ins: With our service, you won't have to wait countless hours, in order to store your luggage, but in matters of minutes everything will be solved.
What to do after booking a reservation with Radical Storage
There are a few considerations you should do after successfully reserving your preferred luggage storage option in Dublin, to ensure a quick and secure transaction.
First, determine how many bags you would need to store, and if more are required, add them to your reservation.
After that, you must check your reservation email to find the specified address. In this situation, you could look around to acquire a feel for the place.
As a result, you might need to view every aspect of your reservation, including the luggage storage unit's hours of operation.
Be prepared to present the confirmation email with your QR code once you have arrived at your location so that our Angel may scan it and everything proceeds as planned.
Finally, feel free to contact our customer service or the employees at the luggage storage if you have any special questions or suggestions so that we can assist you as much as possible.
Dublin airport | Useful information:
Dublin Airport, located approximately 6 miles north of Dublin's city center, is the busiest airport in Ireland and one of the busiest in Europe. With over 30 million passengers recorded annually, it serves as a major transportation hub connecting Ireland with the rest of the world.
The airport has undergone significant expansion and modernization over the years to accommodate the growing number of passengers. It features two runways and three passenger terminals, with Terminal 2 being the newest addition. This terminal, which opened in 2010, offers state-of-the-art facilities and a wide range of amenities for travelers.
Dublin Airport is well-connected to various destinations across the globe, with numerous international airlines operating regular flights to and from the airport. It serves as a top gateway for travelers arriving in Ireland, whether for business or leisure purposes.
Inside the airport, passengers can find a variety of shops, restaurants, and duty-free outlets. From popular high street brands to traditional Irish products, there is something to suit every taste. Additionally, there are multiple bars and cafes where travelers can relax and enjoy a refreshing drink or a bite to eat.
Dublin Airport also provides excellent transport links to the city center and other parts of Ireland. It is well-served by various public transportation options, including buses and taxis. Additionally, car rental services are available for those who prefer to explore the country at their own pace.
With its efficient operations, modern facilities, and extensive flight connections, Dublin Airport continues to play a crucial role in connecting Ireland to the rest of the world. It remains a popular choice for both domestic and international travelers seeking a convenient and hassle-free travel experience.
Dublin Connelly Train Station:
Dublin Connelly Train Station, located in the heart of Dublin, is one of Ireland's busiest railway stations. With its distinctive redbrick exterior and a blend of historic and contemporary architecture, it is not only a major transportation hub but also a cultural landmark in the city.
Originally opened in 1844, the station has undergone several transformations over the years to keep up with the increasing demand of commuters and travelers. Today, it is a state-of-the-art facility equipped with modern amenities and services. With its multiple platforms and tracks, it connects Dublin to various destinations across the country, making it the gateway to explore the beauty of Ireland.
Dublin Connelly Train Station is well-known for its efficient and reliable train services. It is operated by Irish Rail, the national railway company, and offers connections to both intercity and suburban trains. Whether you're planning to travel to bustling cities like Cork or Galway, or explore the picturesque countryside, this station provides a convenient and seamless travel experience.
The station also serves as a vital transportation hub for local commuters in Dublin. Its convenient location in the city center means that it is easily accessible by various modes of public transportation, including buses and taxis. Additionally, there is ample parking available for those who prefer to commute by car.
Moreover, the station is surrounded by a vibrant neighborhood with numerous amenities and attractions nearby. From stylish hotels and restaurants to lively bars and shopping districts, visitors can immerse themselves in the vibrant atmosphere of Dublin within walking distance of the station.
In conclusion, Dublin Connelly Train Station is not just a transportation facility, but a central hub that connects visitors and locals alike to the rest of Ireland. With its efficient services, modern facilities, and proximity to the city's attractions, it is an essential part of Dublin's transportation infrastructure.
Things to do in Dublin
From the Guinness Storehouse to the vibrant Temple Bar district or the exciting Dublin Zoo to the fascinating Dublin museums, there are endless activities to enjoy in the Irish capital, and you'll have even more fun knowing your bags are safe and secure in luggage storage in Dublin with Radical Storage!
Don't miss out on a visit to The Guinness Storehouse The unique seven-story visitor experience takes you on a journey through the history of this world-renowned Irish beer. When you're here, you can pay a visit to the Gravity Bar on the rooftop, where you can savor a pint of Guinness while taking in the breathtaking views of Dublin city.

Soak up the history at Trinity College and the Book of Kells Trinity is Ireland's oldest university and one of the most prestigious and well-known across Europe. Be a student for the day and enjoy a guided tour of the campus, when you're there don't forget to marvel at the famous Book of Kells!

Jig away to the fantastic live music at Temple Bar Nestled in the heart of Dublin Temple Bar is known for its lively pubs, restaurants, and live music. It's the perfect spot to enjoy a pint of Guinness and revel in the buzzing atmosphere of the city. When you're here, make sure to wander around the Temple Bar Food Market, on every Saturday this is the perfect opportunity to sample the delicious local cuisine.
What users think about us
Translated automatically
Show original
Hide original
-
Very satisfied. 3-minute walk from EUROSTAR station, reliable staff.
Très satisfaite. A 3 minutes à pied de la gare EUROSTAR, personnel sérieux.
Thousands of travelers book our luggage storage every day
Thousands of travelers book our luggage storage every day
3 Mln+ Suitcases carefully stored
Keeping your luggage safe is our main mission
7000+ Bag guardians worldwide
Our storage points called "Angels" are all over the world
24/7 Instant support
We are always available to answer your questions
0,00% of missing luggage
The numbers speak for themselves, with us you can feel safe!
Store your bags in a few clicks
The worldwide luggage storage network. Our Angels are bars and bistros who have been checked and approved by the Radical Storage team
Step 1
Locate
Find a luggage storage location near you
Step 2
Book
Proceed with online booking
Step 3
Store
Store your suitcases
Step 4
Enjoy
Enjoy your hands-free journey
Frequently Asked Questions