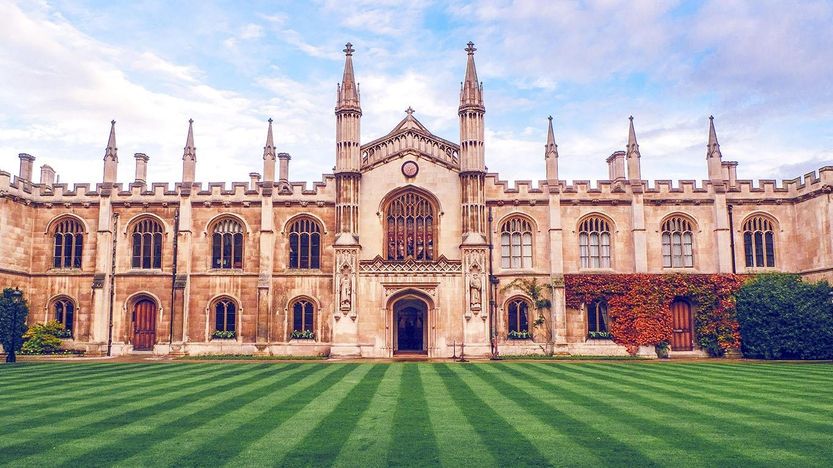 Luggage Storage Cambridge
Find your luggage storage
Luggage storages in Cambridge With Radical Storage
Cambridge is such an incredible place to visit, thanks to its many landmarks and picturesque architecture, which will make you feel like you could go back in time. So, as soon as you find yourself in this magical location, you should dive into your trip and get to wander around its charming streets as soon as you can. However, it must be an inconvenience to walk around and visit museums, if you have to constantly roll around your suitcases or carry your bags.
The solution to this issue could be a safe space, where you could leave your luggage, meanwhile, you can discover piece by piece the streets of Cambridge and get charmed by its incredible beauty. But how could you find such a place?
Reach your luggage storage in Cambridge
If you need a solution for this issue, where to store your luggage while you're discovering the city, don't you worry because Radical Storage is the perfect explanation to all your necessities.
Radical Storage is a luggage storage solution that will allow you to find all the luggage storage options in Cambridge in the blink of an eye, so you won't have to worry about where to leave them. We have a network of trust-worthy Angels, as er like to call our local collaborators, that are scattered all across the city, chosen according to safety and convenience standards among local businesses such as restaurants, hotels, shops and many more.
As soon as you need it, you might find the perfect luggage storage for you at a convenient flat rate policy, which means that you won't have to worry about additional charges. We also offer a security coverage that will allow you to almost 3000 pounds. In addition, if you ever need any assistance, you might contact our 24/7 customer service, offer din multilingual assistance, that will be able to solve all your problems.
We take pride in providing exceptional support and ensuring your experience with us is seamless and enjoyable. Here is a list of our reliable luggage options in Cambridge:
Book a luggage storage in Cambridge with Radical Storage
Now that you are wandering through the small and picturesque streets of Cambridge, you might e dying from the will to finally visit all the museums and the universities that the city has, so you won't miss a chance to finally discover everything. However, you should be aware that going around strolling your suitcases is very impractical, so you need to find a secure space where to store your luggage.
In this case, Radical Storage is the best solution for you, thanks to its countless luggage storage options nearby the main points of interest and all across the city. In this way, you won't ever have to sweat about your luggage, because it takes only a few minutes on our website or app and you will find the perfect luggage storage for you.
On the website, you can look up on our interactive maps your current location, thanks to GPS, or the place that you prefer, and in a moment you will be able to sort through the list of our Angels, the trust-worthy partners that we have chosen. As mentioned, you will be able to choose the closest one to you in a click and book it immediately.
Reasons why Radical Storage is the best luggage storage option in Cambridge
We know that this decision whether to join the Radical family and book a reservation with Radical Storage is not easy, so we have decided to actually list you all the perks that you could obtain, while choosing us.
Security Coverage: For your peace of mind, we have decided to actually dover you with a guarantee that will allow you almost 3000 euros per piece of luggage.
Affordability: Our prices are the most convenient and competitive in the market, so with our flat rate policy you will be sure to get only the best price that you can find.
No-cancellation fee: We know that traveling is an incognita, which means that anything can happen, so we want you to know that we won't charge for cancellation.
No size or weight restrictions: For us, all our luggage is the same, so there won't be no other added charges for the size or the weight of your luggage.
Wide Coverage: We offer an extensive selection of Angels scattered all across the city, so you won't have to worry about looking up for the right one.
What should I do after checking out a luggage storage with Radical Storage
After finally booking one of our luggage storage facilities, there might be a few steps that you might be aware of, in order to have a seamless experience.
First of all, add more luggage to your booking if you need to, so everything will be in check.
After that, you will receive your confirmation email with all the details, so get acquainted with the area of your luggage storage, to get a feel of it.
Once you have reached the place, be prepared to show your email and your QR code, so that they can scan it and provide you with a seamless experience.
If you need any other information or you have specific questions, feel free to contact our customer service team or the staff at the luggage storage, so you can be sure of anything.
Cambridge Station
Cambridge Station is a historic railway station located in the heart of Cambridge, England. It is the principal railway station for the city and serves as a major transportation hub, connecting Cambridge to various destinations across the country. The station is operated by Greater Anglia and serves as an important gateway into the city.
Originally opened in 1845, Cambridge Station has undergone several renovations and expansions over the years to accommodate the growing passenger demand. Today, it is a bustling and vibrant station, welcoming travelers from all over.
The station features a beautiful Victorian-style building, which has been meticulously preserved to retain its original charm. The red brick facade, intricate ironwork, and grand arches showcase the architectural elegance of the era. Inside, there are modern amenities and facilities for passengers, including ticket counters, waiting areas, shops, and food outlets.
Cambridge Station offers excellent connectivity to major cities like London, Birmingham, and Norwich, making it a popular choice for commuters and tourists alike. The station is a short distance away from the city center, and there are multiple bus routes and taxi services available for onward travel.
For those visiting Cambridge, the station provides convenient access to the city's many attractions, such as the prestigious University of Cambridge, world-renowned museums, and stunning architecture. The station is also well-served by local transportation, making it easy to explore the surrounding areas and countryside.
Overall, Cambridge Station is not only a vital transportation hub but also a significant landmark, representing the city's rich heritage and connection to the rest of the country.
Closest Airports to Cambridge
Cambridge, a historic city located in the eastern part of England, is well-served by several airports in its vicinity. The closest airport to Cambridge is Cambridge Airport itself. Although small in size, it offers limited domestic and international flights, primarily serving private jets and small regional aircraft. It provides convenient travel options for visitors with access to private aviation.
For those seeking more extensive flight schedules and destinations, London Stansted Airport is the next closest option. Located approximately 30 miles south of Cambridge, Stansted is a major international airport that serves a wide range of European and global destinations. It offers flights from various airlines, including low-cost carriers like Ryanair and easyJet.
Another viable option is London Luton Airport, situated around 50 miles southwest of Cambridge. Luton is a popular choice for both business and leisure travelers, with a range of airlines serving a vast number of European destinations.
Although slightly further away, London Heathrow Airport is also accessible from Cambridge. It is one of the busiest airports in the world, offering a wide range of domestic and international flights to destinations across the globe. Situated around 70 miles south of Cambridge, Heathrow provides convenient connections to major cities worldwide.
While these four airports are the closest to Cambridge, there are several other airports within a reasonable distance, including London City Airport, London Southend Airport, and Birmingham Airport. Whether traveling for business or leisure, Cambridge provides access to various airports, allowing visitors to choose the most suitable option for their travel needs.
Fun things to do in Cambridge
Now that your trip to Cambridge is all set and ready to begin, you might need a list of all the amazing landmarks and attractions that you need to visit while here. In fact, there are certain things that you absolutely need to stop by, in order to fully appreciate the elegance and the charm of Cambridge. First and foremost, the most important thing that you need to visit is The Fitzwilliam Museum, an incredible building full of things to discover and artifacts to admire. Once you have step foot in this amazing museum, you will be compelled to swing around these charming walls and never leave.
Another great attraction that you should definitely not miss out while here is the Cambridge University Botanic Garden, especially if you want to enjoy some fresh air and admire the beautiful flowers and plants that the garden hosts. You can walk between the gardens and get immersed in a charming aura that will make you feel like in a little corner of paradise. Finally, but not least important, you can also get to visit the King's College Chapel, a wonderful construction that will make you feel charmed by the picturesque and super elegant architecture. This is a spot that you certainly cannot miss, so run to the hunt for new experiences in Cambridge and enjoy your trip as much as you can.
Top locations in Cambridge
What users think about us
autoTranslated
Show original
Hide original
Hundreds of people enthusiastically use our luggage storage service every day
Hundreds of people enthusiastically use our luggage storage service every day
3 Mln+ Suitcases carefully stored
Keeping your luggage safe is our main mission
7000+ Bag guardians worldwide
Our storage points called "Angels" are all over the world
24/7 Instant support
We are always available to answer your questions
0,00% of missing luggage
The numbers speak for themselves, with us you can feel safe!
Store your bags in a few clicks
The worldwide luggage storage network. Our Angels are bars and bistros who have been checked and approved by the Radical Storage team
Step 1
Locate
Find a luggage storage location near you
Step 2
Book
Proceed with online booking
Step 3
Store
Store your suitcases
Step 4
Enjoy
Enjoy your hands-free journey
Frequently_Asked_Questions