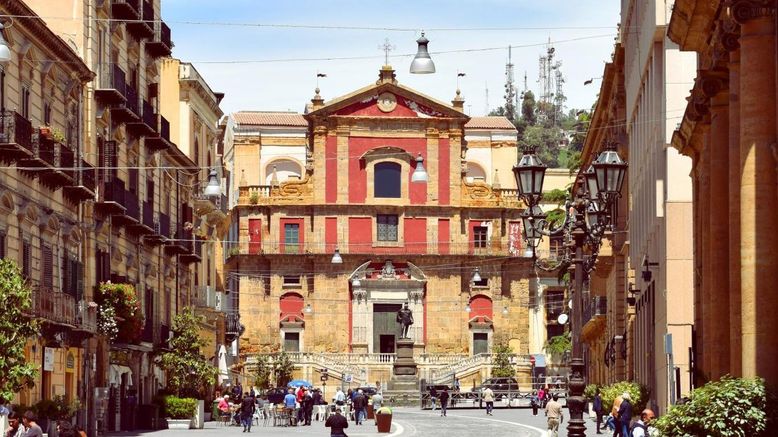 Luggage Storage Locations Caltanissetta
Find your luggage storage
Luggage storage in Caltanissetta With Radical Storage
Discover the world's sulphur capital, Caltanissetta, in Sicily. This beautiful town in interior Siciliy is a true hidden gem home to many sights and attractions that put you right in the heart of Sicilian culture. Leave your bags at luggage storage in Caltanissetta and uncover the magic of this charming town.
Radical Storage has partnered with local businesses, we call them our Angels, who safely and conveniently look after your luggage while you explore the city where your feet have landed.
Download our app and leave your bags with us for €5 per day per bag with no restrictions on weight or size. For extra peace of mind, add on a security guarantee of up to €3000 for only €1,75.
Learn more about Caltanissetta
Caltanissetta calls you into its warm embrace, offering a unique tapestry woven from ancient traditions and modern vitality. Step off the train at Caltanissetta Centrale and explore the labyrinthine alleys that wind through the town.
Indulge your senses with local delicacies, from savory arancini to luscious cannoli, tantalizing your taste buds with a symphony of flavors. As the sun sets over the town, the Piazza Garibaldi, in the centre of Caltanissetta Old Town, comes to life with bustling markets and lively conversations, the perfect start to your Sicilian adventure.
Getting to Caltanissetta from Catania Airport
If you plan to start your journey through Sicily in Caltanissetta, you'll need to know how to get from Catania Airport to the town. Luckily, there are regular buses that run from Catania Airport to Caltanissetta. The bus costs between €7-€11, and the journey takes around 1 hour 25 minutes.
Things to do in Caltanisetta
When your bags are safe and secure with our Angels, here are three top things to do in Caltanissetta:
Visit the Cathedral of Santa Maria La Nova - This beautiful church, blending Gothic, Baroque, and Neoclassical architectural styles, is a testament to the city's rich history. Admire its ornate facade, intricate artwork, and serene interior as you learn about its significance in the local culture.

Experience the Palio dei Normanni - If you're visiting during summer, take advantage of the Palio dei Normanni, a vibrant and colorful historical event. The traditional horse race celebrates Caltanissetta's Norman heritage and features participants dressed in medieval costumes and various festivities, parades, and cultural performances.

Discover the Mineral Water Springs of Piazza Armerina - Take a short trip from Caltanissetta to the nearby town of Piazza Armerina, known for its natural mineral water springs. Enjoy a relaxing and rejuvenating experience at a local spa or thermal bath, and immerse yourself in the healing properties of the mineral-rich waters.
Top locations in Caltanissetta
What users think about us
Translated automatically
Show original
Hide original
Hundreds of people enthusiastically use our luggage storage service every day
Hundreds of people enthusiastically use our luggage storage service every day
3 Mln+ Suitcases carefully stored
Keeping your luggage safe is our main mission
7000+ Bag guardians worldwide
Our storage points called "Angels" are all over the world
24/7 Instant support
We are always available to answer your questions
0,00% of missing luggage
The numbers speak for themselves, with us you can feel safe!
Store your bags in a few clicks
The worldwide luggage storage network. Our Angels are bars and bistros who have been checked and approved by the Radical Storage team
Step 1
Locate
Find a luggage storage location near you
Step 2
Book
Proceed with online booking
Step 3
Store
Store your suitcases
Step 4
Enjoy
Enjoy your hands-free journey