The easiest way to store luggage anywhere
Find a luggage storage location near you and book in seconds.
Find your luggage storage
Radical Storage delivers your luggage!
Delivery service in
Special launch offer: from- If you book today!
Our team will collect your luggage from the storage place where you left it and take it to the address you'll choose, or collect your luggage from a given address and deliver it to the Angel.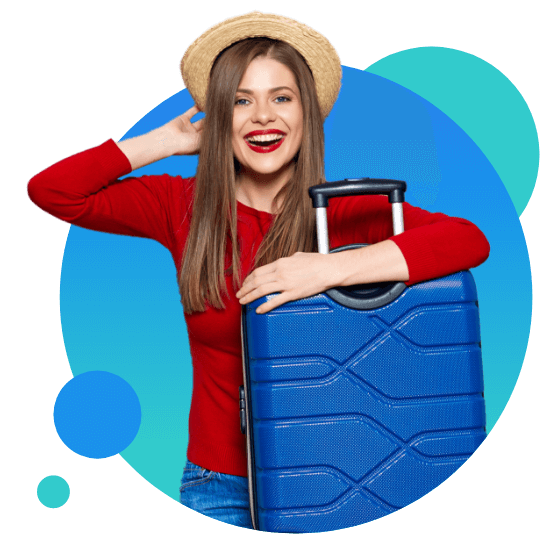 Make the most of your trip
Amazing experiences await you in
The hottest deals for Radical Storage customers this week
Store your bags in a few clicks
Step 1
Locate
Find a luggage storage location near you
Step 2
Book
Proceed with online booking
Step 3
Store
Store your suitcases
Step 4
Enjoy
Enjoy your hands-free journey
Thousands of travelers book our luggage storage every day
Thousands of travelers book our luggage storage every day
3 Mln+ Suitcases carefully stored
Keeping your luggage safe is our main mission
7000+ Bag guardians worldwide
Our storage points called "Angels" are all over the world
24/7 Instant support
We are always available to answer your questions
0,00% of missing luggage
The numbers speak for themselves, with us you can feel safe!
Make the most of your trip
Get free audio guides to our top destinations with the amazing Radical Storage App! Discover the innermost secrets of popular sights!
Radical Storage makes your trip complete by offering exclusive discounts on urban mobility and special offers on the best attractions and activities!
Convenient luggage storage places for your luggage
Travel provides a sense of freedom that only comes when you leave your boring routine behind in search of new experiences. While you're hitting the museums, restaurants, and other major sights of your vacation destination, the last thing you want to do is to have to carry your luggage everywhere you go. With Radical Storage, we help put your mind (and arms) at ease by offering handy luggage storage options at a number of worldwide locations, and we do it with our easy online booking.
Meet our Angels
Once you've figured out your vacation schedule, use our booking system to search your destination for one of our business-based luggage storage locations, which we call Angels. They're always public places so you can feel safe dropping off, and many of them offer additional services such as boarding pass printing, meals, and even showers. We meticulously screen each of our partners, and they can take a number of different forms:
Hotels • Restaurants • Bistros • Cafés • Bars • Retail stores • Bike rentals
After successfully booking, you will receive Angel's address, allowing you to simply drop your bags off at the designated time. Don't worry if your plans call for an unexpected extended stay, as you can tag on additional days at the same affordable rate of €5 per bag, and unlike the airlines, we don't charge extra for larger or heavier items.
Your luggage is safe with us
To give you the utmost peace of mind, when you book your luggage storage through Radical Storage, every booking is backed by a personal guarantee of up to €3000 for each item. Your transaction also takes place over secure servers and you can pay using a credit card or PayPal.
Book a place for your bag today
No matter if it's your first visit to a new city or you're making your latest trip to a favorite destination, turn to Radical for safe and easy storage for all of your luggage. Why risk the trauma and inconvenience of losing your valuables when a secure booking is a few easy clicks away? To learn more about our services or find out how your business can become an Angel, contact us online today.