Book now your luggage storage in Vieste with Radical Storage, the first luggage storage network
Online reservation mandatory
Find your luggage storage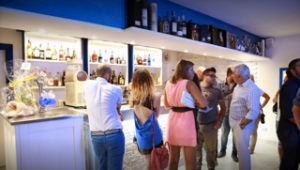 Area
Amerigo Vespucci Seafront
300 meters from Vieste Ferry Terminal
500 meters from Malacological Museum of Anna Ragno & C. S. A. S.

Please try different criteria
Radical Storage is a local experience
Angels are bars, hotels, restaurants or offices checked and monitored by the Radical Storage team! They will be happy to welcome you to the city!
Safe and guaranteed

All locations are safe and guaranteed and all luggage left through the platform is covered by the Radical Storage warranty.

Online booking
Online booking and payment are mandatory.
The Radical Storage locations do not accept, in any case, luggage of customers without online booking.
Reach your luggage storage in Vieste
Your Airbnb in Vieste doesn't allow you to store your baggage? Keep calm, take a deep breath and relax. We inform you that now you can leave your bags at Radical. Where? Everywhere, in Vieste as well. You can find luggage storage of ours inside any local business, from hotels and B&Bs to restaurants and cafes. Every local business can become a Radical's partner. We work hard to assure customers trustworthy and safe location all over the world.
Leave your stress behind at a cheap price
If you want to get more information about Radical, just contact our customer service. We are always available to ask all your questions and to solve any doubt. Remember that all our partners are checked and verified very carefully by our staff. The aim of Radical is to simplify your travel experience and eliminate your stress. Even if we are not psychologists, we can offer you a great solution to live your holidays without burdens on your back.
Discover Vieste
Before starting your day in Vieste, leave your bags at our luggage storage and be free again to walk without any obstacle. This town is located on the Eastern side of Cape Gargano and its territory belongs to Gargano National Park. Vieste, like other Southern Italian cities, hosts one of the several castles built by Frederick II, Duke of Swabia. From the location of this edifice, you can admire an astonishing landscape.
Gargano National Park
Gargano National Park is one of the most beautiful sides of Italy. This 120,000 hectares area includes different protected zone like Tremiti Islands and the Umbra Forest. Visitors can explore this wonderful place in different ways, like, for example, by renting a car or a bike (if you don't want to go too far), and also by booking one of the several sightseeing tours.