Book now your luggage storage in Kazan with Radical Storage, the first luggage storage network
Online reservation mandatory
Find your luggage storage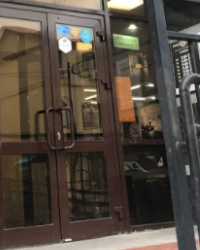 450 meters from Kazan Train Station
750 meters from Kazan Academic Theater named after V. I. Kachalov

Please try different criteria
Most popular
Where to store your luggage in Kazan, Russia
When you have a few hours until your flight and have yet to see the Kazan Kremlin your luggage shouldn't need to come along to see this sight with you.The best way to get rid of your bulky bags is to use our innovative service. Radical Angels are always located in strategic points such as Luggage Storage Kazan Arena, which could be a convenient option for these who wants to see a football match or a concert of their favorite group.
Fast and safe booking
Our booking process is really simple. Enter the website or download the app and choose the storage point that suits you best. Proceed with the secure payment and then you will find out how to reach our partner. The beauty of having a local community providing you with luggage storage services is that each one of them is unique in their own way. Do not be surprised if you find yourself entering an eatery, or a hostel, or a bike rental. This page is simply not enough to describe all the different local experiences that you can discover!
An introduction to Kazan in Tatarstan
Kazan is the capital and the largest city of the Republic of Tatarstan. It is a very unique city, with a very authentic culture. Maybe you didn't know but in 2009 this city was also granted as the third capital of Russia. It was also declared a World Heritage Site in 2000, having five-domed, six-columned Annunciation Cathedral and the mysterious, formerly leaning Söyembikä Tower, named after the last queen of Kazan.
Kazan city center
You should know that the Central Kazan is divided into two districts by the Bolaq canal and Lake Qaban. The first district, historically Russian, is situated on the hill, the second, historically Tatar, is situated between the Bolaq and the Volga. So once you are here you can explore these so different and at the same time very close cultures. An old legend says that in 1552, before the Russian invasion, wealthy Tatars (baylar) hid gold and silver in Lake Qaban. So why are you still waiting? Go look for some antique gold souvenirs.