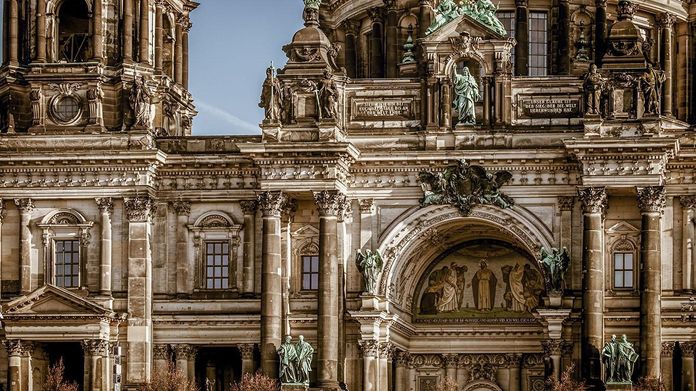 Luggage Storage Berlin
Find your luggage storage
Luggage storage in Berlin With Radical Storage
Looking for luggage storage in Berlin can be surprisingly easy and convenient, with a little bit of planning. With Radical Storage, booking a place for your belongings is just a few taps away.
When you think of luggage lockers, hourly rates surely come to mind. Radical Storage works differently. To make travelers' lives easier, we decided to set a fixed daily rate.
With only €5 per day and at no additional costs, you can book a comfortable and clean space for your bags. If you have a suitcase that is a little bulkier than usual, you don't have to pay more. The price remains fixed under all circumstances.
Best locations to store your luggage in Berlin
Did we mention that our primary goal is to make your vacation or business trip more peaceful?
That's why our local agents have selected professional companies located near the city's monuments, attractions, and museums. Radical Storage calls all its partners "Angels". In Berlin, for example, these travel Angels are located all over the city. Many Angels can be found close to the main stations and can provide customers easy access to freedom.
Pergamonmuseum

Gernarmenmarkt
So, you can take advantage of our service if you want to explore the Reichstag without dragging suitcases or if you want to have a carefree tour in Kreuzberg with your friends. Radical Storage is also ideal if you have to go to university and want to get rid of that backpack full of books or if you have a business meeting and want to leave your belongings in a safe place.
Berlin Nordbahnhof and Belin Airport
Nordbahnhof in Berlin is a historic train station that played a significant role during the Cold War. It was used as a transfer point for Soviet trains and had a watchtower overlooking the border. Today, the station is part of the Berlin S-Bahn network, connecting the city's northern suburbs with the city center and other parts of the city. In addition to its transportation function, Nordbahnhof also houses a small museum documenting its history and the events that took place there during the Cold War.
Berlin's airports include Tegel Airport and Schönefeld Airport, which will be replaced by the new Berlin Brandenburg Airport. Tegel Airport is located in the north of the city and is known for its modernist architecture and efficient layout. Schönefeld Airport is on the southeast side of the city and is the smaller of the two airports. The new Berlin Brandenburg Airport is located south of the city, near Schönefeld, and is designed to replace both Tegel and Schönefeld. It's expected to be one of the largest airports in Europe.
To reach Berlin's airports, there are different transportation options available. Tegel Airport is easily accessible by public transport, with several bus and train connections to the city center. Schönefeld Airport is connected to the city by S-Bahn and regional trains, as well as buses. The new Berlin Brandenburg Airport will also have several public transport options, including a direct connection to the city by train. Taxis and car rentals are also available for those who prefer more private transportation.
Book a luggage storage in Berlin with us at Radical Storage
You have finally arrived in the splendid and buzzing city of Berlin and you're surrounded by its amazing aura, so you just can't wait to finally explore all the wonderful sights and secrets that this city has to offer. However, it must be a real hassle to wander around the crowded streets of Berlin with all your bags and massive suitcases, so you might need to find a solution for your belongings so that you can enjoy your trip to the fullest.
The right solution for all your problems is Radical Storage, since we can offer you with many luggage storage options in Berlin, all within a few clicks on your phone. In this way, you'll be able to roam around the streets of Berlin without worrying about your luggage. All you need to do is to look up our website or download our user-friendly app, so that you can find all of our options.
On the website, you'll be able to look up one of our interactive maps, where you can find your current location and in the blink of an eye, you'll be able to search a list of all the luggage storage options available nearby your destination, so you won't even have to sweat about it. All of our Angels, as we like to call them, have been chosen between a great options of local businesses, such as restaurants, shops and bars, so that you can receive the best options for your luggage storage in Berlin.
Alexanderplatz
If you want to know more about the city of Berlin, Alexanderplatz is one of the best and most important places to visit, during your stay. The square has been known all around the world for its incredible aura, since it is a melting pot of cultural, social and historical characteristics of the city. Once you have set foot on this incredible place, you will be swindled by its amazing environment and you won't be able to leave it behind.
The square was named after the Tsar Alexander, after he visited the city in 1805, in its honour and since then, it has been a particularly important point for the population, since it also has housed its Central Market, making it the shopping center of the city. In fact, whenever you find yourself in this magical part of the city, you might be able to experience the frenzies of the area, by shopping or even just looking at all the shops and amazing businesses that you might find.
Berlin Cathedral
Recognized as one of the most splendid churches of all time, especially in the state, the Cathedral of Berlin will leave you without breath with its exquisite and peculiar architecture and its overall majestic beauty. If you ever find yourself in the surrounding area, you should definitely pay a visit to the imposing building, since you will marvel at its overall beauty and all the historic and cultural secrets that it holds.
Take a look of the amazing building and wander around its beautifully decorated walls, so that you can take a picture of this fascinating place and try to impress all your friends, when you come back home. You will almost feel like you would be living an outer-wordly experience, especially thanks to the steps that will take you to the top of the building, so that you can admire the wonderful view of the entire city from there.
Victory Column
As you have been walking around the streets of Berlin, you might find yourself right in front of one of the most dazzling and majestic landmarks of the city, the majestic Victory Column. Once you will look at it at least once, you will be able to look around and marvel at its incredible beauty, soaring high in the sky above the entire skyline of the city. Thanks to its impressive beauty, it colors the sky with a whole new light and will make you leave breathless in front of it.
The Victory Column has been built in the 1873, in honor of the victory of Germany against some other countries, such as Denmark, in the past. From that moment on, the building itself has become a huge symbol of the country, making it shine above everything else. If you are curious about the view, you can walk on its steps and admire the beautiful landscape on the city of Berlin.
Things to do in Berlin
Nowadays, Berlin is the most creative and stimulating city in Europe. It is a place for young people, students, and families, too. Alongside world-class museums such as the ones on the Unesco-protected Museum Island, the city center has many attractions, shops, and Michelin-starred restaurants.
Before you start your tour or in the middle of it, find the luggage storage facility that best suits your needs conveniently online and get rid of your bags in seconds. Friedrichstrasse is the most famous street in the German capital. Here is the famous Checkpoint Charlie, many boutiques, and the amazing Friedrichstadt-Palast. If you leave your bags at the luggage storage option, just a few meters from Friedrichstrasse, you can also reach the famous Museum Island in a few minutes. How to forget, while on your trip to Berlin, to visit the famous Alexanderplatz or the charming Potsdamer Platz? You should definitely swing by one of these amazing squares and enjoy the beautiful areas of Berlin, while still here.
If you prefer to see something more artistic, do not worry because this wonderful city has everything that you want to offer and even more! For example, you could definitely hop to the Berlin Cathedral, in order to fully admire its astounding architecture, or even swing by the Pergamon Museum, so that you won't be ever disappointed, while here.
What users think about us
Translated automatically
Show original
Hide original
Hundreds of people enthusiastically use our luggage storage service every day
Hundreds of people enthusiastically use our luggage storage service every day
3 Mln+ Suitcases carefully stored
Keeping your luggage safe is our main mission
7000+ Bag guardians worldwide
Our storage points called "Angels" are all over the world
24/7 Instant support
We are always available to answer your questions
0,00% of missing luggage
The numbers speak for themselves, with us you can feel safe!
Store your bags in a few clicks
The worldwide luggage storage network. Our Angels are bars and bistros who have been checked and approved by the Radical Storage team
Step 1
Locate
Find a luggage storage location near you
Step 2
Book
Proceed with online booking
Step 3
Store
Store your suitcases
Step 4
Enjoy
Enjoy your hands-free journey
Frequently Asked Questions